Cowboys to closely watch Bryant in return to team workouts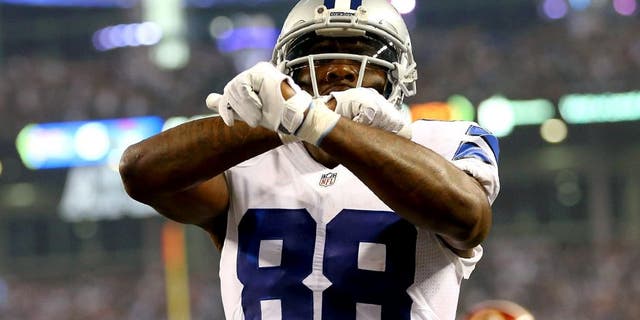 NEWYou can now listen to Fox News articles!
The Dallas Cowboys plan to keep a close eye on their new $70 million investment when training camp opens Thursday.
Dez Bryant signed that $70 million deal (over five months) earlier this month, ending a long negotiation process. During that process, Bryant refused to sign his franchise tag offer, meaning he could not participate in off-season workouts.
Bryant hasn't been sitting around eating cheesy puffs. The Cowboys know he has been working out on his own, but nonetheless they plan to monitor Bryant during the early workouts.
"Dez has worked very hard," Cowboys coach Jason Garrett said Monday, via The Dallas Morning News. "We know that. He looks great. But at the same time, we want to make sure he gets his feet underneath him."
In other words, the Cowboys trust that Bryant has stayed in top shape, but since he didn't do his workouts under their tutelage, they want to make sure he's in synch with their program.
"So we'll catch Dez up," Garrett said while speaking to a youth football coaches clinic. "We'll make sure we have our eyes on him and make sure we come up with the appropriate plan."
But make no mistake, in shape or out of shape, Garrett is glad to see Bryant back in the Cowboys' fold. Bryant had vowed to hold out if he didn't get a long-term deal. Now that drama has been avoided and Garrett can't wait to see Dez do what only Dez can do.
"You have to understand it is a business and stay focused on what you want to be focused on," Garrett said. "But it's fun to have him back. It's fun to have him in the fold and [I'm] excited to see him out there on the practice field."
Follow Keith Whitmire on Twitter: @Keith_Whitmire
MORE FROM FOX SPORTS SOUTHWEST:
- Predicting awards and winners of the 2015 MLB season
- Ranking NFL quarterback salaries
- 21 Fun Facts about the NCAA tournament
- Highest paid player of each NBA team
- College football's highest paid coaches in 2014
- Highest paid player on every MLB roster