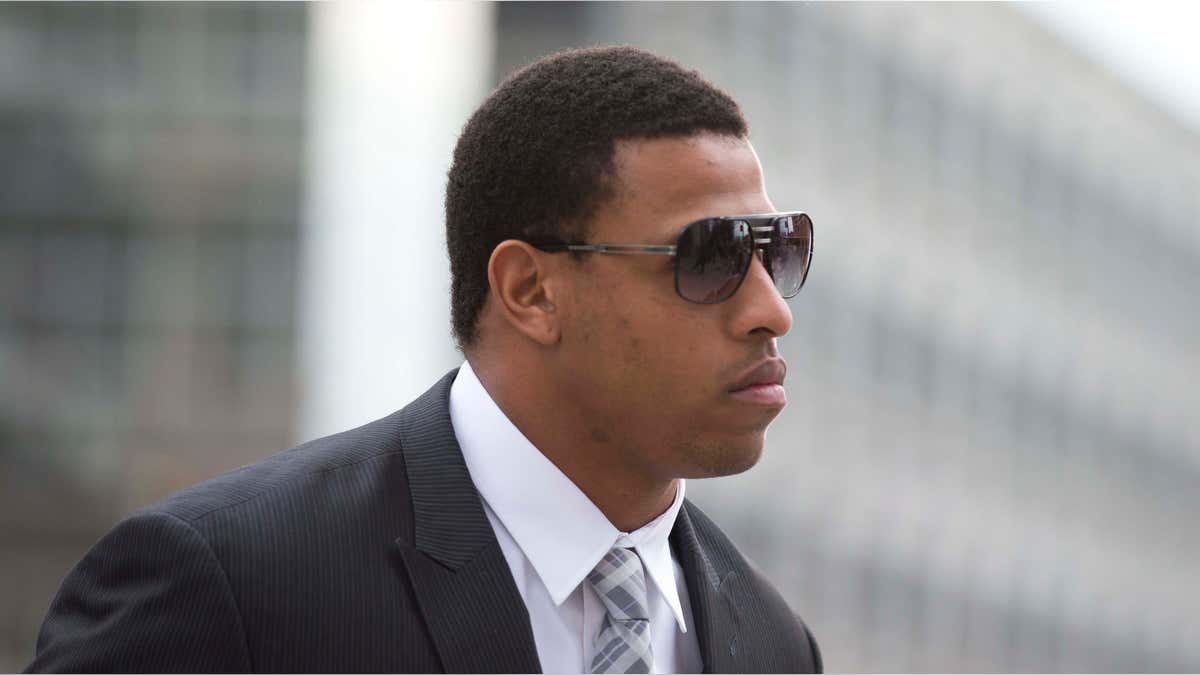 Dallas Cowboys defensive lineman Greg Hardy, who is facing a 10-game suspension for his role in a domestic violence case, was slammed Friday night after posting a joke on Twitter referencing the Sept. 11 terrorist attacks.
Hardy was responding to a fan of his former team, the Carolina Panthers, after it drafted a tall receiver for the second straight year. The fan referred to the receivers as "The Twin Towers," and included photos of both 6-foot-5 wide outs – Kelvin Benjamin and Devin Fuchness.
Hardy tweeted: "didn't the twin towers get blowN up lol."
The fan responded to Hardy saying, "It's the Twin Towers because of KB and Fuchness's size, not because of what happened. C'mon now…"
About five hours after the original tweet, Hardy issued an apology saying, "Ill say this I apologize 4a comment that mentioned an event where no reference 2humor is ever ok but I hope my real fans know I would never."
Cowboys head coach Jason Garrett had already tried to contact Hardy over matter as he sat in the team's draft room.
Owner and general manager Jerry Jones also said he was aware of the tweet.
"We will address that and we'll just leave it at that," Jones said. "We all know that we're living in a time now that you don't allude or use examples that socially ... are just out of step or bad taste. Those are some of the kinds of things it's good to be able to have a good line of communication with players and address and work on."
The tweet comes a week after the agent for Cowboys defensive tackle Davon Coleman acknowledged that his client had a verbal spat with Hardy in an offseason workout.
Executive vice president Stephen Jones said he wasn't disappointed in Hardy despite already having issues with a player who was suspended after the league found "sufficient credible evidence that Hardy engaged in conduct that violated NFL policies in multiple respects and with aggravating circumstances."
Hardy, who missed the last 15 games in 2014 because of the case but still collected his $13 million salary, was accused of choking and grabbing his former girlfriend, Nicole Holder, and throwing her on a futon that had at least four semi-automatic rifles on it. He will be allowed to participate in the offseason program and training camp. His suspension starts the first week of the regular season.
"He's obviously made a couple of decisions that you'd rather them make a better decision," Stephen Jones said. "He's under a microscope. You've got to understand that. He's a Dallas Cowboy and he came in here under some less-than-perfect conditions and a lot's expected. I think he's going to learn and do better as we move forward."
The Cowboys drafted Nebraska's Randy Gregory, another defensive end with off-the-field issues, in the second round Friday night. Gregory was projected as a first-round pick but slid to nearly the bottom of the second round after testing positive for marijuana at the NFL combine in February and missing some meetings with teams.
The Associated Press contributed to this report