Cousins could make the offense more potent if he adds this element to his game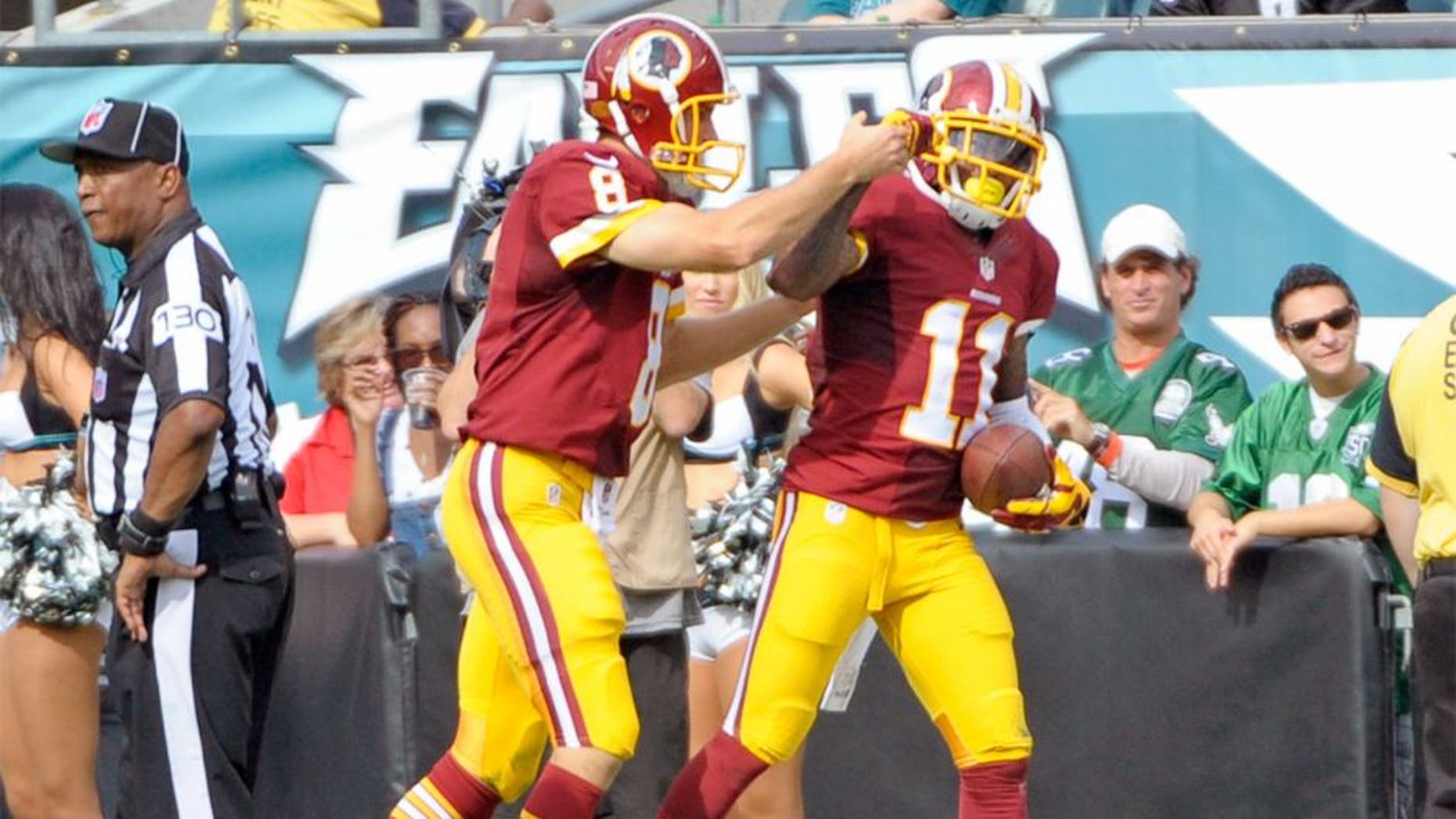 With under a minute to go in the fourth quarter of the Monday night showdown between the Washington Redskins and the Dallas Cowboys, Kirk Cousins sat back in the shotgun, calmly hiked the ball, read the coverage, and launched a 28-yard touchdown pass to DeSean Jackson, who flew right by Cowboys corner Morris Claiborne. The touchdown was Cousins' 17th of the season, a career-high for the fourth-year QB.
Cousins, 27, has really settled into his own as the Redskins starting quarterback this season. Amid the constant unfolding drama between the Washington QB situation, it was Cousins who emerged as the premier starter, ahead of Robert Griffin III and Colt McCoy at the start of the season.
It was initially, and understandably, met with criticism, as the fourth-round pick from Michigan State was never supposed to be the option over the Heisman Trophy-winning second-overall pick taken in the same 2012 draft. But criticism has drooped to a soft murmur ever since Cousins led a miraculous comeback win against the Tampa Bay Buccaneers in Week 7.
In that performance, Cousins completed 33 of his 40 pass attempts for 317 yards and three touchdowns. He didn't throw a single interception, something that has plagued him for the earlier part of his career.
How bad had that interception problem been? Prior to that Week 7 performance, Cousins threw 27 interceptions and just 24 touchdowns in 20 career games. And with each erratic pass that landed in the opposing teams hands, the outcry against Cousins understandably grew louder and louder.
But since that Week 7 performance, Cousins has maintained growing momentum that should cement him as a starting quarterback in the NFL. Including that Week 7 performance, Cousins has thrown for 1586 yards, completing 139 of his 195 pass attempts, good for a 71.28 completion percentage. He has thrown 11 touchdowns and just two interceptions.
That high completion percentage in his last six games has ballooned Cousins' totals to mainstay starter status. Cousins leads the NFL among players with at least 40 pass attempts with a 68.6 completion percentage, ahead of second-most accurate thrower Russell Wilson by .1 percent, top quarterback Philip Rivers by 1.3 percent and ahead of future Hall of Famer Tom Brady's 63.7 completion percentage.
But have you ever looked at the Redskins and thought that they had a lethal passing attack? Does Cousins' high completion percentage equate to a scary offense that can move the ball up the field with ease?
Not really.
Part of the reason why it doesn't immediately reflect a deadly pass attack is because Washington's passing game is conservative. Washington's 6.8 yards per pass attempt is the 16th-lowest total in the NFL, according to teamrankings.com. And their Washington's 9.9 yards per completion is the third-lowest total in the NFL, also according to teamrankings.com. That easily explains that while Cousins has 290 completions this season, Drew Brees, who only has 16 more total completions this year, has thrown for 476 more yards than Cousins.
This could be because of Cousins' personnel. Two of Cousins' most popular targets, Jordan Reed and Pierre Garcon, are built as more possession-type pass catchers. Reed has emerged as a top-tier tight end this year, a red zone specialist that has caught eight of his 15 targets within the opponent's 20 yard line and has six touchdowns on the year. Garcon works best at chipping away at chunks of yardage at a time. And another one of Cousin's popular targets, Chris Thompson, who may be out of Sunday's game against the Chicago Bears with a torn labrum, speciality is to catch the ball off of screens and dumps and sprint upfield.
But as a result of his short pass game, Cousins isn't throwing deep balls. That means the Redskins haven't utilized their deep threat, DeSean Jackson, as much as they should. And that could be for a couple of reasons: Cousins' lacks the confidence to throw the deep pass, the Redskins coaching staff lacks the confidence in Cousins, or it could be a combo of both.
If Cousins isn't particularly comfortable with launching the ball downfield, he is, at the very least, working on it. Jackson was visibly upset several times after he felt he was open downfield against the Cowboys, and Cousins took notice. He told the Washington Post's Liz Clarke that his relationships with his receivers, including Jackson, is very vocal.
"I really appreciate the input that I get back from the guys," Cousins said. "If they're not telling me on the sidelines after a series, I'm usually asking, 'Were you open there?' or 'I heard you were open there,' or 'I looked at the picture and you were open, and I should have gotten you the football.' These guys, they're professionals. They know when they should be getting the ball. They know when it probably isn't coming their way. A lot of times, they know my reads. You know, there is no doubt that I value their opinion and they've done a really good job of giving me input about when to get them the football. Like I've said, they've made me right, many, many times. I'm going to need them to continue to get open and make plays for us here down the stretch."
In Cousins' most recent game, he threw just two balls over 20 yards in Jackson's direction. But as previously mentioned, that could simply be because his coaching staff simply doesn't have enough trust in having Cousins throw the deep ball.
According to NFLsavant.com, the Redskins have run 980 plays under center, already over twice the amount of plays they ran under center just last season (439). And the amount of plays they have run in the shotgun formation has decreased as well. Last season, 56.4 percent of their total offensive snaps came in the shotgun formation. This year, that number has dipped to 32.1 percent.
And that spells trouble for the Redskins, because Jackson, even in his eighth year in the NFL, has proven that he can still be a deep threat option. According to Pro Football Focus, since Cousins' immaculate Week 7 performance, Jackson has been targeted nine times on passes 20 yards or more (though he was out for the matchup against Tampa Bay, returning after Washington's bye in Week 9). He's caught five of those targets for 209 yards and three touchdowns. That production is right on par, if not better, than some of the NFL's top deep threats. Antonio Brown of the Pittsburgh Steelers has caught seven of his 16 targets of 20 or more yards for 262 yards since Week 7, though he didn't score a touchdown. And Sammy Watkins of the Buffalo Bills, who leads the NFL in targets of 20 yards or more since Week 7, has eight receptions on 16 targets for 343 yards and three touchdowns.
And it's not like Cousins has been completely incompetent at throwing the deep ball this season. Since turning the corner in Week 7, Cousins has completed seven of his 18 pass attempts at 20 yards or more for 277 yards and three touchdowns. That means Jackson has produced 75.5 percent of Cousins' total yards on 20-yard or more throws since Week 7, and he's scored all of the touchdowns.
Cousins is doing an excellent job of distributing the ball between his receivers in short yard situations. In fact, if you judge him on accuracy, he's been one of the best in the NFL, especially since Week 7. But if the Redskins want to go for the home run hit, Cousins needs to throw the ball deep to Jackson a little more often than he has been in the last several games. He has proven in the few times he's been targeted, he is capable of cashing in on a big play. And the Redskins need to utilize that big play threat a bit more. Because while Cousins has been accurate, he hasn't been lethal. And the deep ball could mean the difference between the Redskins passing game producing enough to give the Redskins an edge each game they play.