Cooper Kupp draft diary: Time for NFL dream to become a reality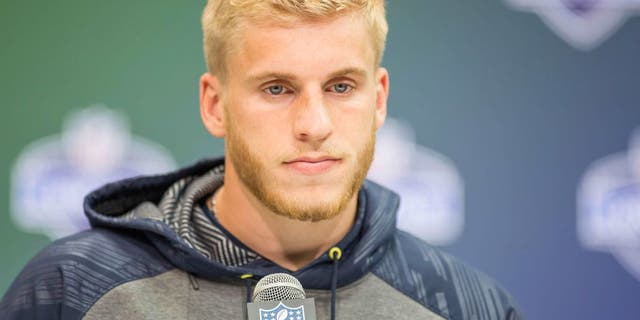 Cooper Kupp played wide receiver at Eastern Washington, where he set 15 FCS, 11 Big Sky and 26 school records during his career. The FCS all-time leader in receiving yards, receptions, touchdown catches and yards per game, Kupp was a consensus All-American in each of his four seasons and is projected to be an early-round pick in the NFL draft that kicks off tonight. This is the seventh draft diary entry for Kupp, who is documenting his NFL draft experience at FOXSports.com.
Draft Day has finally arrived, but whereas some might feel nervous or stressed about the draft and the uncertain road ahead, Ive been feeling surprisingly calm in the lead-up to this moment.
Thats not to say that there are no nerves whatsoever, or that Im not filled with anticipation about whats to come. Im curious about my future and eager to have some major life questions answered. But I also find comfort in knowing that whatever happens in the coming days, months and years is what was meant to happen, and Im mostly just excited to have my childhood dream come true.
Ive been fantasizing about a career in the NFL since I was young, and I truly believe that God made me to play this game. With that in mind, Ive put in a lot of work, invested a lot of time and made plenty of sacrifices to make sure I was doing my part to make His vision a reality. And both my football career and my life in general are reflections of that commitment to following that plan.
I try to live my life a certain way so it reflects the person, husband, son and brother that I know I am. So Im going into this simply excited to find out where my wife, Anna, and I are going to be living, where this next chapter of our lives is going to take place, and what team I get to put on the pads for and play the game I love.
And ultimately that last part is what everyone wants to know: Do I know where Im going to be playing? Do I prefer some teams over others? Are there any teams that I dont want to pick me? Will I be upset if Im not picked as high as I hope or expect? And the answer to all those questions is no.
My motivation for playing this game is greater than any one person or team, and it goes far beyond being picked in a certain round. Wherever it is that God puts me and my family, were going to embrace that city, embrace being a part of that organization and give it our all, and hopefully well be a part of something great, pursuing Super Bowls and bettering that community well soon call home.
But there will be plenty of time to focus on that after the draft. For right now, my priority is enjoying this weekend. Anna and I rented a beach house in Newport, and weve got nearly 20 family members joining us in California for the next few days. Itll be nice to relax and savor these moments that were all together and, of course, itll be the thrill of a lifetime when I finally hear my name called.
After that, however, the work begins, and I couldnt be more excited to get started.
Chapter 1: A whirlwind week at the Senior Bowl
Chapter 2: Training with the NFLs best
Chapter 3: Primed for the Combine
Chapter 4: Looking back on my week in Indy
Chapter 5: Making the most of Pro Day
Chapter 6: Training with a special QB Dad
You can follow Cooper on Twitter at @CooperKupp.