Conor McGregor is a 'horrible human being,' Khabib Nurmagomedov's manager says
The manager for UFC champion Khabib Nurmagomedov blasted Conor McGregor on Sunday hours after his fighter won his UFC 229 match and subsequently attacked McGregor's entourage in the crowd.
Ali Abdelaziz blamed McGregor for sparking the chaos and called him a "horrible human being," USA Today reported.
"You can't bite a dog and not expect to be bitten," Abdelaziz said. "You can't play with fire and not expect to be burned. This man, Conor McGregor, is not a good guy."
Abdelaziz admitted Nurmagomedov shouldn't have jumped over the octagon cage to attack the crowd. However, he said he had "zero respect" for McGregor.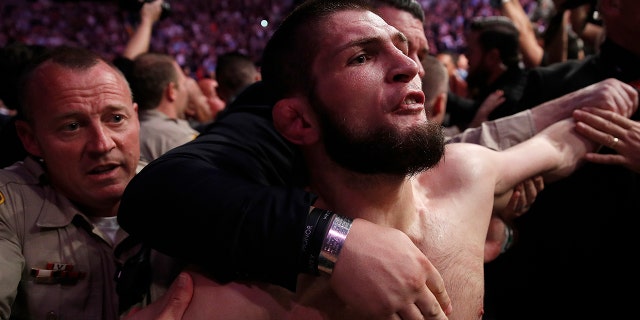 "His team, his whole entourage, zero. These guys, they demand respect, but you earn respect," he said. "How are you going to earn respect when you talk crazy about people's family, religion, countries?"
Nurmagomedov defeated McGregor in the fourth round of their bout, by making the Irishman tap out at the 3:03 mark. The Russian then jumped out of the octagon and went after one of McGregor's trainers -- and a brawl ensued.
After things settled down, Nurmagomedov apologized for sparking the insanity that happened outside the cage. He also wondered why people were questioning his actions.
"I no understand how people can talk about I jump on cage," he said at the press conference, according to MMA Junkie. "He talk about my religion, he talk about my country, he talk about my father. He come to Brooklyn, and he broke bus. He almost kill a couple people, worry about this (expletive). Why people talk about I jump on cage? Why people still talk about this? I no understand. My California seven years. Everybody know who I am. All my friends. Everybody who know me, they know who I am."
McGregor tweeted on his loss Monday, "We lost the match but won the battle. The war goes on."
Nurmagomedov, now 27-0, hasn't been paid by the Nevada Athletic Commission as of yet. Officials said a "full investigation" would take place, according to MMA Fighting.
The fight was marred by bad blood between the two that goes back to when McGregor threw a hand truck at a bus carrying Nurmagomedov last April at the Barclays Center in Brooklyn, N.Y. He had been upset at an earlier confrontation between Nurmagomedov and a member of his team.
McGregor was arrested following the incident.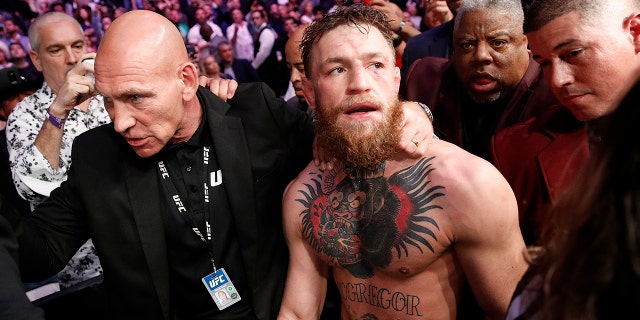 The incident led to major hostilities between the two camps during the buildup to Saturday's bout, including McGregor calling Abdelaziz a "terrorist rat."
Despite the chaotic ending to the night, the pay-per-view was one of UFC's highest draws in history. The event brought in 20,034 people to T-Mobile Arena in Las Vegas and drew $17.2 million from ticket sales, according to the Las Vegas Review-Journal.
"The biggest night ever and I couldn't be more disappointed," UFC President Dana White said after the event.
McGregor didn't comment on the brawl after the fight, only indicating he was looking for a rematch.
"Good knock. Looking forward to the rematch," he tweeted.