Conor McGregor calls opponent's manager 'f---ing snitch, terrorist rat'
UFC star Conor McGregor took his trash talk to a new level Thursday, delivering a shocking rant in which he called opponent Khabib Nurmagomedov's manager a "f---ing snitch, terrorist rat" and invoked the 9/11 terror attacks.
McGregor, 30, issued the profanity-laden broadside during a final prefight news conference with Nurmagomedov ahead of the highly anticipated fight Saturday night. The Irish citizen, who's known for his smack talk, decided to hit his opponent's manager, Ali Abdelaziz.
WARNING: VIDEO CONTAINS GRAPHIC LANGUAGE
McGregor added about the charge: "I can go into heavy detail and I will."
CONOR MCGREGOR FACES LAWSUIT FROM FELLOW UFC FIGHTER OVER BUS ATTACK, REPORT SAYS
"He was pulled off of a flight going from Cairo, Egypt to New York City on Sept. 11, 2001," he said. "He was caught with five passports in his possession. He turned informant and turned on the people that he was working with. I don't even know how that man is in this f---ing country.
McGregor continued: "I'm sure everyone here, the Irish people, are facing all this immigration stuff on the way over, my own people are facing it, my family, getting stopped at the airport. And then you've got this man with such a crazy background, Ali Abdelaziz, and he's rocking around free, it begs belief to be honest."
McGregor has targeted Abdelaziz before, most recently in September, The Washington Post reported.
"You terrorist snitch," McGregor yelled at Abdelaziz last month. "I know a lot about you as well, you mad rat."
CONOR MCGREGOR TO RETURN TO THE UFC IN OCTOBER, DANA WHITE SAYS
McGregor may have been referring to reports that the Egyptian manager worked as a counterterrorism informant. Abdelaziz is mentioned in the 2013 book "Enemies Within: Inside the NYPD's Secret Spying Unit and bin Laden's Final Plot Against America."
The book's authors, Adam Goldman and Matt Apuzzo, claimed the New York Police Department recruited Abdelaziz "to work as a mole within a Virginia-based arm of a group called Muslims of America." The FBI suspected Abdelaziz was a double agent and the government tried to deport him, according to the book.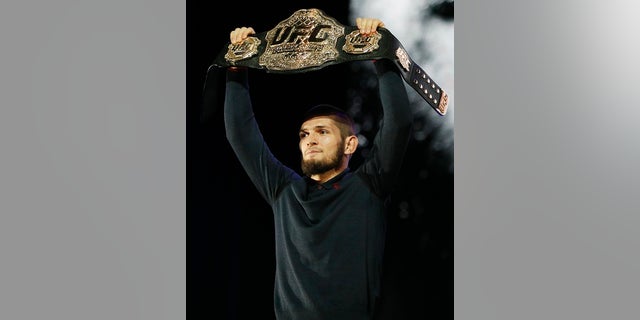 When ESPN asked Abdelaziz Thursday if he was offended McGregor called him a terrorist last month, he said he wasn't bothered.
"I don't care, he can call me anything — I don't give a f---," Abdelaziz said. "It doesn't offend me one f---ing bit, because at the end of the day, he's not fighting me, he's fighting Khabib."