Conor McGregor fined $150,000 for UFC 202 press conference melee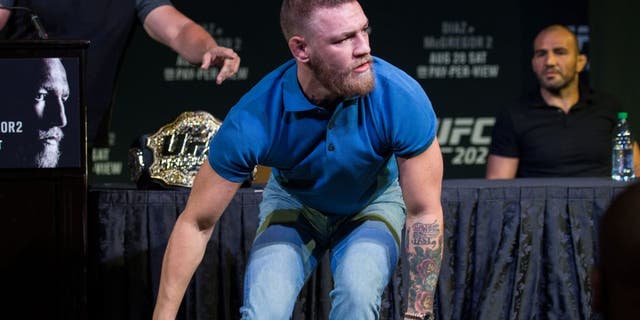 NEWYou can now listen to Fox News articles!
Conor McGregor got cracked with a hefty fine on Monday for his part in the UFC 202 press conference melee that unfolded in August ahead of his rematch with Nate Diaz.
The Nevada State Athletic Commission held a meeting to determine the punishment for McGregor after the altercation that unfolded inside the MGM Grand in Las Vegas a couple of months ago.
The proceedings lasted for well over an hour with argument presented by the Nevada Attorney General's office as well as counsel for McGregor as represented by an attorney from his management team at Paridigm Sports Management.
In the end, McGregor was fined five-percent of his $3 million purse for the fight with Diaz, which equaled out to $150,000 as well as 50 hours of community service. McGregor has six months to complete the community service imposed upon him by the commission.
McGregor was on the phone from Ireland as he prepares for his upcoming showdown with lightweight champion Eddie Alvarez at UFC 205 in New York.
I just want to apologize for the incident, it was a very unusual incident that unfolded. I acted wrong and all I can say is I'm sorry. -- Conor McGregor
The commission replayed multiple angles of the video showing Diaz leaving the stage at the press conference and initiating the incident by throwing the first bottle at McGregor.
The UFC featherweight champion responded with three more bottles and cans being tossed back towards Diaz and his team, who were also launching items back towards the stage. According to the commission, at least one security guard from the MGM Grand was hit with a bottle or can that was thrown by McGregor.
McGregor's attorney argued against any type of suspension that could interfere with his upcoming fight on November 12, but the commission never suggested that type of penalty for the infraction.
Instead, commissioners argued back and forth about the penalty that included a fine and community service. While suggestions were made as high as $300,000 for the altercation, the final decision ended with McGregor being fined $150,000 and the 50 hours of community service.
As for Diaz, he was granted a continuance at the meeting on Monday for his hearing to be held at a later date. The next commission meeting in Nevada will take place on November 10.