Conor McGregor climbs into the Octagon to help teammate celebrate win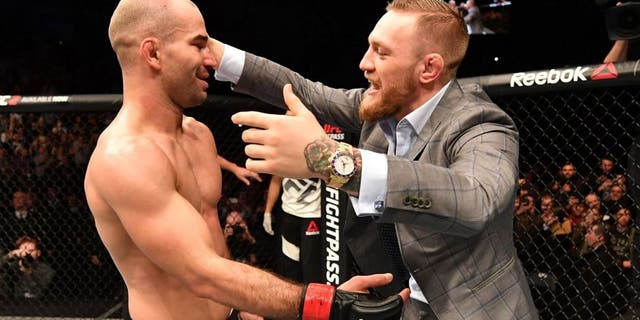 Artem Lobov earned the biggest win of his career on Saturday at UFC Fight Night in Belfast, Northern Ireland and one of his best friends was there to help him celebrate.
Lobov's Straight Blast Gym training partner and UFC lightweight and featherweight champion Conor McGregor was stationed in the front row for his fight against Teruto Ishihara and remained standing for the entire three-round affair.
Once Lobov was awarded with the decision, McGregor quickly made his way into the cage to congratulate his friend on his second straight win inside the Octagon before also dipping over to Ishihara to wish him well also.
Lobov and McGregor have trained with each other for years and were in camp together for the last several weeks as they prepared for the respective November UFC bouts. Just last week, McGregor defeated Eddie Alvarez to become the UFC's first simultaneous two-weight world champion.