Colts take Buckeyes safety Hooker with 15th overall pick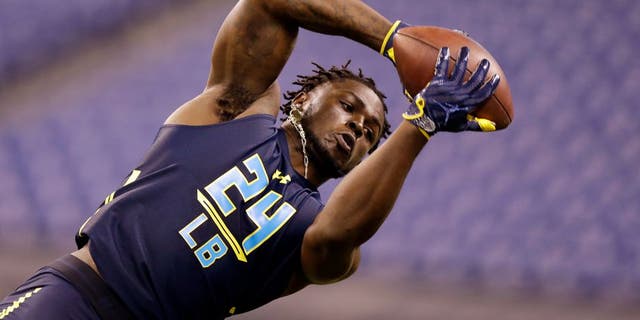 INDIANAPOLIS -- The Indianapolis Colts continued their defensive revampThursday by taking Ohio State safety Malik Hooker with the 15th overall pick in the NFL draft.
At 6-foot-1, 206 pounds, Hooker was considered the second-best safety in the rookie class. LSU's Jamal Adams went to the New York Jets at No. 6.
The Colts never expected the big-hitting playmaker they've been seeking for years to be there when their turn came up.
Hooker played only two seasons with the Buckeyes but had a breakout year in 2016. He had 74 tackles, seven interceptions and returned three for touchdowns -- exactly the kind of game-changer coach Chuck Pagano and new general manager Chris Ballard were looking for in the draft.
Indy could have taken one of two Alabama players -- defensive tackle Jonathan Allen or linebacker Reuben Foster -- at positions where they could have used help.
But Pagano said he was sold on Hooker after Ohio State defensive coordinator Greg Schiano told him Hooker was the closest safety he's seen to Ed Reed. Schiano and Pagano were both assistants on the University of Miami staff when Reed was in school.
Brian Spurlock | Brian Spurlock-USA TODAY Sports
Hooker joins a secondary that already has two young safeties -- T.J. Green, a second-round pick last year, and Clayton Geathers, a fourth-round pick in 2015. Veteran Darius Butler also was expected to move from cornerback to safety this season.
Ballard made it clear from his opening news conference he intended to make defense a top priority this offseason. He signed more than a half-dozen veterans in free agency, and now has taken the same approach in the draft. The Colts haven't finished among the top half of NFL defenses in any of Pagano's five seasons as coach.
Hooker is the highest draft pick by the Colts since Andrew Luck went No. 1 in 2012. He is the highest defensive player drafted by the Colts since Dwight Freeney in 2002.
Indy has six more draft picks to make over the next two days.