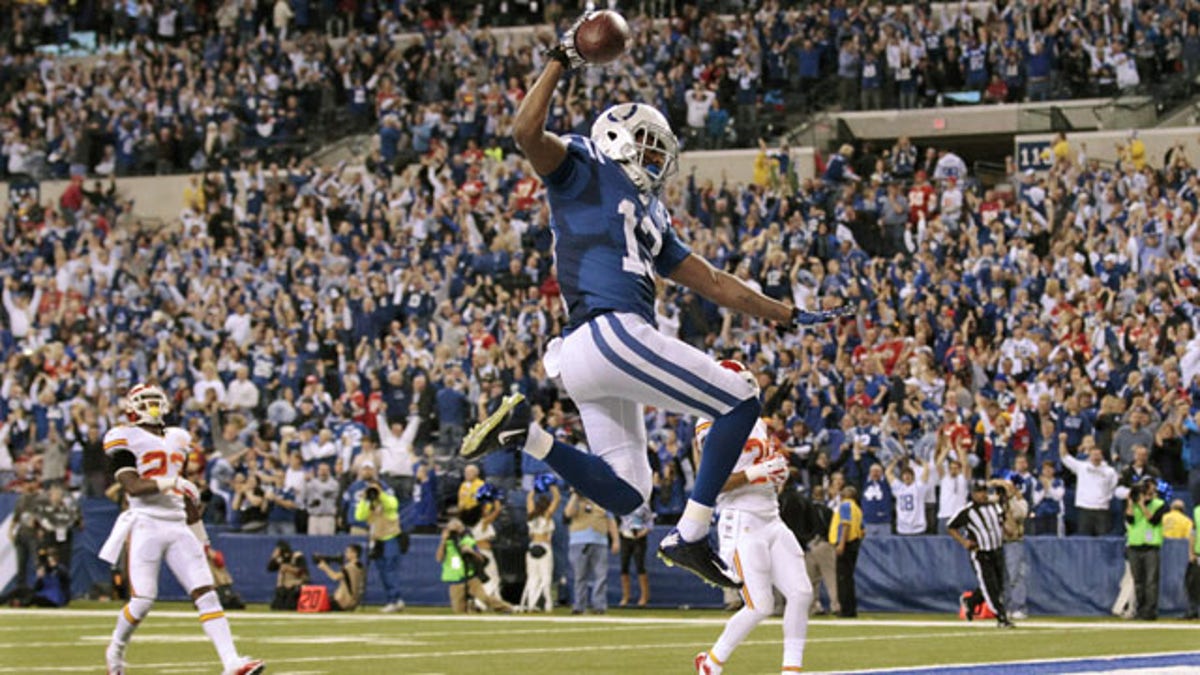 INDIANAPOLIS – Chuck Pagano couldn't believe his eyes. Andrew Luck couldn't believe his ears. Colts fans couldn't believe the scoreboard, and the Kansas City Chiefs couldn't believe their incredibly bad luck.
It seemed unfathomable.
On a day Luck appeared to be pressing and, at times, as bad as he ever has while putting Indianapolis in a 28-point deficit, the Colts quarterback somehow turned things around. He threw three of his four touchdowns in the second half, scored on a fumble return and connected with a wide-open T.Y. Hilton on a 64-yard TD pass to give the Colts an improbable 45-44 wild-card victory Saturday.
"One for the ages," said Pagano, Indianapolis' coach. "I think somebody said that it was the second-largest comeback or whatever in the history of whatever. I guess 21 wasn't large enough at half, so we thought we've give them another seven, you know, just to make it interesting."
Actually, rallying from 28 down made the latest of Luck's amazing comebacks one to remember.
Indianapolis (12-5) became only the second playoff team to rally from that big a deficit, according to STATS. Buffalo rallied from 32 points to beat Houston 41-38 in January 1993, though that one required overtime.
The teams' 1,049 combined total yards set an NFL postseason record, and their 89 combined points is third on the all-time list.
The Colts, winners of four straight, travel to either Denver or New England next weekend for the divisional round.
Luck was an incredible mix of good and bad, finishing 29 of 45 for 443 yards, the second-highest yardage total in franchise history for a playoff game. He also matched his career high with three interceptions. Hilton broke franchise playoff records with 13 catches and 224 yards, and also caught two TDs.
But it was the way Indy won that made it stunning.
Luck played angry and frantic, turning a steady stream of halftime boos into a chorus of cheers.
"I don't know if it ever crossed my mind on how it would be remembered," Luck said after winning his first playoff game four seasons quicker than it took his predecessor, Peyton Manning. "When I took a knee, and you feel the buzz and the energy of the crowd and see your teammates' faces, that makes it special."
For Kansas City, it was another brief, miserable postseason appearance.
The Chiefs (11-6) finished their remarkable turnaround season with three straight losses and an eighth straight postseason defeat -- none more shocking than this one. The eight consecutive losses broke a tie with the Detroit Lions for the longest playoff skid.
And they were beaten up, too.
Starting running back Jamaal Charles left with a concussion on the opening possession. Knile Davis, Charles' backup, left in the fourth quarter with what appeared to be a left knee injury. Receiver Donnie Avery and cornerback Brandon Flowers were knocked out with second-half concussions, and linebacker Justin Houston was out with a knee injury when Hilton caught the winning pass.
That put even more pressure on Alex Smith, who was 30 of 46 for 378 yards with four TDs and no interceptions but lost a fumble that led to a touchdown for Indy. Just about everyone other than the Colts figured Smith sealed the win with a 10-yard TD pass to Davis less than two minutes into the third quarter.
Instead, he tried to rally the Chiefs after Hilton's score and wound up throwing to Dwayne Bowe -- who caught the ball but was out of bounds -- on fourth-and-11 with 1:55 to play from the Indy 43.
"Anytime you're leading like that and then have them battle back and then take it, and you end up losing by a point, it's tough, a tough pill to swallow," Smith said.
Things appeared bleak with Indy trailing 31-10 at halftime, and they got worse when Luck's first pass of the second half was picked off and returned to the Indy 18. Three plays later, Smith made it 38-10.
But Luck had plenty of time to make the jaw-dropping rally.
With Indy going no-huddle, Luck started throwing at will. He eventually caught the Chiefs defense off-guard when Donald Brown scored on a 10-yard run to start the rally. Then Luck capitalized on the fumble by hooking with Brown on a 3-yard TD pass to make it 38-24.
After Luck's third interception turned into a 42-yard field goal, he answered with a 12-yard TD pass to cut the deficit to 41-31 after three quarters.
"He's as advertised. He went out there and definitely avoided some pressure and made big plays down the field," Chiefs cornerback Sean Smith said, referring to Luck.
Even when Eric Berry jarred the ball loose from Brown near the goal line, Luck had the answer. He scooped up the bouncing ball and squirted through the middle to make it 41-38. And after a Kansas City field, goal, Luck found Hilton to win it.
"It seemed surreal, being down like we were down and then you have that fourth-down stop and they had used their last timeout there at the 2-minute warning," Pagano said. "Thinking about how good tomorrow's going to be, snow or no snow, I don't really care."