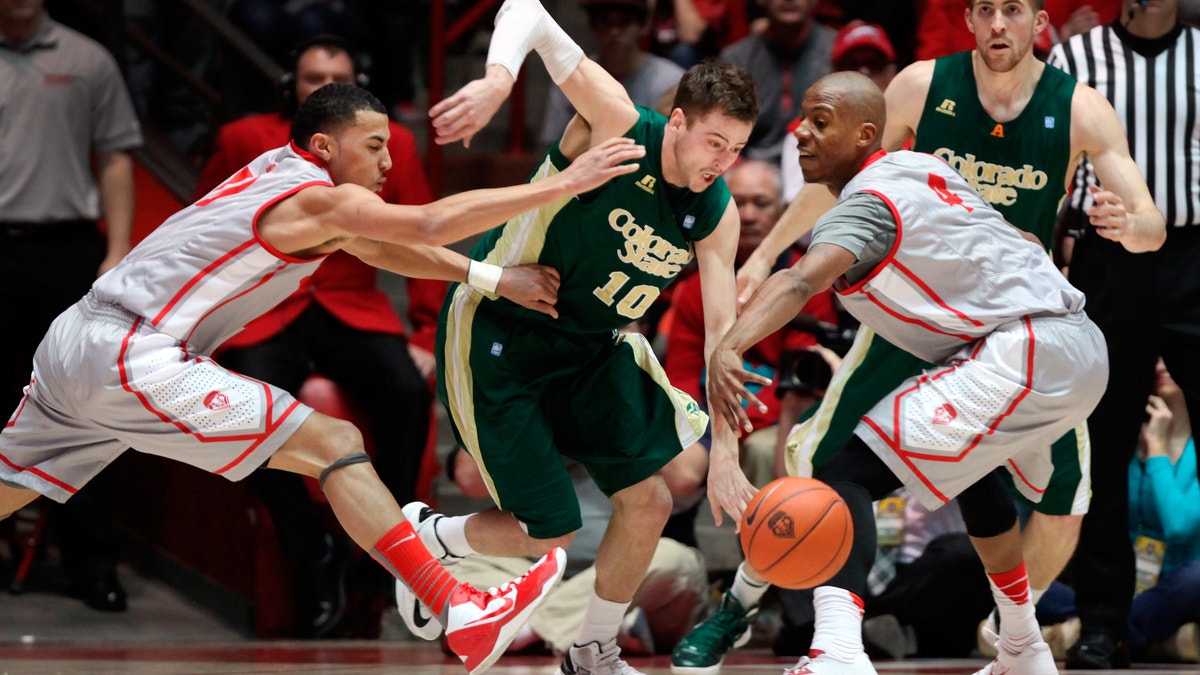 ALBUQUERQUE, N.M. – Last season, Colorado State coach Larry Eustachy watched his Rams fold after getting down big to New Mexico.
It was a different story Wednesday night, but the result was the same as the 15th-ranked Lobos held on for a 66-61 victory after squandering most of a 22-point lead.
"Last year in the same situation we laid down and lost by 30 (actually 85-52)," Eustachy said. "This is the toughest I've seen our team respond. So it's a positive. Absolutely. This is the 15th-ranked team in the country and we made it a game at the end."
It may have been the toughest he's seen Colorado State respond to a large deficit, but it wasn't tough enough to suit him.
"We just got out-toughed. And that's the culture we're still trying to change here," he said, later adding, "We spotted them too much and they were too tough for too long. It's that simple."
Still, the Rams made it a one-possession game at the end.
The Lobos (17-2, 4-0 Mountain West Conference) led 54-32 with 12:26 left before the Rams (15-4, 2-2) began a comeback behind Dorian Green.
Green scored 11 points in a 20-5 Colorado State run that cut the gap to 59-52 with 4 minutes left.
But when Colorado State was falling behind in the first half, its second-leading scorer was on the bench with foul problems and only had three points in the first half.
"I thought it was a huge factor that we had to sit Dorian in the first half," Eustachy said. "That's what we have. When we have certain guys in foul trouble, we're in a lot of trouble."
The Rams didn't score over the final 4:34 of the first half and went into the break trailing 35-25 after the Lobos ended it with an 8-0 run.
New Mexico coach Steve Alford also noted the foul trouble as being a big factor in the outcome.
"We got to their bench and that helped us," he said. "Getting Green in foul trouble in the first half and getting (Greg) Smith in foul trouble in the first half really allowed us to get in some pretty good rhythm."
With 8.2 seconds remaining, Wes Eikmeier's 3-pointer made it 64-61, but Snell made two free throws to preserve the victory.
"We lost some concentration for a 6- or 7-minute frame," Alford said. "But then we did the things that we needed to do down the stretch. Whether it was make free throws, get stops, we did the things we had to do to get the win."
Snell, who finished with 23 points, scored six points in a 10-0 run that turned a 27-25 lead with 4 minutes left in the first half into a 37-25 lead early in the second half.
And New Mexico later used a 9-0 run over a 1:30 span of the second half to build its largest lead that prefaced the Rams' rally.
Eikmeier led Colorado State with 20 points and Green finished with 14, while Colton Iverson had 15 points and 14 rebounds. Iverson almost had a double-double in the first half with nine points and nine boards.
Chad Adams matched his career high with 13 points for the Lobos.
The Rams came into the game as the country's top rebounding team and they controlled the glass with a 42-28 advantage, including 15-7 on the offensive end. New Mexico was 21 of 26 from the free throw line while Colorado State went 13 of 23.
"They are a very gritty group," Alford said of the Rams. "They fight you. They do a great job defensively of making it hard on you. And it is, without question the most relentless rebounding team we have faced all year. They attack the glass on free throws. It's almost as if they're trying to rebound balls on timeouts."