College Football Analyst Craig James Leaves ESPN to Run for Senate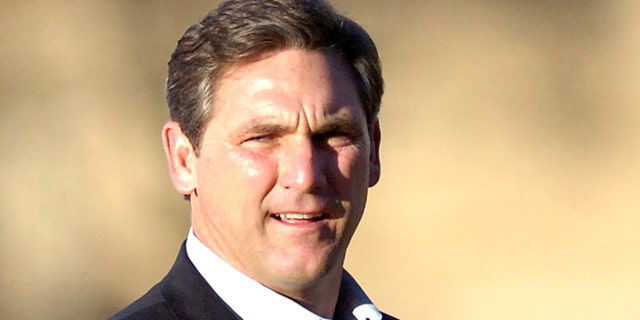 College football analyst Craig James, who starred as a tailback at Southern Methodist University and with the New England Patriots in the 1980s, left ESPN on Monday and entered the Republican race for the open U.S. Senate seat in Texas.
James, who appeared on the cable network's weekly game broadcasts, had been flirting with entering politics for more than year but has not held public office. He submitted his paperwork to the Republican Party of Texas Monday, the last day of the normal filing period.
James said he was running as a conservative outsider who has transformed himself from poor kid to successful businessman.
"Washington is busted up, and I understand how the economy works because I have been concerned about continuing to provide jobs in this economy, not 10 years ago, not 15, not 20 years ago. I live in this economy, I get it," James told The Associated Press. "We need someone from what I call real street, this is what separates me (from the other candidates)."
ESPN released a statement Monday saying James would no longer work for the network because he has chosen to enter politics. As a businessman, James has been involved in ventures providing video content for the Internet as well as real estate holdings, development and ranching.
While James is well known among college football fans, he is a political novice and polarizing figure. He was embroiled in Texas Tech University's decision to fire football coach Mike Leach in 2009 and was a member of the record-setting Southern Methodist University football team in the early 1980s when the program entered a series of scandals that ultimately forced the NCAA to shut it down.
In the race for the Senate seat being vacated by retiring Republican Kay Bailey Hutchison, James faces an uphill battle against a crowded field of veteran politicians who have been campaigning and meeting in candidate forums across the state for months.
James established his conservative credentials by working with Republican causes, but he will find it difficult to set himself apart in a state where Republicans hold every statewide office. Candidates here compete to see who can be the most conservative, making for few substantive policy differences. Since the Democratic Party has yet to recruit a viable candidate, whoever wins the April 3 Republican primary is almost a shoo-in come November.
The leader of the race is Lt. Gov. David Dewhurst, one of the most powerful politicians in Texas with an almost $200 million personal fortune to finance his campaign. After 13 years as land commissioner and lieutenant governor, Dewhurst has a well-established campaign and has already received endorsements from some of the most powerful political groups in Texas, including medical, farming and oil and gas organizations.
Running to the right is Ted Cruz, the Texas solicitor general from 2003-2008, who is backed by FreedomWorks, a national group that helps organize tea party activists. He's been endorsed by two former state Republican party chairwomen and Sen. Jim DeMint, one of the most conservative members of the U.S. Senate and a tea party favorite.
Also in the race is former Dallas Mayor Tom Leppert, who touts his experience as a CEO of construction, real estate and financial services firms. Like all of the candidates in the race, Leppert says he supports small government, family values and conservative principles.
Despite the competition, Republican fundraiser and close friend Roy Bailey told The Associated Press on Monday that James's candidacy was good for the state.
"I think it's great for Texas. Anytime you have someone with Craig's street smarts and business sense and willingness to serve the public, it's a great thing," Bailey said.
James, 50, is likely banking on name recognition from his work for ESPN and his ties to big-time college football to overcome his late start. But his name recognition could also hurt him.
In 2009, Texas Tech fired popular football coach Mike Leach, who had the most wins in school history, after James complained to school administrators that Leach mistreated his son, a Red Raiders player.
Leach denies mistreating the younger James and has said Craig James had called coaches trying to get his son more playing time. Leach sued the university and named Craig James as a defendant. The case is pending before the Texas Supreme Court.
From 1979-1982, James was a star player at SMU and was part of the record-setting "Pony Express" backfield with Eric Dickerson. Though the Mustangs won Southwest Conference championships in 1981 and 1982, the team was also embroiled in several NCAA investigations.
In 1987, the NCAA hit SMU with the so-called "death penalty" for repeated infractions, shutting down the program for a year after finding SMU had continued to pay players after promising in 1985 it would stop. The scandal is generally considered among the worst in college sports history.
James was never directly implicated in the NCAA transgressions and he has consistently denied any involvement.
After college, James was drafted by the Washington Federals in the USFL and signed with the Patriots before the 1985 season. He retired from football in 1989.