Cincinnati Reds at Miami Marlins game preview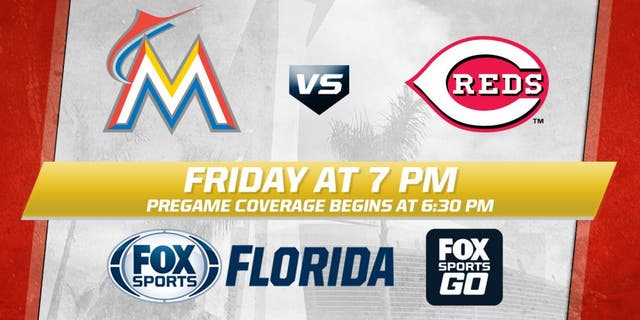 NEWYou can now listen to Fox News articles!
TV: FOX Sports Florida
TIME: Coverage begins at 6:30 p.m. ET
MIAMI -- Friday is Jose Day.
Can it be Stanton's Day, too?
Right-hander Jose Fernandez and right fielder Giancarlo Stanton -- the Miami Marlins' two biggest stars -- have rarely been good at the same time.
One or the other usually has been injured since Fernandez broke in as the National League Rookie of the Year in 2013.
Fernandez missed most of 2014 and half of 2015 due to elbow surgery. Stanton missed the first two months of 2013 due to a hamstring injury, sustained multiple facial fractures when hit in the face with a fastball toward the end of 2014 and suffered a season-ending hand injury in June 2015 -- just before Fernandez returned from his operation.
This year, Fernandez (10-4, 2.69 ERA) has been terrific, earning his second All-Star berth and his first since his rookie year. however, Stanton has been in dreadful slump, looking helpless while flailing at numerous pitches outside the zone.
On Tuesday and Wednesday, however, Stanton hit four homers in four consecutive at-bats, becoming just the second major-leaguer to accomplish that impressive feat, joining Albert Pujols, who did it in 2006.
Could this be what turns Stanton around?
Can Fernandez get a win and Stanton a homer on the same day?
The first one of those Marlins objectives appears likely, considering Miami (44-41, third in the NL East) will be facing the Cincinnati Reds (32-54, last in the NL Central) on Friday.
More important, perhaps, is the fact that the game is at Marlins Park, where Fernandez is 24-1 with a 1.48 ERA so far in his brilliant career.
Fernandez has been simply magical at home, and his exuberance -- both on the mound and at bat -- seems to lift the Marlins as well as the fans.
Miami, coming off a disappointing 3-6 road trip, is looking for Fernandez -- and Stanton -- to turn things around now that the Marlins are back at home.
Cincinnati, meanwhile, will counter with 27-year-old right-hander Dan Straily (4-5, 4.34 ERA). The California native is 17-18 in his five seasons in the majors, sporting a 4.54 career ERA. This is the fourth team in the past four years for the 6-foot-2, 215-pound Straily, who has little history against the Marlins.
Straily's only career appearance vs. Miami came in 2013, a start in which he gave up two runs in four innings.
The Reds have yet to have a winning month this season -- 12-16 in June was the best they have been able to manage so far.
Here are some other story lines to watch for this weekend:
--Marlins outfielder Ichiro Suzuki has 2,990 major league hits. It is doubtful he will get to 3,000 in this series, especially since he is just a spot starter for Miami. And this is the final series for either team before Tuesday's All-Star Game, so Suzuki may have to wait awhile longer.
--Stanton and Reds left fielder Adam Duvall are looking ahead to their participation in the Home Run Derby on Monday in San Diego. Duvall, the third seed, will open against the Padres' Wil Myers in the first round, while fifth-seeded Stanton will face off with fourth-seeded Robinson Cano of the Seattle Mariners.
--Reds shortstop Zack Cozart has homered in three consecutive games. He has 13 homers already this season, good production for the team's shortstop.
--Lefty reliever Mike Dunn has 368 appearances with the Marlins. With one more appearance, he will break the record for a Miami pitcher, a mark he now shares with Braden Looper.
--Reds right fielder Jay Bruce did not start Wednesday, as he was resting some aches and pains. He walked in the ninth inning and was thrown out trying to steal second.
--Marlins third baseman Martin Prado was also rested Wednesday. Prado and Bruce are expected to return to their respective lineups Friday.
--The Reds had an off day in blazing-hot Miami on Thursday. How will that day -- presumably spent poolside at a posh hotel -- affect the team?