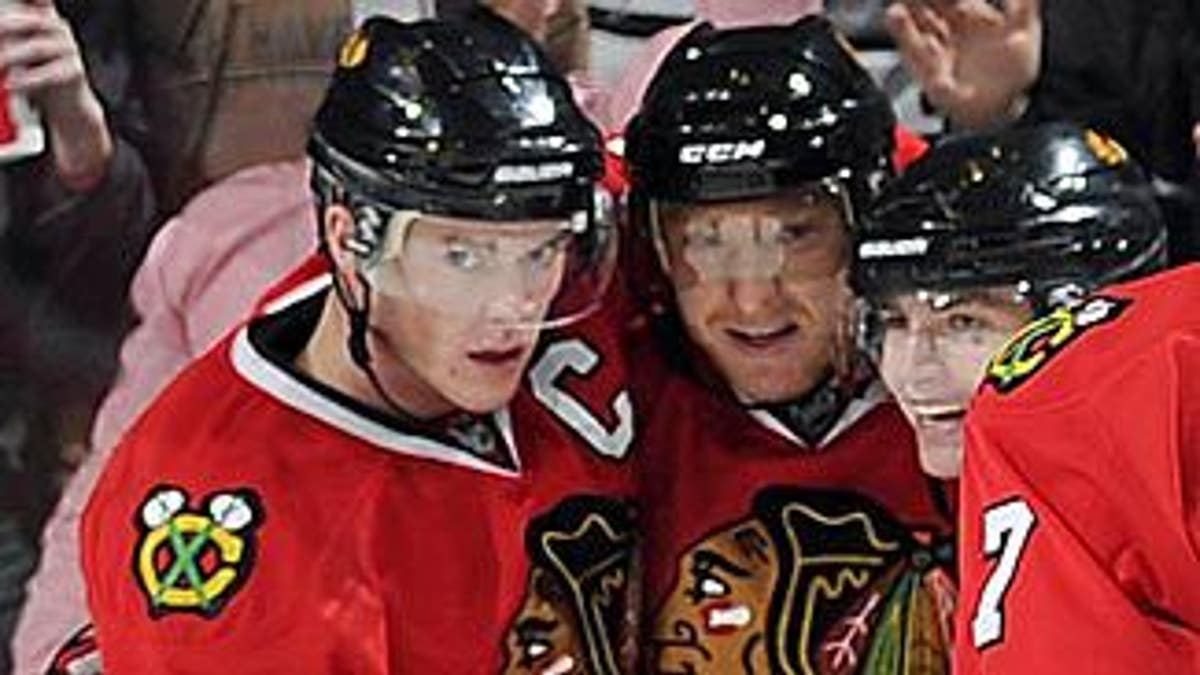 DALLAS -- As the Chicago Blackhawks face the Dallas Stars on Thursday at the American Airlines Center, three players -- Marian Hossa, Patrick Kane and Jonathan Toews -- loom large for the reigning Stanley Cup champions because of their career success against Dallas.
Kane is the leader with 20 points in 14 games against the Stars, a total which includes 4 points in 2 games this season. Hossa (18 points in 19 games) and Toews (17 points in 14 games, 4 points this season) aren't far behind.
Hossa and Kane had differing takes on their successes against the Stars.
"Well, that's nice but I try to look forward not back," Hossa said. "They're playing great hockey. They've got a good hockey team. It's going to be one of the key games we play this season. We can keep climbing up and that's our goal."
Added Kane: "I don't know what it is if sometimes you get lucky against a team or you feel a little bit better in certain places, I'm not really sure. Lucky enough in my career, I've had some success against Dallas. Hopefully that continues tonight because it's one of the biggest games of the year. It would be nice to play well in this one."
Blackhawks coach Joel Quenneville knows this is a huge game as just two points separate these clubs.
"It's a big game. You look at the standings, you look at the importance for both teams, the meaning of it. It's huge," Quenneville said. "We'd like to start this part of the trip in a positive way. We're coming off a big win (Monday against San Jose), but let's make sure that we know this is going to be a tough game to play."
Another player who could also be in line for a big night against Dallas is Patrick Sharp, who had a career-high 4 assists in the second period of Chicago's 5-3 win against the Sharks.
"That line's been very hot right now with Toews, [Sharp] and [Kane]. They do a lot of things well," Quenneville said. "They complement each other. Hossa has really picked up his game as well. Let's hope there's something there tonight because we need these guys to be effective. When they are, it really complements our team game."
Quenneville also likes that Sharp has shown his versatility this season. He spent most of the season at center before moving to the wing in February so he could play alongside Kane and Toews.
"He's playing with a couple of guys that are playing well. Offensively, he's a threat," Quenneville said. "Every time they hit the ice, it always seems like there's something going offensively. They can all make plays and they can finish. Since they've been together, that line has been outstanding for us. It's nice having that versatility in a guy like [Sharp]."
The Stars will be without one of their top players in All-Star forward Loui Eriksson, who will miss the game with an upper-body injury. He took a hard hit from the Sharks' Douglas Murray early in the second period of Tuesday's game and did not return.
Eriksson leads Dallas with 10 power-play goals, so it's an absence that could loom large for the home side.
"Obviously he's a top player. He's been a big part of the team this year," Quenneville said. "He's a dangerous guy and has got a lot of speed as well."