Chicago Cubs Anthony Rizzo, Jon Lester lead charge to support badly beaten student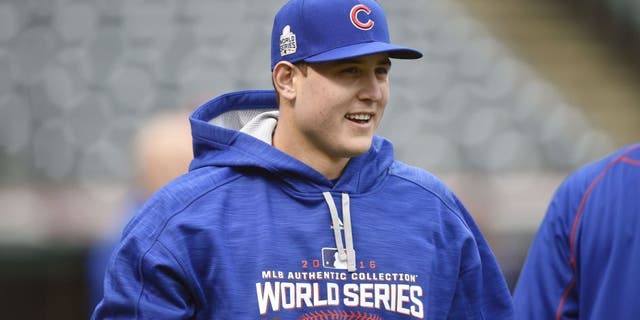 SCOTTSDALE, Ariz. -- A tweet, that's all it was. A retweet of an on-line article from ABC 7 Chicago that said, "South Elgin boy, 12, out of coma, after allegedly beaten by classmate."
Cubs first baseman Anthony Rizzo said this: "Heard you are a big @Cubs fan Henry. When you are better I have a couple tickets and BP (batting practice) passes waiting for you at Wrigley. #StayStrong."
Henry Sembdner's father, also named Henry, did not see the tweet. At the time, the elder Sembdner did not have a Twitter account. A friend called him and said, "Did you see this?"
One-hundred thirty-six characters, that's all it was -- Rizzo sent his initial tweet with four characters to spare. And then, 29 minutes later on Feb. 6, he followed with this:
"Heard Henry's school will be wearing @Cubs gear tom to show their support. Wear your gear & I'll RT pics. Let's all show our support. #StayStrong."
Rizzo, 27, kept his word the next day, retweeting a series of photos from elementary, middle-school and high-school students in Lake Elgin, Illinois, a northwest suburb of Chicago.
And he plans to keep his word to Henry about the visit to Wrigley, too; his foundation, the Anthony Rizzo Family Foundation, already has made contact with the Sembdner family.
"It's in the works," Rizzo said Saturday. "We hopefully will get him to Wrigley as soon as we can."
***********
The story horrified Rizzo, just was it would horrify any person with a conscience.
On Feb. 3, officials from Kenyon Woods Middle School told parents that a student physically assaulted another student and left him severely beaten.
That student was Henry, a seventh grader who turns 13 on Friday. He suffered brain and skull injuries, requiring doctors to place him in an induced coma.
Rizzo, who was home in Parkland, Florida, said he became aware of the news through social media.
"For him the way that happened, from the story I've heard and read, it just was terrible, Rizzo said.
Rizzo sent out his tweets on Feb. 6. Henry was released from the hospital the next day. But his recovery is only beginning.
"He can't play sports for a full year," Henry's father said via phone Saturday from South Elgin, Illinois. "His baseball career for a year is done. It's going to be a long, boring summer for him. But he's better every day, which is good. And we're slowly working with the school to transition him back."
For Rizzo, it is natural to reach out to kids in need -- he was once such a kid himself, diagnosed with Hodgkin's lymphoma in April 2008. He was 18 at the time, less than one year removed from being the Red Sox's sixth-round pick out of Stoneman Douglas High School in Parkland.
Enter Jon Lester.
Two years before Rizzo's diagnosis, Lester had endured his own bout with cancer, anaplastic large cell lymphoma. The following year, at age 23, he won the clinching game of the World Series in his first postseason start.
Rizzo, at the time of his diagnosis, was playing for Red Sox's Class A affiliate in Greenville, S.C. Shortly after receiving the news, he met Lester during a visit to Fenway Park at the invitation of then Red Sox-GM Theo Epstein.
"He was Jon Lester," Rizzo said. "For him to talk to me meant the world to me. I experienced that first-hand, so I just know. It's weird that people think that. But I remember thinking it, too."
He could picture Henry in the same position.
"If you can just make him smile for a second, it can go a long way," Rizzo said. "Obviously it gained a lot of steam. But that wasn't the intent."
***********
More major leaguers do extensive charity and community work than fans know. Clubs nominate the most diligent for the Roberto Clemente Award; Rizzo was the Cubs' nominee last season; the Mets' Curtis Granderson the overall winner. But by and large, most players understand their unique platform.
"It's kind of crazy, the impact of just saying hello," Lester said.
Every Tuesday when the Cubs are at home, Rizzo visits children at the Ann & Robert Lurie Children's Hopsital of Chicago. His foundation has raised almost $2 million for cancer research and to provide support to children and their families battling the disease.
Lester, 33, said he admires his younger teammate's willingness to visit hospitals; the pitcher, who is uncomfortable visiting hospitals, prefers to play host to children at home and away games.
Of course, Rizzo's tweets to Henry were more than just a hello -- the first included the offer of tickets and passes to a Cubs game, the second was a call for his school to rally around the boy.
But the impact, yes, it was kind of crazy.
"We were all in shock," the elder Henry said. "The support from him toward my son, it's amazing."
Henry is the youngest of the four Sembdner children. The elder Henry is a superintendent for a construction company. His wife, Karen, is an administrative assistant for a fire protection company, but taking a leave absence to care for her son (donors, through a pair of gofundme pages, have raised nearly $50,000 for the family).
Naturally, the Sembdners are Cubs fans.
"Friends at work actually called me when they heard about the Anthony Rizzo thing and they're like, 'All right now, be honest: Who was more excited? You? Or Henry?" the elder Henry said.
A Cubs "C," 6 feet in diameter, is painted on the Sembdner's garage door. The elder Henry said he honored the late Ron Santo by putting his name and number on the corner of the door. He saves all kinds of Cubs memorabilia, "but my name is not Rockefeller, so I can only collect so much."
The younger Henry does not have one favorite Cub, his father said -- he is a fan of all of the infielders. But before he visits Wrigley, the boy plans to participate in another public event at his middle school. He will shave his head for the St. Baldrick's Foundation, an organization dedicated to curing childhood cancer, on March 17.
The day Henry came out of his coma, he decided that he wanted to give back, his father said.
"Recently I had part of my head shaved off due to an injury," Henry explained on his Facebook page for the event. "Now I'm shaving all of my head to raise money for childhood cancer research."
A haircut, that's all it is. But it sure sounds like the spirit of Anthony Rizzo.