Chicago Bears: Schedule Prediction Post Bridgewater Injury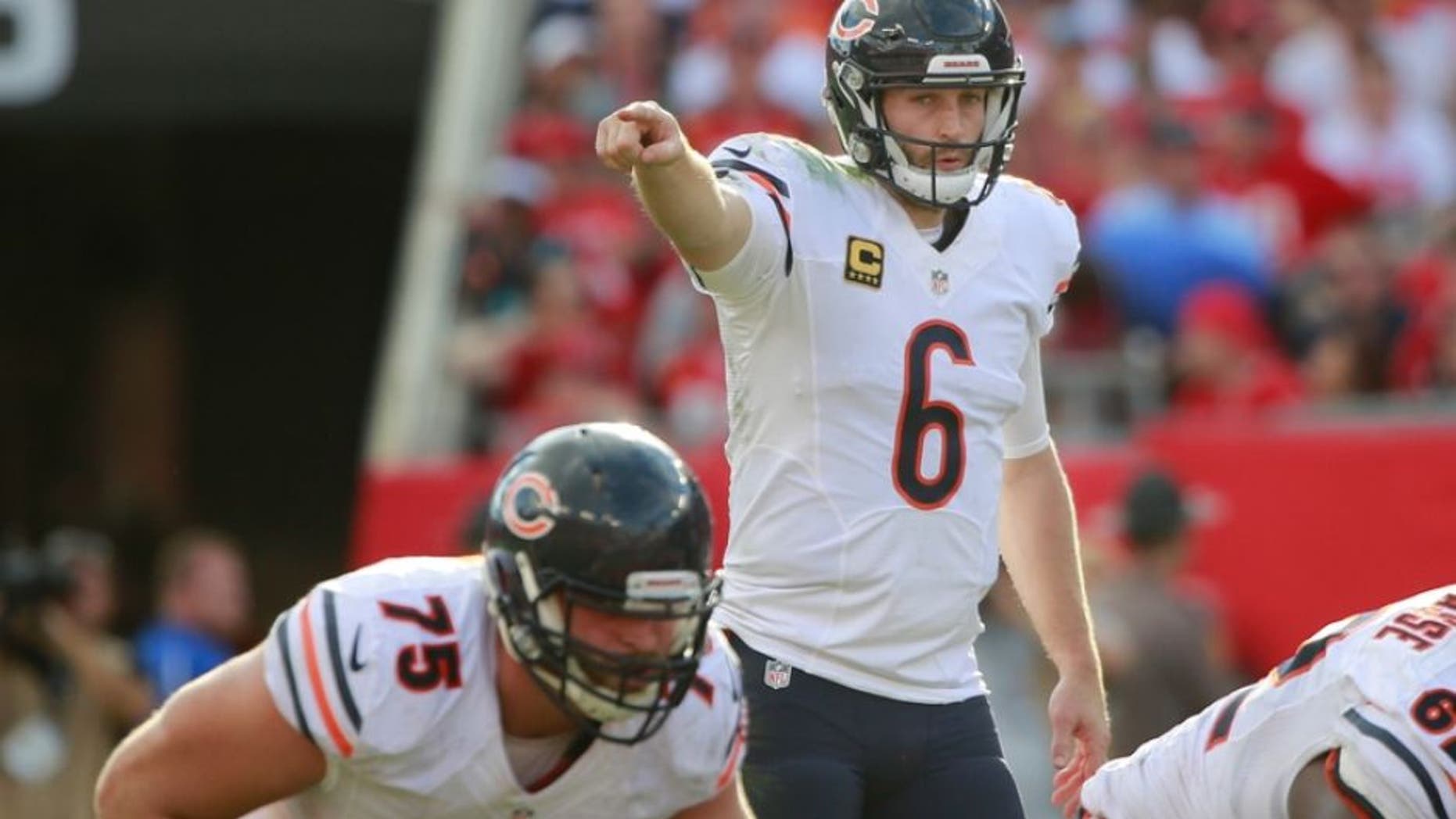 Aug 25, 2016; Seattle, WA, USA; Dallas Cowboys quarterback Tony Romo (9) lies on the turf after a tackle against the Seattle Seahawks during the first quarter at CenturyLink Field. Mandatory Credit: Joe Nicholson-USA TODAY Sports
The injury results of the past week have had a profound impact on the outlook of the Chicago Bears and their 2016 schedule.
Most people are focused on the performance in the preseason and the injury status of the roster. Pernell McPhee is becoming a PUP list candidate while Kyle Long remains out with a nagging shoulder problem. However, some of their biggest opponents this season have been getting it even worse from the injury bug. So much to the point that it should directly impact the outlook of their upcoming matchups with the Bears.
So here is a rundown of all 16 games and the new predictions to go with them.
Game1 @ Houston Texans
Panic is setting in because there's a rumor that J.J. Watt will be back in time to play. People must keep in mind that even if it's true, Watt likely won't be his usual self due to the injury. Even so it's the high-octane Texans receiving corps led by DeAndre Hopkins that will be the difference in this game.
Result: Loss
Game 2 vs. Philadelphia Eagles
It's a completely different look for the Eagles this year. They have a rookie head coach installing an entirely new system from top to bottom with lots of new players coming in. The odds of them playing at a high level right away aren't favorable. Sam Bradford remains an inconsistent quarterback with slow wide receivers. Not to mention a shaky offensive line.
Result: Win
Game 3 @ Dallas Cowboys
No doubt Dak Prescott has put on quite the show in preseason, but the speed is totally different in regular season. He'll need a major assist from that great offensive line and Ezekiel Elliott to avoid any big mistakes. At the same time the Dallas defense remains a huge question mark thanks to all the suspensions to key plays. Jay Cutler always seems to play well in that stadium too.
Result: Win
Game 4 vs. Detroit Lions
No doubt Matthew Stafford and the Lions seems to have had the Bears' number the past few years. That being said they still have a lot of problems with their offensive line and losing Calvin Johnson to retirement is not going to help matters. Most of the times these games are close and it shouldn't be different here but the general feel is the Bears improved more than the Lions did this off-season.
Result: Win
Dec 28, 2014; Minneapolis, MN, USA; Minnesota Vikings quarterback Teddy Bridgewater (5) falls for a first down in the first quarter against the Chicago Bears at TCF Bank Stadium. Mandatory Credit: Brad Rempel-USA TODAY Sports
Game 5 @ Indianapolis Colts
This is going to be a tough matchup. The Colts have a wide receiving corps loaded with speedsters like T.Y. Hilton and Phillip Dorsett. Andrew Luck will be back pulling the trigger for them and under the guidance of Rob Chudzinski who is a solid offensive coordinator. It just feels like this is a game where Chicago's biggest weakness will come back to bite them.
Result: Loss
Game 6 vs. Jacksonville Jaguars
One of the wild card games of the season. On the one hand the Bears are facing a team that held a top 10 pick this year. On the other the Jaguars have a roster that is teaming with young talent and a number of emerging stars like Allen Robinson and Blake Bortles. Which team will show up at Soldier Field? This will be a tough game, but Chicago pulls it out.
Result: Win
Game 7 @ Green Bay Packers
Don't expect lightning to strike twice. The Packers are still feeling the sting of that Thanksgiving defeat last year and will be anxious for revenge when the Bears return. Jordy Nelson is back healthy and he's always a problem. Cutler won't throw the game away like in years past, but he won't be able to keep up with Aaron Rodgers this time.
Result: Loss
Game 8 vs. Minnesota Vikings
The Bears should've beaten the Vikings in Chicago last year but a late-game collapse doomed them. Odds are that won't happen with Shaun Hill under center for the Vikings. Adrian Peterson and that Minnesota defense will remain hard nuts to crack, but the clear absence of Bridgewater in key situations will enable the Bears to pull away.
Result: Win
Dec 27, 2015; Tampa, FL, USA; Chicago Bears quarterback Jay Cutler (6) points against the Tampa Bay Buccaneers during the second half at Raymond James Stadium. Chicago Bears defeated the Tampa Bay Buccaneers 26-21. Mandatory Credit: Kim Klement-USA TODAY Sports
Game 9 @ Tampa Bay Buccaneers
No doubt that they're a better team than they were last season, but so are the Bears. The Buccaneers made a bold decision replacing Lovie Smith with Dirk Koetter at head coach. Jameis Winston looks improved but that defense still needs to show people it can be better. Considering Chicago beat them in the same venue last year with what was a less talented and more banged up roster, it's fair to expect similar results.
Result: Win
Game 10 @ New York Giants
This is another disadvantageous matchup. Eli Manning is still a Pro Bowl quarterback who seems to have a slew of weapons at his disposal. Odell Beckham is a superstar. Victor Cruz finally appears healthy and rookie Sterling Shepard is already making noise. It's unreasonable to believe the Bears secondary can slow that potential juggernaut down. Unless Cutler is prepared for a shootout, the expectation here is obvious.
Result: Loss
Game 11 vs. Tennessee Titans
This has the feel of one of those sneaky good teams. The Titans are nowhere near a finished product. More like a collection of solid talents still searching for an identity. Marcus Mariota should be a really good player and he has the makings of a beefy ground attack to lean on with Demarco Murray and Derrick Henry. Still the Bears defense keeps this young team in check.
Result: Win
Game 12 vs. San Francisco 49ers
It's hard not to look at who the San Francisco 49ers are and not think "hot mess." How the Bears lost to this team last year is still mind-boggling. Chip Kelly is expected to fix their problems on offense but the early indications don't look promising. With an improve defense going against a group that hasn't change much, this time Chicago will get the ending it wants.
Result: Win
Dec 13, 2015; Chicago, IL, USA; Washington Redskins quarterback Kirk Cousins (8) is sacked by Chicago Bears outside linebacker Willie Young (97) linebacker Lamarr Houston (99) and nose tackle Eddie Goldman (91) during the first half at Soldier Field. Mandatory Credit: Kamil Krzaczynski-USA TODAY Sports
Game 13 @ Detroit Lions
Crazy things just seem to happen when the Bears play at Ford Field, and they are always bad. The ridiculous non-calls from last season are perfect examples. Chalk it up to a gut feeling, but odds say the Lions find a way to steal this game thanks to a few breaks courtesy of the refs. Matthew Stafford by this point has adjusted to life without Megatron.
Result: Loss
Game 14 vs. Green Bay Packers
Can the Bears do it? Can they actually beat the Packers at Soldier Field? It's something they haven't done in six years and it's something they likely will have to do if they want to make the playoffs. Common sense says they find a way to lose it, but John Fox is a stubborn guy who finds ways to win in the division. Expect him to finally break through here.
Result: Win
Week 15 vs. Washington Redskins
Another ugly loss from 2015 the Bears are eager to avenge. Washington was a playoff team last year, so they deserve proper respect. They're also a franchise the Bears haven't beaten in 13 years. Not the most flattering of losing streaks, especially given how poor the Redskins have been over the years. Tempting fate, this time Chicago gets it done.
Result: Win
Week 16 @ Minnesota Vikings
There's no other way to put this. The Bears just have problems whenever they play in Minnesota. It's hard to win there. Even without Bridgewater, the Vikings will lean on their defense, a loud stadium and Adrian Peterson to once again deliver a frustrating defeat to Chicago at the end of the season. Side prediction: Shaun Hill will no longer be the quarterback.
Result: Loss
Final Record: 10-6
The injuries to Tony Romo and Teddy Bridgewater loom large on this new slate of predictions, handing the Chicago Bears two crucial victories inside the NFC that will be most difficult to come by. As a result they finish with their first double-digit win season since 2010. Whether that's enough to claim a wild card spot in the playoffs is up to the fates. Either way it will be a welcome sign of progress.