Chase Elliott reveals No. 24 on FS1's 'NASCAR Race Hub'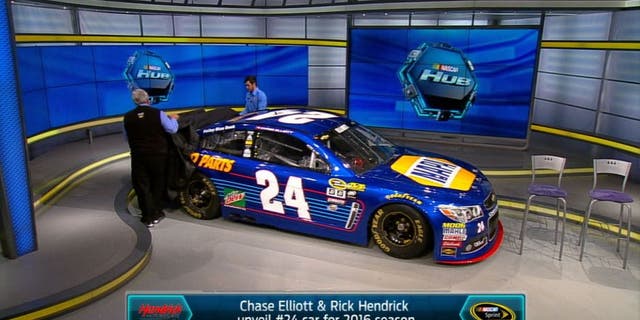 NEWYou can now listen to Fox News articles!
Chase Elliott - with some help from his boss, Rick Hendrick - revealed the 2016 No. 24 NAPA Auto Parts Chevrolet SS on FS1's "NASCAR Race Hub."
It's our first look at the ride that Elliott will run next season when he takes over for Jeff Gordon.
But the fun wasn't limited to the FOX Sports studios in Charlotte, N.C. The unveiling was also simulcast on the FOX video screen in Times Square.
So what's it like following in the footsteps of a future hall of famer?
"I don't think it's all going to completely settle in until it's time to actually get started, before we get ready to go to Daytona," Elliott told FOXSports.com in an exclusive interview. "At this point, I think everybody is so kind of clamped down on this year and trying to finish out the season strong, I haven't really let my mind wander too far ahead. I'm trying to keep that mindset."