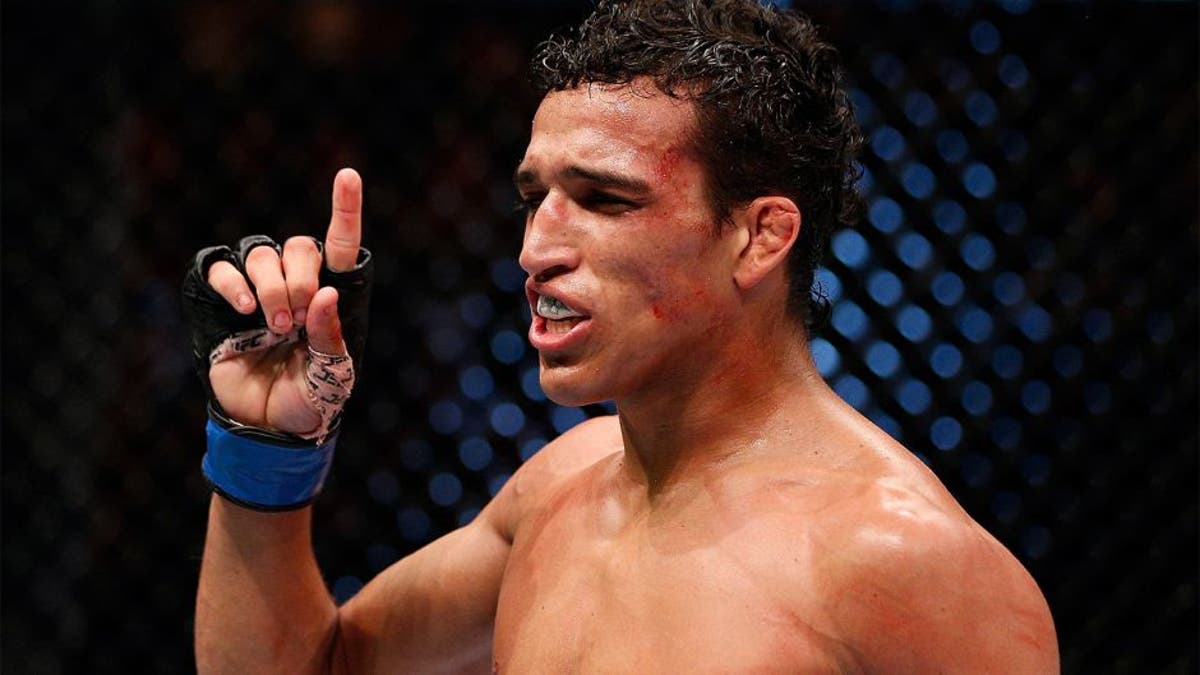 UFC Fight Night headliner Charles Oliveira knows all too well how hard it is to live up to expectations.
Two fights into his UFC career, Oliviera was already being touted as the next big thing after he dispatched former "Ultimate Fighter" winner Efrain Escudero while moving his professional record to 14-0 overall.
Oliveira fell back down to Earth with his next three fights, which ended with the first two losses of his career as well as a win overturned to a no contest thanks to an illegal knee strike he landed on opponent Nik Lentz.
As the losses mounted, Oliveira made the decision to cut 10 pounds and move from lightweight to featherweight. He quickly picked up two more wins by submission and was right back in the crosshairs of the expectation that he could be a threat to anyone at 145 pounds.
But the same thing happened again.
Oliveira dropped his next two fights in a row and it looked like that was going to be his lot in life. He would be a top-10 featherweight, but never quite conquer the best fighters in any division.
Just being above average wasn't enough for Oliveira, however. He buckled down in the gym, doubled his efforts in preparation and the results started to show in the Octagon as the Brazilian reeled off four consecutive wins, including a submission over former lightweight foe Lentz.
"Since my last loss when I was defeated, I tried to focus more on my camp," Oliveira told FOX Sports. "I talked a lot with my training partners and I did a lot to change and I'm ready because I'm coming from four wins in a row and this is my time to make a run at the title."
The four consecutive victories -- his longest streak since joining the UFC -- moved Oliveira to No. 7 in the featherweight rankings while inching him closer to title contention in the division.
Beating Holloway this weekend would give Oliveira his first win over a top-five fighter and erase the bad memories of missed opportunities in past matchups with similar stakes on the line.
Where Oliveira stumbled and faltered against fighters like Frankie Edgar and Cub Swanson in the past, he's ready to prove by beating Holloway this weekend that he's ready to stand across the Octagon from names like Jose Aldo and Conor McGregor.
"I'm totally focused on Holloway now, but my dream is to be champion. I will be ready to fight with anyone in the division," Oliveira said. "I respect (Jose) Aldo so much and the same for (Conor) McGregor, but after beating Holloway, I will be the champion and I'll fight anyone in the UFC who challenges me."
First things first, Oliveira has to get past Holloway this weekend and that could be a Herculean task given the Hawaiian's recent run.
Holloway is a perfect 6-0 in his last six fights with five finishes and three TKO's along the way. While he's well versed in submissions, Holloway is best known as a striker who loves the knockout, and Oliveira is very aware of that fact as well.
"I believe Holloway will try to keep this standing up because of my style. I'm a really good striker, too, my Muay Thai is really awesome. Part of the five rounds will be standing, but at some point I'm going to put Holloway down and I'm very good with submissions," Oliveira said.
That might be a slight understatement considering Oliveira is one tap out away from tying Nate Diaz and Frank Mir with the most submission victories in the history of the UFC with eight.
Oliveira would be more than happy to test Holloway's Brazilian jiu-jitsu as well and add his name to the long list of fighters who didn't make it to the final bell with him inside the Octagon.
"I have a great jiu-jitsu game and I'm awesome at submissions. In the division, yeah, I believe I have the best ground game," Oliveira stated.
"This is a five-round fight. I don't have to rush the fight. I have five rounds to win. If Holloway makes a mistake before that, I will finish it."