Chargers players are unhappy with their kicker's reaction to botched field goal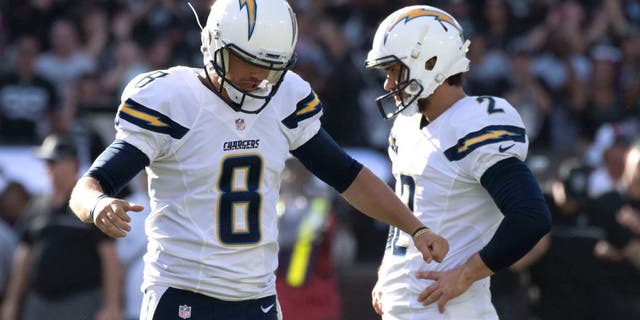 This season has been all about missed opportunities and blown leads for the San Diego Chargers. They're 1-4 and have seemingly invented ways to lose games -- from late-game turnovers to botched holds on game-tying field goals.
This past weekend, it was the latter that cost San Diego a possible victory. Kicker Josh Lambo was never given a chance to tie the game because the hold was botched Drew Kaser.
It was a heartbreaking way to lose a game, but Lambo's reaction drew the ire of his teammates. Lambo was seen laughing with Raiders kicker Sebastian Janikowski shortly after the gaffe, which isn't how most players take a crushing loss.
"Everybody on your team is looking at you and looking at everything you do at all times," head coach Mike McCoy said, via the San Diego Union Tribune. "When a teammate sees you in a situation like this and you get caught, laughing it up, people take it differently. Everybody is different. Some players will look at it and say, 'It's not a big deal.' Other players, it pisses you off. You were involved in a critical play in the game, and it wasn't executed properly, and we lost. Just understand what it means."
McCoy said Lambo has tried to make up for his mistake, and has done a good job doing so.
"I think he's handled it the right way, talking to his teammates, talking to different coaches on the staff, apologizing and what he's learned from it."
Lambo has been a reliable kicker for the Chargers, making nine of his 10 field goal attempts this season. It's probably not too much to ask for him to take a loss a bit harder than he seemingly did, though.