Chargers blast Cowboys in preseason opener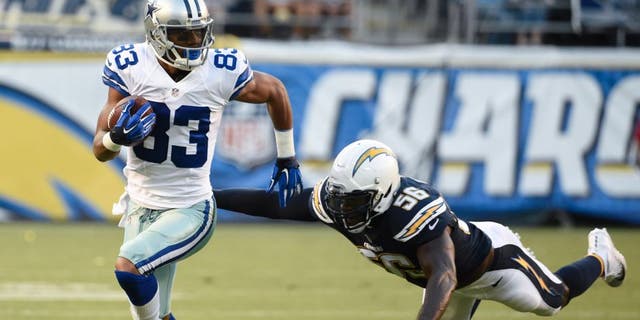 SAN DIEGO -- The San Diego Chargers dropped the Dallas Cowboys 17-7 in Thursday night's preseason opener at Qualcomm Stadium. Dallas fumbled the ball twice, and San Diego converted the recoveries into 14 points off turnovers.
To start the game, Cowboys quarterback Brandon Weeden bobbled a shotgun snap from center Travis Frederick. Rather than recover the ball, Weeden batted the ball that ricocheted off defensive tackle Ricardo Matthews and 35 yards into the Dallas backfield before San Diego defensive back Patrick Robinson recovered the loose ball. Chargers running back Danny Woodhead rushed eight yards for a touchdown on a draw play eight plays later to help his team take a 7-0 lead.
The Cowboys would respond with a five-yard touchdown rush by running back Gus Johnson, who finished the night with 13 carries for 35 yards and a score, to tie the game 7-7.
After a Chargers punt, undrafted free agent rookie Lucky Whitehead out of Florida Atlantic fumbled a 19-yard punt return that gave the ball back to San Diego. Three plays later, running back Brandon Oliver scored a 10-yard touchdown to help the Chargers take a 14-7 lead.
Chargers kicker Nick Novak hit a 52-yard field goal with 9:18 left in the fourth quarter to give San Diego a 17-7 lead that the Cowboys could never overcome.
The Cowboys defense had some bright spots. Rookie cornerback Byron Jones led the team with five tackles, though he had trouble adjusting to back-shoulder fades throughout the game. Defensive linemen Lavar Edwards, Jack Crawford, and rookie Randy Gregory each recorded a sack. Crawford forced a fumble, but the Chargers recovered.
Weeden threw 5 passes and completed 4 of them for 42 yards and an 101.7 passer rating. Second-year quarterback Dustin Vaughan finished the game going 12 of 18 for 106 yards and 82.2 passer rating. Undrafted rookie Jameill Showers, who also played special teams, went 5 out of 11 for 40 yards and a 55.1 passer rating.
Tight end Gavin Escobar led all receivers with five catches for 47 yards. Second-year receiver Devin Street caught three passes for 45 yards. Sixth-round pick Geoff Swaim out of Texas had two catches for 21 yards.
The Cowboys haven't won an exhibition game since Aug. 24, 2013 when they defeated the Cincinnati Bengals 24-18 in AT&T Stadium. Dallas gets a chance to snap their six-game preseason losing streak next Sunday when they take on the San Francisco 49ers at Levi's Stadium.
MORE FROM FOX SPORTS SOUTHWEST:
- PHOTOS: Cowboys Cheerleaders Auditions
- Ranking NFL quarterback salaries
- Highest paid player on every NFL team