Chad Mendes: Team Alpha Male put Duane Ludwig on the map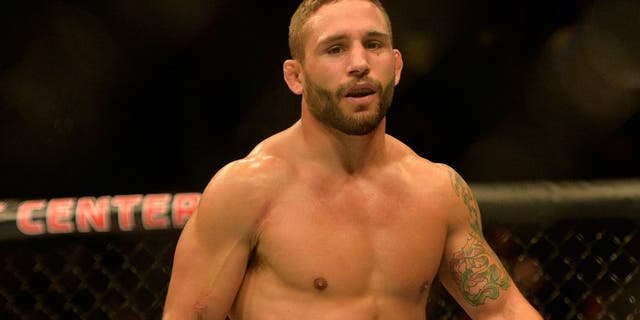 Team Alpha Male is once again on the search for another head coach after Martin Kampmann announced that he will be leaving the Sacramento-based team for personal reasons, by the end of 2015. The retired Dane fighter was preceded by fellow former UFC fighter Duane Ludwig.
It was under Ludwig's tutelage that Team Alpha Male earned their first UFC championship, in the form of TJ Dillashaw's bantamweight title win in 2014. Dillashaw still works with Ludwig for fights, splitting time between Duane's Colorado school and Team Alpha Male in California.
Ludwig says that the arrangement works great. However, he also drew the ire from some TAM members after comments leading up to Dillashaw's title defense in July, when he said that TJ was the only Alpha Male member who truly wanted to become a champion.
Ludwig later clarified, saying he never meant to offend his former team and simply wanted to emphasize how Dillashaw is the hardest-working athlete he's ever been around. Still, the comments came on the heels of featherweight Chad Mendes' interim title loss to Conor McGregor at UFC 189, and "Money" did not receive them well.
"I don't know what the hell Duane is talking about," Mendes told MMA Fighting, earlier this week.
"I'm tired of hearing about Duane and him ruling our team. Duane came here to Team Alpha Male for a short amount of time, and Duane did what he did, but I'd say 95 percent of our wins when he was here we would've won anyway."
Mendes went on to compare Team Alpha Male's excellent stable of fighters to fine automobiles who needed very little tweaking to be successful. "When he got the offer, [Ludwig] basically said it's like coming to a garage full of Ferraris and Lamborghinis," he continued.
"He's going to fine tune some things and those cars are going to run like hell. That's basically how it was. Duane had a new system that we hadn't seen yet and that's why things were so fun and everyone got along. Then some crazy, weird sh-- happened between him and Faber, and Duane started attacking all of us in the media."
Indeed, Team Alpha Male founder and leader Urijah Faber and Ludwig's relationship appeared to go from cool to outright hostile, even during the final days of the coach's tenure with the team. Though Faber has had some of the sharpest barbs in the public exchanges through media, Ludwig has never been shy in saying that he believes his coaching makes a huge difference for fighters.
Mendes couldn't deny that Ludwig brought a unique style to Alpha Male. He does say that credit for picking up that style belongs with the athletes.
"Duane was the type of guy who brought a new style to our team," he admitted.
"But we have such a unique team, everybody is such high-level athletes that anybody can come to this team with a new style, and we're going to pick it up, we're going to learn it and we're going to use it in fights. So we made Duane. We put Duane on the map. Before that, Duane was a fighter who fought in the UFC who most people didn't even know about."