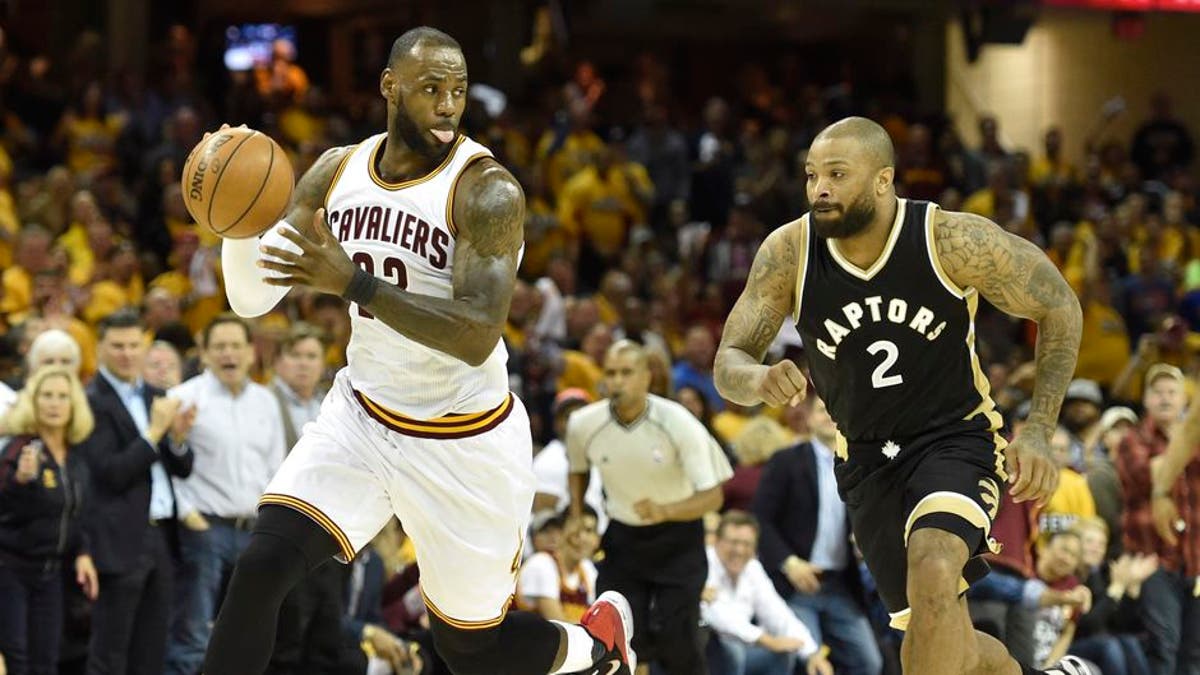 TORONTO -- Hope is about all that remains for the Toronto Raptors when they play Game 3 of the Eastern Conference semifinals against the Cleveland Cavaliers Friday night at the Air Canada Centre.
First, the Raptors hope that All-Star point guard Kyle Lowry will be able to play after suffering a sprained left ankle in Game 2 Wednesday.
He did not practice Thursday as he had his ankle evaluated further and was listed by coach Dwane Casey as questionable. Then Lowry missed Friday's shootaround and declared himsef a game-time decision.
"Kyle is our driving force, our point guard, our leader," All-Star Toronto guard DeMar DeRozan said Thursday. "So, for us not to have him anything close to 100 percent, it would be difficult on us. But next guy, everybody else has to do something a little bit more to fill whatever void it is he can't fully do out there on the court."
As much as Lowry is on the Raptors' hope list, so is DeRozan. The Raptors hope that he regains the scoring touch that was absent in Game 2.
They also hope that they can make history repeat itself.
Last season, in the Eastern Conference finals, the Cavaliers won Game 1 by 31 points and Game 2 by 19, both games at Cleveland.
The Raptors came back to win the next two games at home before losing the series in six games. Last year, they were 99-84 winners in Game 3 with DeRozan scoring 32 points and won 105-99 in Game 4 with Lowry scoring 35.
Casey feels that the Raptors can play themselves back into the series at home as they did last season, despite dropping the first game 116-105 followed by a 125-103 loss in Game 2.
"When we lost by (31) here last year, everyone knocked us and said it was over with," Casey said. "It was done. I don't believe in that. I believe in our players. I believe in our guys, and I know there is another level we can get to."
They will need both Lowry and DeRozan at their best.
Lowry allowed that his ankle was sore after the game Wednesday. He talked about playing on Friday although that did not seem so certain Thursday.
The ankle was injured when teammate Norman Powell was thrown into him as both were on defense 30 seconds into the second half. He left briefly, then returned for eight minutes before being removed for the rest of the game, having scored 20 points.
"They are the defending champs and that is what they are looking like," Lowry said. "But I am still confident with us going home."
DeRozan was held to five points on 2-for-11 shooting in Game 2.
"We know DeMar is a great player and our strategy in the last three years since I've been here is just take away what a team does best," Cavaliers coach Tyronn Lue said. "So we're going to pay great attention to him. I give J.R. (Smith) a lot of credit, Shump (Iman Shumpert) a lot of credit and LeBron (James) a ton of credit. We know (DeRozan) is a great player and we don't want him to get comfortable."
"They're into him, they're bodying him," Casey said. "He's got to vault up and make his shots. I've got to do a better job of getting him open looks. At the end of the day we're going to go the way he and Kyle go."
No matter what the Raptors do, the Cavaliers still have James, who scored 39 points in 36:36 Wednesday.
He moved past Kareem Abdul-Jabbar into second place on the all-time playoff scoring list.
"I'm very blessed and I'm taking advantage of the opportunity I've been given," James said. "Even at 32, I've been in this league for 14 years and I just don't take the opportunity for granted."
He has 5,677 career playoff points, trailing only Michael Jordan, who has 5,987
"He's playing well," Casey said. "We put him on the line 21 times. Way too many."