Cast revealed for 'The Ultimate Fighter: Team Joanna vs. Team Claudia'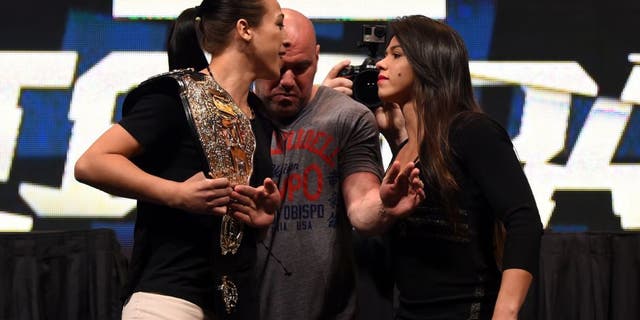 NEWYou can now listen to Fox News articles!
The cast for the new season of "The Ultimate Fighter" season 23 was revealed on Wednesday night via "UFC Tonight" with light heavyweights and strawweight women taking center stage this year.
The show will be coached by strawweight champion Joanna Jedrzejczyk along with top-ranked contender Claudia Gadelha.
There's no love lost between these two fighters after Jedrzejczyk edged out Gadelha in 2014. Now they will meet again after coaching the latest cast of up-and-comers who hope to join them on the UFC roster.
"The Ultimate Fighter" season 23 will debut with a special two-hour episode on April 20, with 32 competitors battling for a spot on the show.
The cast this season includes 16 strawweights: (Name, record, age, location.)
Alyssa Krahn, 3-1, 28, Saskatoon, Saskatchewan, Canada
Amanda Cooper, 1-1, 24, Bath, Mich.
Amy Montenegro, 7-2, 32, Forks, Wash.
Ashley Cummins, 3-3, 28, St. Louis, Mo.
Ashley Yoder, 4-1, 28, Indianapolis, Ind.
Chelsea Bailey, 2-0, 23, Chewelah, Wash.
Helen Harper, 4-1, 28, Farnborough, England
Irene Rivera, 6-2, 22, Barcelona, Spain
Jamie Moyle, 3-1, 27, Las Vegas, Nev.
JJ Aldrich, 2-1, 23, Aurora, Colo.
Jodie Esquibel, 5-1, 29, Albuquerque, N.M.
Kate Jackson, 7-2-1, 29, Lostwithiel, England
Kristi Lopez, 2-0, 33, Quartz Hill, Calif.
Lanchana Green, 2-1, 26, Darlington, England
Mellony Geugjes, 0-1, 23, Amsterdam, Netherlands
Tatiana Suarez, 3-0, 25, Fontana, Calif.
And 16 light heavyweight fighters:
Abdel Medjedoub, 3-0, 30, Mila, Algeria
Andrew Sanchez, 7-2, 27, Shiloh, Ill.
Cory Hendricks, 3-0, 27, Lynden, Wash.
Elias Urbina, 3-0, 22, Weslaco, Texas
Eric Spicely, 8-0, 29, Stoughton, Mass.
Jamelle Jones, 6-2, 28, Atlantic City, N.J.
John Paul Elias, 3-0, 27, Fresno, Calif.
Joshua Stansbury, 7-2, 31, East Liverpool, Ohio
Kenneth Bergh, 3-0, 26, Oslo, Norway
Khalil Rountree, 4-0, 26, Las Vegas, Nev.
Marcel Fortuna, 8-1, 30, Tubarao, Brazil
Muhammed DeReese, 5-0, 27, Titusville, Fla.
Myron Dennis, 12-4, 27, Oklahoma City, Okla.
Norman Paraisy, 15-4-2, 1 NC, 30, Paris, France
Phil Hawes, 3-0, 27, Little Ferry, N.J.
Trevor Carlson, 10-2, 27, Spring Creek, Nev.
The 12-episode season will air every Wednesday night on FS1 with the finale taking place in Las Vegas on July 8 during International Fight week alongside UFC 200.
Jedrzejczyk and Gadelha will battle in "The Ultimate Fighter" 23 finale on July 8 in the main event.