Cards' staff loaded for long haul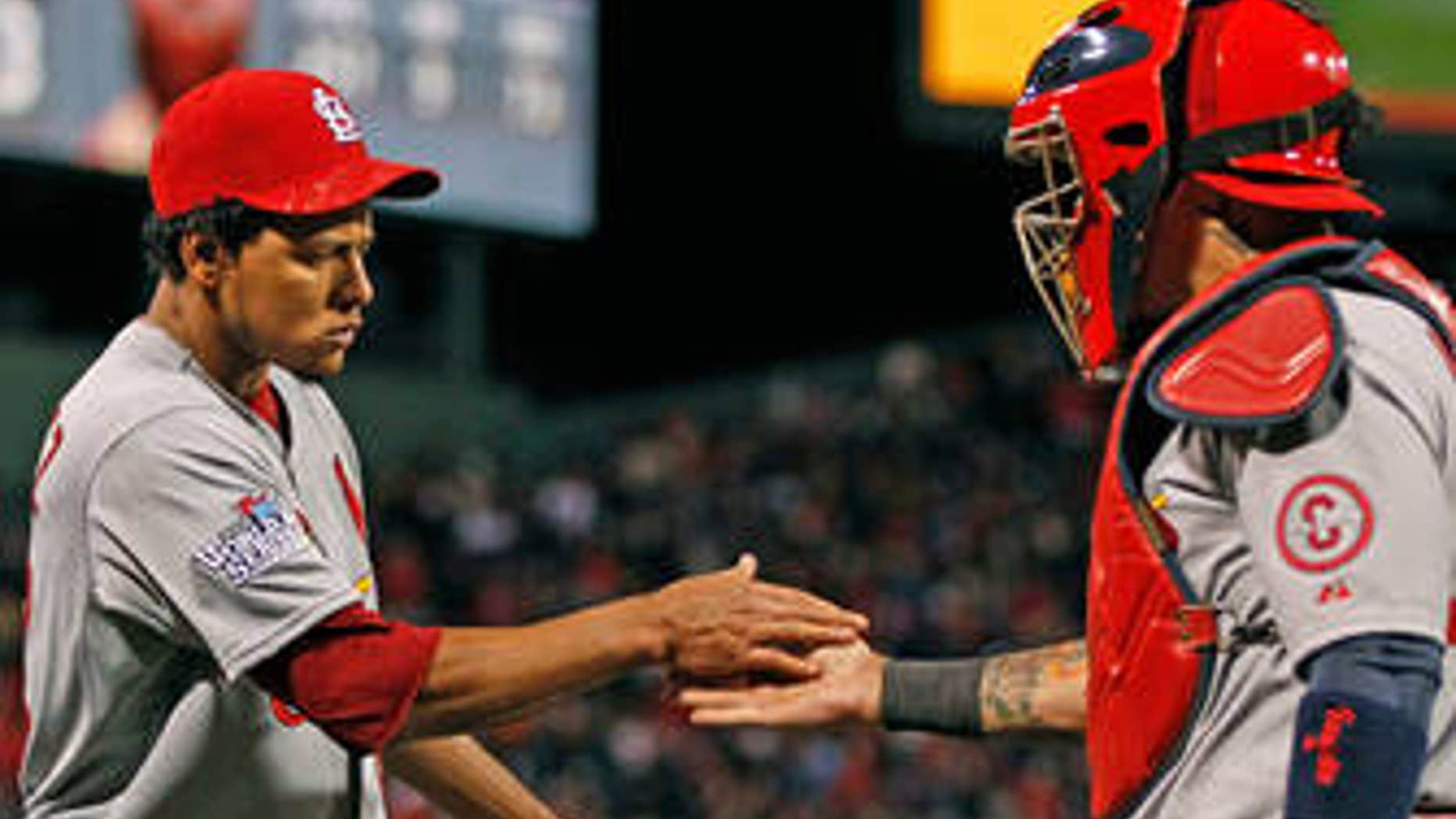 BOSTON – Here's the crazy part, or at least one crazy part. When three pitchers age 23 or younger combine to stymie the majors' highest-scoring offense -- on the road, in the World Series -- crazy sort of becomes a relative term.
But you want truly nuts? The St. Louis Cardinals, as currently constituted, will not have room in their 2014 rotation for right-hander Carlos Martinez, who pitched a scoreless seventh and eighth against the Boston Red Sox on Thursday night in Game 2 of the Series -- and sits between 97 and 99 mph for six innings at a time as a starter in the minor leagues.
Nope, the Cardinals will have six starters ahead of Martinez, if you can believe that -- Adam Wainwright, Michael Wacha, Lance Lynn, Joe Kelly, Shelby Miller and Jaime Garcia, who will be coming off shoulder surgery. Come to think of it, Trevor Rosenthal might be an interesting candidate for the rotation, too, but sorry, there is no room at the inn for him, either.
Mercy.
Wacha, 22, allowed two runs in six innings in the Cardinals' breathtaking 4-2 victory Thursday night. Martinez, 22, held the red-hot David Ortiz, representing the tying run, to an infield single, then popped up Mike Napoli to escape the eighth. Rosenthal, 23, struck out the side in the ninth on 11 pitches, all fastballs, 95 to 99 mph.
Ahem.
"To watch what they've come from, what they've grown into, is so much fun," said veteran right-hander Chris Carpenter, who has remained with the club despite missing the entire season with a shoulder injury.
"They really do enjoy the situation. They're not scared. They want to take the ball and do this. I haven't seen that very often, when you've got these young kids coming in with zero fear."
Wacha is now 4-0 with a 1.00 ERA in the postseason. Martinez, almost overnight, looks like one of the game's best setup men. And Rosenthal, sheesh, we saw his act last postseason, and he certainly seems rather comfortable in the closer's role, which he claimed only in late September.
As veteran right-hander Adam Wainwright put it, "Those two guys at the end of the game are ridiculous."
Wainwright, whose average fastball during the regular season was 91.2 mph, according to Fangraphs.com, also joked that he will be the rotation's "change-of-pace" guy in the future, because all of the kids throw harder.
Yet, this is not just about talent.
Third baseman David Freese said catcher Yadier Molina is a human guidepost for the young pitchers. Bench coach Mike Aldrete said the team's veterans help acclimate the youngsters, ribbing them on occasion but also treating them as part of the team, not "second-class citizens." Carpenter, meanwhile, said manager Mike Matheny deserves "huge props" for not simply believing in the kids, but trusting them.
Case in point: Eighth inning, runner on first with two outs, the left-handed hitting Ortiz set to face the right-handed Martinez. The by-the-book move would have been to summon veteran lefty Randy Choate for the platoon advantage, but Matheny stuck with Martinez, who threw 96 to 98 mph and got two of his three strikeouts on breaking balls.
"At this time of year, stuff plays," Aldrete said. "And that's pretty good stuff."
Still, the first question to Red Sox manager John Farrell in the postgame interview room was, "Were you surprised when they left Carlos Martinez in the game to face Ortiz?" Farrell basically said no, citing Martinez's stuff. And Martinez, despite allowing the single by Ortiz, said, "I knew I had the stuff to get him out."
"Carlos gave up the run yesterday," Matheny said, referring to Martinez's Series debut in the eighth inning of Game 1. "He wasn't happy with how he went about it. He was very animated about how badly he wanted to pitch again and get back out there. And he proved that it wasn't just a lot of talk. He went out and did a great job."
So, for that matter, did Wacha, who slammed his glove in the dugout after making one mistake -- a 3-2 changeup that Ortiz hit over the Green Monster to give the Red Sox a 2-1 lead in the sixth inning. Wacha had been so good in his first three postseason starts, allowing just one run in 21 innings, that this one seemed like a clunker by comparison. It was anything but.
Farrell noted that Wacha began flipping his curveball in his later innings to give hitters a different look. If Wacha ever develops a quality curve to go with his stunning fastball-changeup combination, the game will be almost unfair. The big reason Wacha dropped to No. 19 in last year's draft was his lack of a solid breaking pitch. And now he's addressing the problem in must-win World Series games.
We still haven't seen Kelly and Lynn, who could give the Cardinals an edge in Games 3 and 4 over the Red Sox's excitable Jake Peavy and fading Clay Buchholz. We might not even see Miller, who went 15-9 with a 3.06 ERA in the regular season but is not part of the postseason rotation.
The scary part is, the Cardinals are just getting started, and none of the veterans are surprised by the youngsters' performances on the game's biggest stage.
"Not at all," Wainwright. "That's exactly what I thought was going to happen, except I thought Mikey was going to give up no runs."
Sound crazy? It shouldn't.
Nothing is crazy with this bunch.
The original article can be found at FOXSports.com: Cards' staff loaded for long haul.