Cardinals sign 10 to practice squad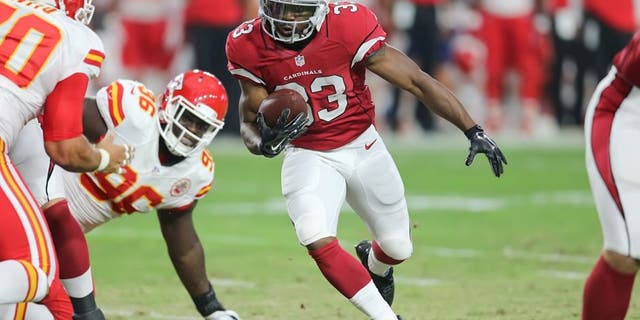 TEMPE, Ariz. -- The Arizona Cardinals on Monday announced they re-signed six players to its practice squad, as well as the addition of four others released by other teams.
Those re-signed after they were cut on Saturday were: cornerback Cariel Brooks, tackle Rob Crisp, linebacker Gabe Martin, guard Antoine McClain, wide receiver Jaxon Shipley and running back Kerwynn Williams.
In addition, the team has also signed tight end Brandon Bostick (Minnesota), cornerback Leon McFadden (San Francisco), cornerback Robert Nelson (Cleveland) and defensive end Lawrence Okoye (San Francisco) to the practice squad.
Bostick spent the last three years with the Packers after signing as a rookie free agent from Newberry in 2012. McFadden played in seven games with the 49ers last season and had five tackles after he joined the team in November.
Nelson played at Arizona State before he signed with the Browns as an undrafted rookie free agent last year and played in seven games with Cleveland in 2014. Okoye joins the Cardinals from San Francisco where he spent all of last season on the 49ers practice squad after spending the 2013 season on injured reserve.