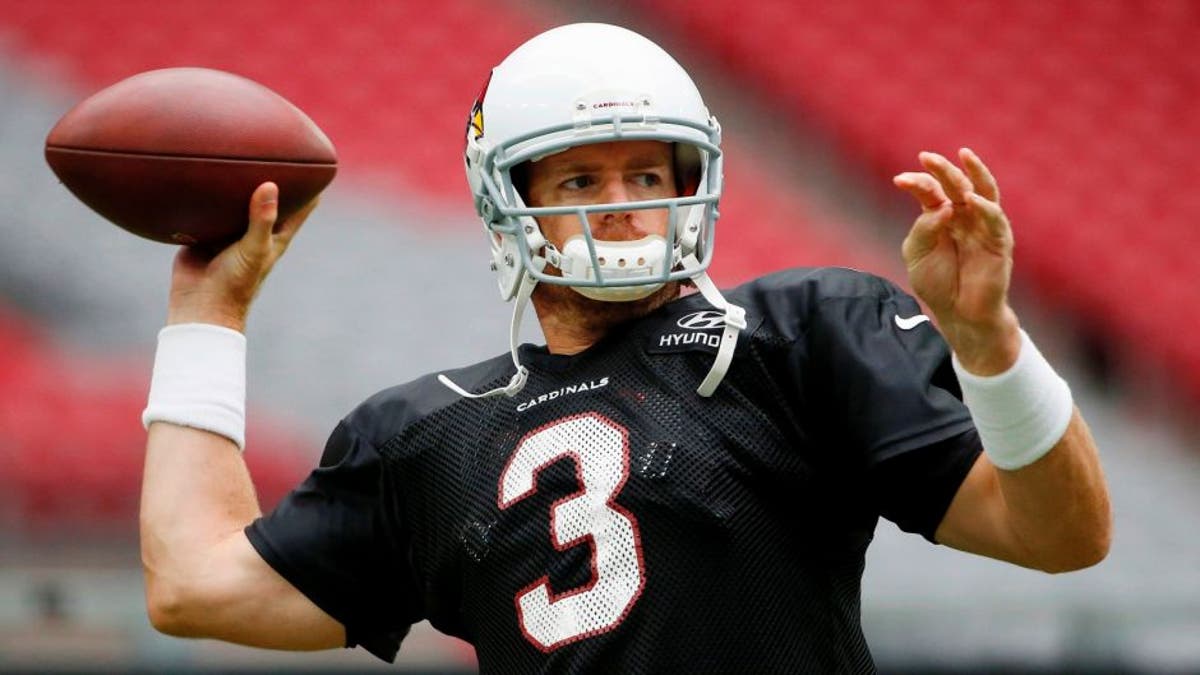 GLENDALE, Ariz. -- Carson Palmer will take a snap in an NFL game for the first time since tearing his ACL, but it will be a brief appearance.
Arizona Cardinals coach Bruce Arians said Wednesday that the quarterback will play one series in Saturday night's game against Kansas City "whether it lasts one play, three plays or 10 plays."
Palmer said it isn't so much that he's excited to come back from the injury but that he wants to showcase the Cardinals' offense in front of the hometown fans.
"You'd like to kind of just take your time and methodically move the ball down the field and get a 10-, 12-play drive under your belt," he said. "That doesn't always happen but I think as an offense and really as a team we're just excited to not hit each other anymore and get out in front of our fans."
He won't be showcasing the team's best running backs, though.
Presumed starter Andre Ellington and rookie David Johnson have been sidelined with hamstring injuries since the second day of camp. Neither has practiced in pads.
Ellington ran some on Monday and Tuesday but didn't take part in any team drills.
Arians said missing the two backs is "a pain" in the behind.
"You've got two guys that aren't out there practicing and you've got packages for them and you can't install them," he said, "and you can't install them because it's not fair to the other guys because that's not their skill set. So you modify your practice and all your scripts to do something that's beneficial for those guys."
Arians said earlier in the week that it's "killing" Johnson, a third-round draft pick out of Northern Iowa, not to practice because there's no way he will use a rookie in a significant role in September without training camp and preseason practice.
Arians blamed some of the players' hamstring problems on the gap between the end of minicamp and the start of training camp.
"I think one of the problems with these guys is we're not allowed to have them and train them for like five weeks," Arians said, "and they go to these speed coaches and they run straight ahead. And football's not played straight ahead, so when you start moving and change directions and bodies are pushing you, you get soft tissue injuries because that's not the way they train. ... They need to train with football people, and they should be allowed to train with our football people, who will get them in football shape, and not track experts."
Palmer tore his ACL when he slipped on the University of Phoenix turf against Houston last Nov. 10. He also missed three games earlier in the season with a shoulder injury. He rehabbed his knee and shoulder and has been noticeably strong and sharp with his passing in camp.
Palmer lofted a long touchdown pass to speedster John Brown on Tuesday.
"He threw that ball 65 yards in the air right on the money," Arians said.
Brown, figuring big in Arizona's plans in his second pro season, caught it in stride.
"I was just glad I could see myself do that at the end of practice after you've thrown 90-plus balls," Palmer said. "When you get those opportunities, you've got to make them, and it felt good to see Smokey (Brown) get underneath that ball because I saw him go and I wanted to see what gear he could get to. The guy's limitless."
Arians said backup Drew Stanton will play the remainder of the first quarter Saturday night. Logan Thomas will play the second and third quarters and rookie Philip Simms the fourth. Thomas and Sims are competing for the third quarterback spot. Arians said both had been up and down through camp.
Inside linebacker Sean Weatherspoon had a setback in his comeback from a hamstring injury. He was running on Tuesday and felt the leg tighten up. He said he is frustrated by the inability to get on the field but doesn't want to risk further injury.
"I want to practice. I want to go out there with my guys and get that timing down with them," he said, "but the main thing is I'm on a one-year deal, so I've got to be healthy when I get out there. That's what it's all about."