Cardinals must turn things around after Scooter's huge night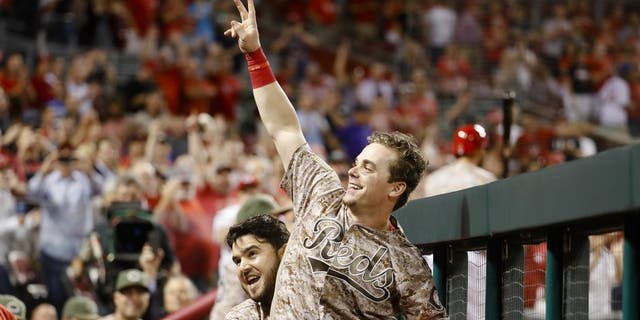 NEWYou can now listen to Fox News articles!
CINCINNATI -- The St. Louis Cardinals are below .500 at this juncture of the season for the first time since 2007.
Heading into a Wednesday game against the Cincinnati Reds at Great American Ball Park, manager Mike Matheny's club has dropped five straight and 15 of its past 20 games. At times, they have played very un-Cardinal-like baseball with missed cutoff men, baserunning mishaps, defensive miscues and a lack of timely hitting.
St. Louis hasn't had issues getting leads but has struggled to maintain them.
"It's been a tough nut to crack in the sense that we've been in a lot of games, competitive, finding different ways not to cross the finish line, which is frustrating," Cardinals general manager John Mozeliak said Monday. "I don't think there's just one area you could pin it on. The ebb and flow of this season has been one of frustration, but I still have a lot of confidence that this team can figure it out."
St. Louis (26-30) might have hit rock bottom Tuesday night in a 13-1 loss in which Reds left fielder Scooter Gennett became the first player in Cincinnati franchise history to hit four home runs in a game.
Gennett was just the 17th major league player to accomplish that feat. He went 5-for-5 and tied a franchise record with 10 RBIs.
The Cardinals managed just five hits, one of which was a Stephen Piscotty solo homer. Starter Adam Wainwright tied a career high with nine earned runs allowed.
"I think we're all tired of making excuses," Matheny said. "We've just got to change what's going on, and we will. The most frustrating part is the way these games would normally go have gone the other way the last two weeks."
Reds right-hander Bronson Arroyo will make his 40th career start vs. the Cardinals on Wednesday night. It's his 12th start of the season and his 277th as a Red, in continuation of a remarkable comeback story after he missed more than two full seasons due to multiple surgeries.
Arroyo (3-4, 6.24 ERA) has struggled recently against the Cardinals, going 0-6 with a 6.34 ERA in his last nine starts against them. Overall, he is 8-18 against St. Louis with a 4.91 ERA in 39 starts, including two complete games. He is 1-1 against the Cardinals this season, winning a 5-4 decision on April 30 and losing 10-4 on April 8, when he allowed six earned runs and two homers in four innings. Both of those prior games were at Busch Stadium.
The Cardinals will counter with right-hander Lance Lynn, who has allowed two runs or fewer in seven of 11 starts this season. Lynn (4-3) ranks third among National League pitchers in opponents' batting average (.192) and seventh in ERA (2.97). He allowed just two hits to the Cubs over 5 1/3 innings in his last start June 2 but earned a no-decision in a 3-2 loss.
Lynn has made 18 appearances and 15 starts vs. Cincinnati in his career, going 9-4 with a 3.22 ERA.
The Reds (27-30) hope to have Scott Schebler back in the lineup Wednesday. He has been nursing a strained left shoulder.
"I try to make a habit to try to get them as close to 100 percent as possible," Reds manager Bryan Price said.
Schebler entered the Tuesday game as a defensive replacement and later walked and scored on Gennett's fourth homer.
"I'm amazed by it," Price said of Gennett's massive night. "It's very emotional. You've seen history. It's an honor to bear witness to it from the dugout."