Caps roll into Tampa playing their best hockey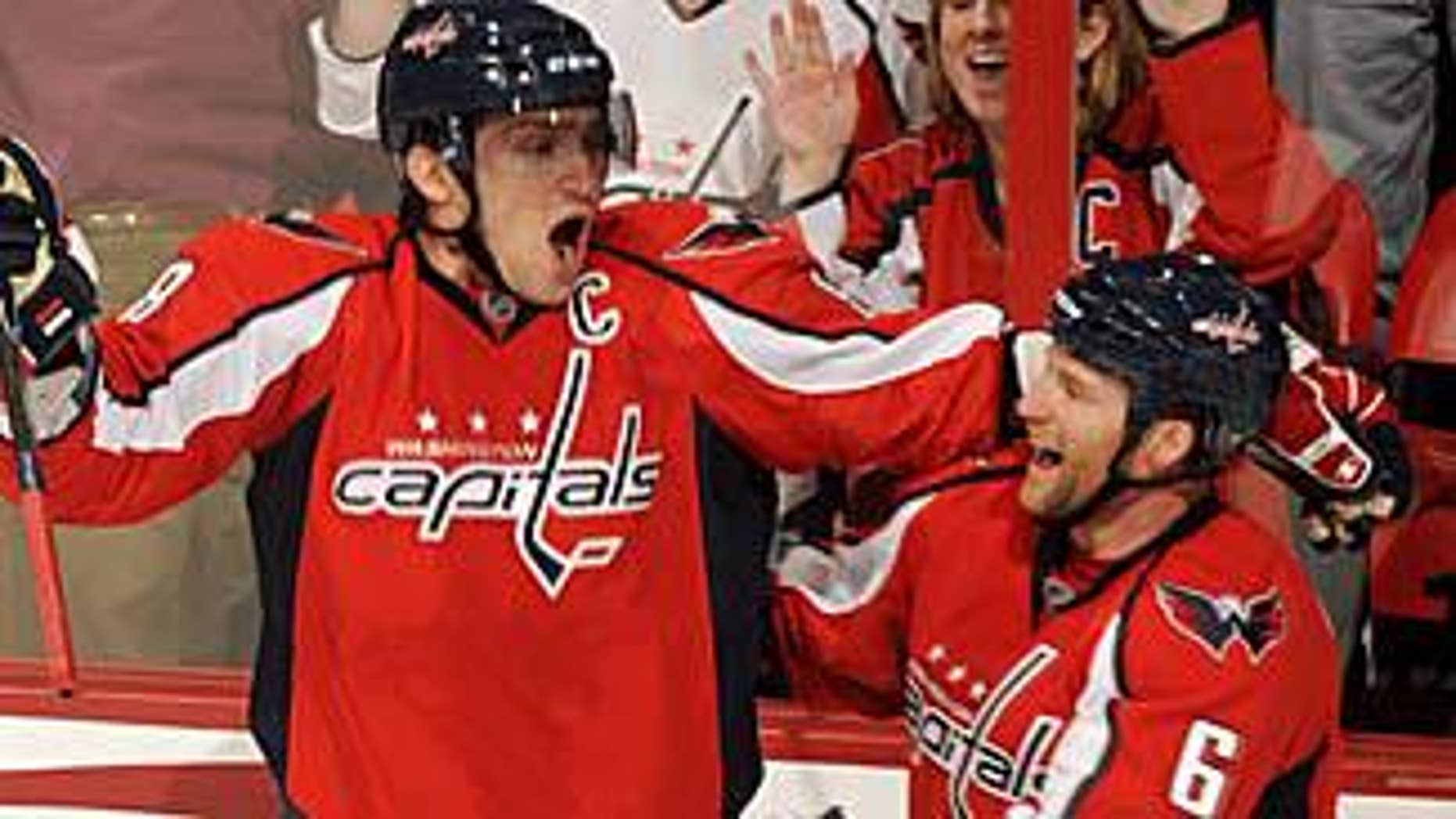 The Washington Capitals are about to do something they haven't done the past two seasons -- play a meaningful Southeast Division game after the calendar turns to March.
The Capitals have dominated the division since 2008, but this season has been a different story.
They have been chasing the Tampa Bay Lightning, but it will be the Caps who enter Monday's showdown against the Lightning (7 p.m. ET, VERSUS) at St. Pete Times Forum with a one-point lead in the division.
The Capitals have won four straight, most recently Sunday's 3-2 overtime win against the Florida Panthers, 3-2. It was the Caps' seventh-straight win by one goal; they are 19-7-10 in one-goal games this season.
"Sometimes it's good to play the close games," said goalie Michal Neuvirth, who has allowed just seven goals in his past four starts. "It's a little bit intense and I don't mind playing in intense games. We've won four in a row and it's a good start. I think we're getting something together here, and (Monday is) going to be another great challenge for us and we've got to be ready."
Washington won each of the past two Southeast titles by more than 20 points, but Tampa Bay has emerged as a worthy challenger this season.
Under new coach Guy Boucher, the Lightning have gone from also-rans the past three seasons to a team that's contending for the top spot in the Eastern Conference. They are third in the East with 190 goals and have improved defensively in the past month.
However, they've hit a bit of a wall recently. They have lost three straight, are winless in seven of their last 11 and scored just eight goals in their past five games. Steven Stamkos, who leads the League with 41 goals, has just one in his last 11 games.
"It's definitely a struggle right now," Lightning captain Vincent Lecavalier said. "We've got to get back to taking the shots and putting back rebounds."
"You battle a lot of adversity throughout the year," Martin St. Louis said, "and right now we're in the middle of it."
The season series between the Lightning and Capitals has been a back-and-forth affair.
In the first two meetings, in November, the Capitals rolled to home wins of 6-3 and 6-0. With goaltending proving to be an issue, Lightning GM Steve Yzerman acquired Dwayne Roloson from the New York Islanders on Jan. 1.
Roloson paid immediate dividends, earning shutouts of 1-0 and 3-0 on Jan. 4 and Jan. 12, respectively, to help the Lightning vault the Capitals in the Southeast.
The Capitals responded Feb. 4 with a 5-2 victory in Tampa, setting up Monday's pivotal game.
The Lightning are coming off Saturday's 4-2 home loss to the Montreal Canadiens, a setback that had Boucher wondering if his team's slow start was a result of the Capitals looming on the schedule.
"I don't know if it was because we were looking ahead to the Washington game, or it was the first game back from the road trip or it was because we felt comfortable with where we (were in the standings)," Boucher told the Tampa Tribune. "Whatever reason it is, it's a bad reason.
"We are not going to have that problem (Monday)."
"I think this is the biggest game of the year for us, and we know it, we talked about it," Stamkos told the Tampa Tribune. "The last time we played them they came into our rink and embarrassed us. They were ready to play and said it was their biggest game of the year, and did it. They are playing good hockey right now and we are getting away from why we were successful."
The Capitals are looking to ride the momentum of their winning streak to a three-point advantage in a division they've owned since 2008.
"We're looking forward now and we have to be focused, especially since we have to play in Tampa," Caps center Nicklas Backstrom said. "Hopefully this winning streak can give us the confidence we need for the upcoming games."
Follow Dave Lozo on Twitter: @DaveLozo