Capitals get playoff payoff from Williams against Penguins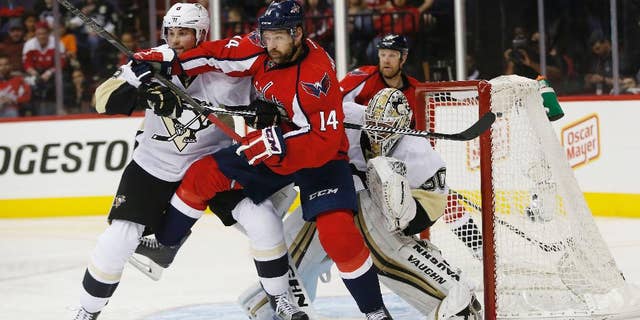 WASHINGTON – When the Los Angeles Kings blew two chances to win the Stanley Cup in 2012, the pressure was on going into Game 6 back at home. Justin Williams gave a pregame speech that defenseman Drew Doughty said he'll never forget.
It's such a legendary tale that Washington Capitals coach Barry Trotz has heard all about it.
"Justin just started chuckling when it was pretty tense," Trotz said. "Everybody looked at him and (he) just said, 'I'm going to enjoy celebrating a Cup with you guys tonight.' Sometimes that's very powerful. It's not a big speech. It's knowing the moment."
Few players know and seize the moment like Williams, a three-time Cup winner and the playoff MVP in 2014. His 0.73 points a game when his team is facing elimination are the third best in NHL history.
The Capitals saw some of the best of Williams on Saturday in Game 5 when he scored a goal as they beat the Pittsburgh Penguins 3-1 to stay alive. The 34-year-old right wing who had struggled to produce this postseason will be leaned on again Tuesday in Game 6 as Washington tries to push the second-round series to the limit.
Williams was signed for these situations.
"That's a lot of pressure, to come in and have everybody think that you're the guy that gets us over the hump that we've had," Capitals defenseman Karl Alzner said. "I couldn't imagine having that pressure. I think that everyone around the league knows that."
Williams has quite the reputation for performing in the playoffs, earning the nickname "Mr. Game 7" for his seven goals, seven assists and 7-0 record in the seventh game of a series. He also has 13 goals and 11 assists in 18 elimination games.
Going into the Capitals' first elimination game of the playoffs, Williams sounded every bit like the stable, dependable leader they needed. He talked about erring on the side of enthusiasm and not apprehension and exuded calm confidence.
"This time of year, it's the intangible qualities that the team brings together," Williams said Friday. "The confidence that everyone can bring. The not-hanging-your- head attitude. The go get it."
Then he went and got it. After scoring just one goal in the first 10 playoff games, he capitalized on a turnover by Pittsburgh's Brian Dumoulin and beat rookie goaltender Matt Murray.
Williams didn't address his teammates in the locker room before the game like he did before the Kings' 2012 Cup clincher against New Jersey. He simply delivered on the ice.
"I know he takes a lot of pride in being one of our leaders out here, and I know he wants to make a difference and he does in so many different ways," said T.J. Oshie, who scored the game-winner on the power play. "He came on the board for us, and that's what we need."
Williams isn't afraid to accept the responsibility of being a difference maker, which is perhaps why he thrives in the kind of pressure situations that others shy away from. A day after saying "it's not all roses" on the way to the Cup, the Cobourg, Ontario, native led the way to one of the more important victories in the Alex Ovechkin era for the Capitals.
"You have to learn from experience," Williams said afterward. "We haven't really experienced true adversity so far this year — a do-or-die situation, which it was (Saturday night)."
The Capitals face another do-or-die situation in Pittsburgh on Tuesday. They still trail in the series, but Murray finally showing cracks has led to speculation that the Penguins might turn to regular starter Marc-Andre Fleury, who hasn't played since March 31 because of a concussion.
Coach Mike Sullivan was noncommittal about his Game 6 starter but praised Murray's play.
"I thought Matt played extremely well, as he has the whole series, and so he made the saves that he was supposed to make for us," Sullivan said Sunday on a conference call. "The reality is that we're fortunate to have two guys right now in Matt and Marc that we feel strongly about both goalies and their ability to help us win."
Not much will change tactically for the Capitals if the Penguins make a goaltending switch, but Trotz said: "It must mean that we're doing something right if they're looking to change."
___
Follow Stephen Whyno on Twitter at http://www.twitter.com/swhyno .