Canucks forward Jannik Hansen collapses on bench after hit, walks to dressing room on his own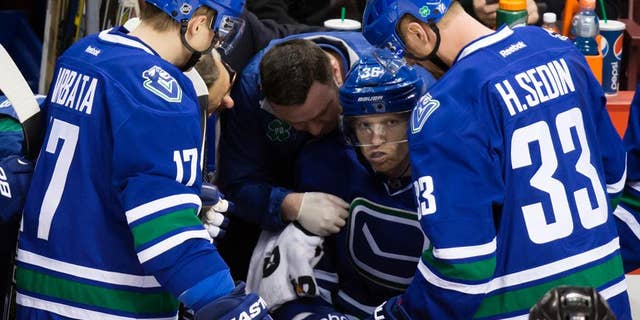 VANCOUVER, British Columbia – Canucks forward Jannik Hansen appeared to collapse on the bench after taking a hit during the second period of Vancouver's game against the Calgary Flames.
The Canucks announced Saturday night that Hansen would not return to the game as a precaution. He walked down the tunnel to the dressing room on his own.
Flames defenseman Dennis Wideman hit Hansen in the corner of the Calgary zone at 1:27 of the second, lowering his shoulder to deliver a body check.
Hansen skated to the bench under his own power, but appeared to be winded. He then appeared to collapse moments later while sitting on the bench. His teammates shouted out for medical attention.
The Canucks' team doctor rushed to the bench to attend to Hansen, who then headed toward the dressing room.