Bryce Harper will only improve as he hones his plate discipline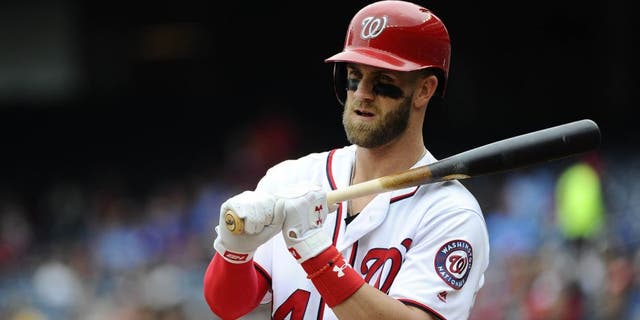 On Friday afternoon, after an 8-6 loss to the Cubs, Bryce Harper stood in a tunnel behind the Nationals' dugout at Wrigley Field and spoke clinically, matter of factly, about what might have been.
"Look at today," Harper said. "Last night I went 1-for-1 with three walks. I come back today and go 0-for-3 with two punchouts and a walk. If I stand up there for four at-bats, I get walked four times, no doubt in my mind."
Harper's comments reflected the daily struggle he faces as perhaps the game's most feared hitter since Barry Bonds: To swing or not to swing? To trust a pitcher to throw strikes (no!) and the hitters behind him to deliver (yes!)?
Bonds was an original, mastering the art of swinging only at pitches in the strike zone and rarely missing the few he saw. Harper is not yet at that level. Perhaps he never will be. But in essence, he is trying to become Bonds 2.0, only at a much earlier stage of his career.
Harper, 23, was a unanimous choice as National League MVP last season after making enormous strides with his plate discipline, reducing his chase rate and improving his walk rate dramatically.
He started this season incredibly hot, then went 2-for-26 with four walks and 13 strikeouts from April 27 to May 3. Friday marked a step backward after two days of progress, with Harper lamenting afterward, "I don't know how many pitches I chased today that weren't strikes."
Talk about a quick adjustment.
Harper's outcomes in the final two games of the Cubs' series reflected his sheer will, his fierce determination to swing only at strikes. They also reflected the Cubs' resolve to treat Harper the way opponents once treated Bonds, avoiding him whenever they perceived the threat of him to be too great.
Harper did not register an official at-bat in either of the two games, going 0-for-0 with three walks (one intentional) and a sacrifice fly Saturday, then 0-for-0 with a record-tying six walks (three intentional) and a hit-by-pitch Sunday.
No player in major-league history, not even Bonds, had ever reached base seven times in a game without recording an official at-bat, according to the Elias Sports Bureau. Still the Cubs' "Anyone But Bryce" strategy worked -- they won Saturday, 8-5, and Sunday, 4-3 in 13 innings.
Earlier this season, Bonds told MLB.com that Harper "doesn't compare me to yet ... is not even close to me," while also expressing admiration for the Nationals' right fielder, calling him "a beast ... one hell of a ballplayer" and adding, "I admire him and I look at him and I'm in awe."
Bonds, in dismissing Harper as his equal, undoubtedly was talking about their respective career accomplishments. But Dusty Baker, the only man to manage both players, told the FOX broadcasters before Saturday's game that Harper's discipline was not yet at Bonds' level.
"It took Barry 7 to 8 years to do it -- he was close to 30 years old when he learned to do it," Baker said. "This young man is 23 years old. You can't expect him to have the knowledge, wisdom or patience that Barry had at 30. Sometimes he does. But it took Barry years."
Harper was eight when Bonds began a historic four-year run at age 36, hitting a record 73 homers in 2001, drawing a record 232 walks in '04, producing the three greatest seasons in adjusted OPS+ ever.
Still, Harper is a student of the game. And like most current players, he holds Bonds in reverence, regardless of whether Bonds used performance-enhancing drugs.
"Bonds was such a great hitter, probably the best to play the game, hitting-wise," Harper said. "The approach he had in the box, he was so strict with it. And he did it for a long period of time.
"One of the closest guys to that would probably be Joey Votto. He really stays with his approach and stays within himself. But I don't think anybody will get to that Bonds-esque kind of thing. It was one pitch, one zone and no matter what, he was not going to swing (if the pitch was not in the desired location).
"It helps as well that he had all the respect from the umpires. They didn't give guys this far off against Bonds (Harper holds his hands slightly apart) ever. Having the faith and respect of the umpires, knowing they weren't going to call it, he really established his strike zone, established his approach.
"He never went out of it. He'd see two pitches a week and go deep. He could go into a slump, but it would be 0-for-3 with eight walks. It's crazy how he went about it."
Or maybe not.
***
Nearly a year ago, Harper met his agent, Scott Boras, in an Italian restaurant after a night game in San Diego. Over dinner, Boras said, he presented Harper with the "Bonds theory," and went over it multiple times.
Boras, who represented Bonds from 2001 to '04, said the theory is simple: "You have to walk to hit for power."
"If you've got 500-HR power, you need to walk to get to 700," Boras said. "Get your pitch! You might only get one a game."
Harper understood what Boras was telling him; others had expressed similar sentiments. But understanding the plan and executing it, well, those are two different things.
"It takes time," said Harper, said who currently is batting .265 with 10 homers, .432 on-base percentage and 1.064 OPS. "You really have to stay within yourself, really rely on your mind and your approach and know that it will work. Sometimes you get out of that and start trying to do too much.
"You want to hit, you want to be excited, you're trying to do everything you can to help your team win. But you have to have the courage in the guys behind you, so that you know, 'Hey, if I walk and get on first base, I have all the faith and courage in Zim (Ryan Zimmerman) to get something done behind me.'"
The Cubs tested that faith -- Zimmerman, the Nationals' No. 4 hitter behind Harper, stranded 14 runners on Sunday, and is batting only .236 with a .633 OPS on the season.
The Nats could try the red-hot Daniel Murphy behind Harper, but putting the two left-handed hitters back-to-back would leave them vulnerable to left-handed relievers (both have hit lefties well this season in a small sample; Murphy struggled against them last season).
However Baker arranges the lineup, the Nationals would be far more potent if they had succeeded in their quest to add Yoenis Cespedes or another big bat last offseason. But Harper said his approach isn't simply about the hitters around him; it's about the opposing pitchers, too.
"You just have to know in your head that you can't have the faith in the pitcher out there, that he's going to throw three strikes right down the middle. Because he's not," Harper said. "He can't paint three on the inside half. And if he does, I'll tip my cap and go, 'Great job. Way to go.'
"You have those guys in the league that are going to do that -- Arrieta, Kershaw, Greinke. They're going to paint. Those are the games you need to battle. But when you're facing different guys, you have to understand and realize that hey, he's not going to throw a strike. He's going to try and make you chase the best he can, if it's a sinker on the outside half, if it's a changeup down in the zone.
"You have to really just grind as much as you can, stick with what works for you and don't miss your pitch. Because if you miss, you're upside down and it's over."
Even before the weekend's events at Wrigley Field, Harper had days when he refused to deviate from his approach. In fact, Boras said the most excited that he ever heard Harper on the phone was after a game against the Braves last Sept. 3.
That night, Harper went 0-for-0 with four walks, four runs scored and an RBI, seeing a total of 20 pitches.
"I was facing (Matt) Wisler, a young guy (Wisler, a right-hander, actually is one month older than Harper). He's good. He's got that back-door cutter he throws, an electric fastball. But I had faced him prior.
"I always wondered, 'You know what? I don't think he can throw three strikes in one at-bat.' I took the approach, 'If he strikes me out, he strikes me out, I'll tip my cap.' But I went into that game thinking, 'I'm not going to swing at all this game.'
"I didn't care about the outcome, nothing. I was not going to swing. I was so excited after that game because I stuck with my approach, I stuck with my plan the whole time."
***
Perhaps only one other hitter in the majors would derive such satisfaction from a game in which he never swung.
That would be Votto, the prince of process.
Votto, the Reds' first baseman, makes no secret of his admiration for Harper. And he thinks that Harper will be even more successful if he can implement the "Bonds theory" to full effect.
"It's like compound interest, man," Votto said during an interview at New York's Citi Field in late April. "People don't understand. The wealthy just keep getting wealthier.
"You get walked. You get pitched around. Because you get pitched around more, the balls in the middle of the plate are far more glaring.
"You can tell when a pitcher clearly doesn't want a part of you. And you can tell when the guy wants to come after you. All you do is shrink down your zone, get in this little box. You sit there and wait. And all you're doing is repeating your swing, grooving this 'A' swing that's tanking balls.
"It just gets easier. It gets so much easier."
For mere mortals, Votto said, the process is almost reversed. A pitcher smells blood. A hitter grows worried, thinking about umpiring, pitch framing, pitches on the edge. A ball crosses the middle of the plate, and the hitter cannot barrel it. Just like that, his at-bat is over.
Harper just went through one of those phases; all hitters do. But Votto, who at 32 is nine years older than Harper, sounds almost envious of his younger peer, imagining all that he can be.
"He's not Bonds. But he's doing a pretty good impression," Votto said. "He's pulling the ball a lot for homers ... and if he's doing this, and he's young and he's fresh and he's still whipping the bat through the zone, he can hit 50."
Votto then referenced Mike Trout, who hit a career-high 41 homers last season at age 23.
"Sometimes, I think those young guys, they just want to see what they can be. They're like, 'One year, I'll walk 130 times. One year, I'll hit 35 homers. One year, I stole bases.' It's like, 'Who do I want to be?'" Votto said.
"When they've got all these tools at their disposal, they try 'em all. And they eventually figure out what the very best version of them is. But for now, it's fun. It's like a candy store for them."
Votto predicted almost two weeks ago that Harper would start drawing more walks, both intentional and unintentional. Once that happened, Votto said, Harper could evolve into a ".500 on-base, .700 slug guy."
Harper, .460/.649 last season, currently is at .432/.633. Bonds, for his career, was .444/.607. But through his age 23 season, he was a mere .343/.471.
Bonds' advantage, Boras said, was that his godfather is Willie Mays, a Hall of Famer, and his father is Bobby Bonds, a three-time All-Star. The family, Boras said, accumulated decades of knowledge, starting in the 1950s, and "transferred it to Barry."
"Barry would tell me how in the on-deck circle he prepared an at-bat," Boras said. "He gained leverage on every pitcher he faced, created a story in his mind. He knew what he wanted to do. Never hit foul balls -- ever. You get a pitch to hit, you've got to keep the ball fair. Trust your power."
Harper is not at that level yet. Perhaps he never will be. But he is the closest thing in the sport to Bonds 2.0, and the craziest part is that he's just getting started.