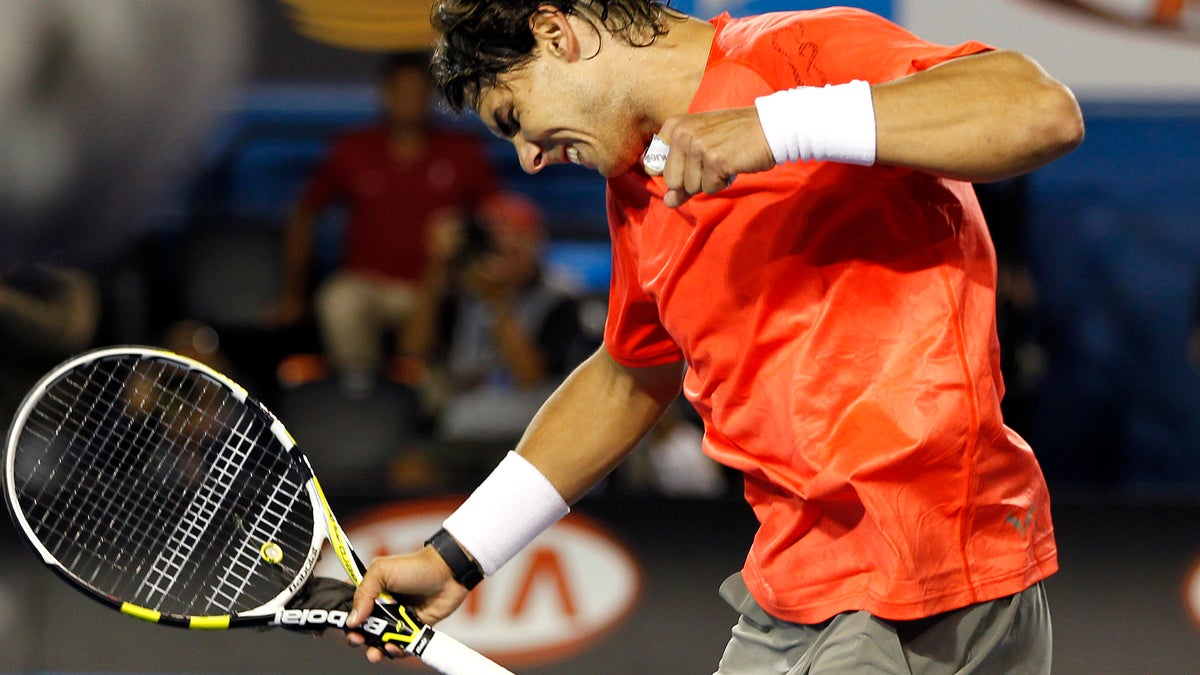 By Nick Mulvenney
MELBOURNE (Reuters) - Rafa Nadal shook off the sweats to savage Croatian Marin Cilic and reach the quarter-finals of the Australian Open on a Melbourne Monday evening as cool as the top seed was hot.
Andy Murray also doled out an impressive thrashing but his expected quarter-final showdown with Robin Soderling failed to materialize after Melbourne Park debutant Alexandr Dolgopolov shocked the Swede.
Nadal had lost his only previous encounter with Cilic but the 15th seed never looked like repeating the upset as the rampant world number one brutally took him apart.
Cilic, a semi-finalist here last year, was well beaten long before he netted a return after two-and-a-half hours and a delighted Nadal moved on with a snarl to a quarter-final against fellow Spaniard David Ferrer.
"Today I felt very good, no?" he said. "I didn't sweat like the other days. So that's fantastic news for me. The better news is I played much better than the rest of the days.
"I was able to play with high intensity, very good rhythm, playing more inside the court. So play more aggressive, changing rhythms with the slice and with the topspin, backhand."
Losing finalist here last year, British fifth seed Murray had conceded just 16 games in three matches to reach the fourth round and was equally parsimonious in dispatching Austrian Juergen Melzer 6-3 6-1 6-1.
"I'm not expecting to go through the tournament winning matches like that," said Murray. "I'm ready for that mentally when it does get tough ... It's been a very good start, but it's going to get much tougher."
Next up for Murray is the unorthodox Dolgopolov, who found fourth seed Soderling far more accommodating in the opening match on center court, recovering from a poor start to record a well-deserved 1-6 6-3 6-1 4-6 6-2 upset.
Soderling, who had never previously been beyond the second round at Melbourne Park, admitted he was not at his best but also paid tribute to the talents of his 22-year-old pony-tailed vanquisher.
STRONG COUNTER-PUNCHER
"My two biggest weapons are my serve and my forehand. They were not weapons today," he said. "(But) he's a good player. He has a great backhand and he's moving very well. He's a great counter-puncher. He has a good chance to do really well."
Another young gun's free-wheeling run through the draw ended when seventh seeded Ferrer patiently saw off big-serving Canadian qualifier Milos Raonic 4-6 6-2 6-3 6-4.
Clijsters completed the women's quarter-final line-up despite struggling early on against 49th-ranked Makarova's forehands down the line as the evening cool turned into a night chill.
The three-times U.S. Open champion roused herself to claim the first set tiebreak 7-3 and never again looked in danger as she cruised on to a last eight date with Pole Agnieszka Radwanska, who beat China's unseeded Peng Shuai 7-5 3-6 7-5.
"It's been tough," said Clijsters, who called for the trainer after she felt her hamstring tighten in the second set.
"In these last few matches, I always played players that I kind of never played against. It was always a little bit hard to kind of find that rhythm.
"I definitely felt a big improvement (tonight) compared to my previous match."
Second seed Vera Zvonareva also continued her march through the women's draw with a 6-4 6-1 victory over Iveta Benesova to set up a meeting with another Czech Petra Kvitova, who ground down Italian Flavia Pennetta 3-6 6-3 6-3.
Zvonareva had to recover from a 4-2 deficit in the first set but soon stepped up the pace and ran out a convincing winner over her unseeded opponent.
The 26-year-old Muscovite, a tearful loser in the finals of Wimbledon and the U.S. Open last year, sealed the win on her second match point with a thumping forehand crosscourt winner.
"I learned a lot over the last two grand slams," said Zvonareva. "I think I know myself a little bit better now. Hopefully that experience will help me to play my best tennis when I need it."
(Editing by Justin Palmer)