Bruins goalie Thomas declines White House visit for political reasons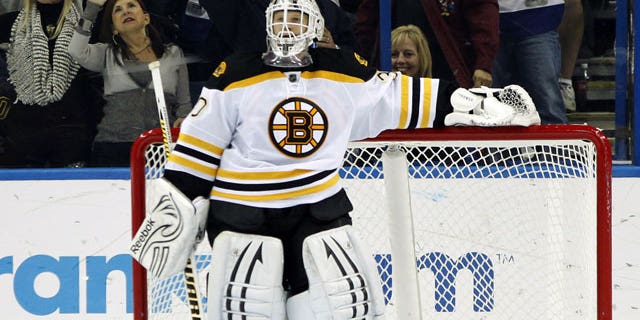 WASHINGTON, D.C. – Boston Bruins' star goaltender Tim Thomas skipped Monday's White House visit by the Stanley Cup champions due to political differences with President Barack Obama.
Thomas, a Flint, Mich., native and one of only two American players on the Bruins' Stanley Cup roster last season, was the only Boston player to decline the invitation.
"I believe the Federal government has grown out of control, threatening the Rights, Liberties, and Property of the People," Thomas said in a statement.
"This is being done at the Executive, Legislative, and Judicial level. This is in direct opposition to the Constitution and the Founding Fathers vision for the Federal government," he wrote.
"Because I believe this, today (Monday) I exercised my right as a Free Citizen, and did not visit the White House. This was not about politics or party, as in my opinion both parties are responsible for the situation we are in as a country. This was about a choice I had to make as an INDIVIDUAL."
Thomas, who won the Conn Smythe Trophy as the most valuable player in last year's playoffs, is known to be a political conservative and has publicly stated he is a fan of right-wing commentator Glenn Beck, according to Boston sports radio website WEEI.com.
"Everybody has their own opinions and political beliefs and he chose not to join us," team president Cam Neely said, according to ESPNBoston.com. "We certainly would have liked to have him come and join us, but that's his choice."
In brief remarks, President Obama noted Thomas' stellar play on the title run, even though the netminder appears unlikely to return the compliment.
"This Stanley Cup was won by defense as much as by offense," Obama said. "Tim Thomas posted two shutouts in the Stanley Cup Finals and set an all-time record for saves in the postseason and he also earned the honor of being only the second American ever to be recognized as the Stanley Cup playoffs MVP."
Thomas also won the Vezina Trophy last season as the league's top goalie, helping the Bruins raise the cup for the first time in 39 years.