Brook Lopez Talks Latino Roots and the Brooklyn Nets' 'Fresh Slate'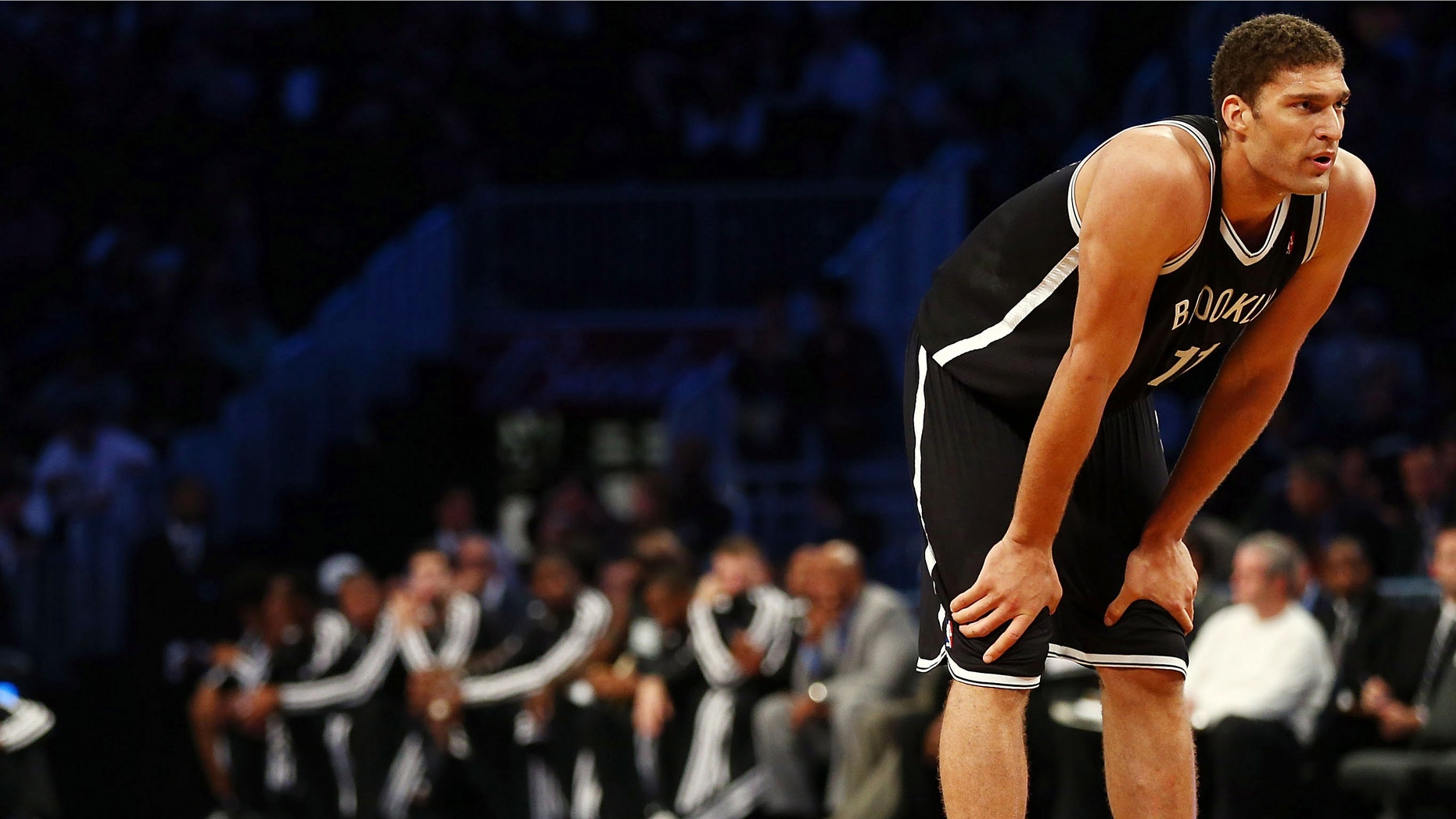 New York – Sports have always run in the bloodline of Brook Lopez's family.

The Brooklyn Nets center's mother was a world class swimmer and his father played baseball in Cuba. His uncle even pitched for several Major League Baseball teams.
A constant fixture in the Nets' franchise over the past few years, this season Lopez will be critical as the team looks to rebound and rebrand itself after moving to Brooklyn for a "fresh slate."
While the Nets were able to resign All-Stars Deron Williams and Gerald Wallace along with acquiring Joe Johnson, the team will be counting on a healthy Brook Lopez as they aim to reach the playoffs in their first season in Brooklyn.

The 7-footer transcends beyond the court as he shared with Fox News Latino about his team's new beginning, his affinity for comic books and  the "fantastic job" his mother did raising him and his three brothers by herself.
Fox News Latino: What has been the major difference for this franchise since establishing itself in Brooklyn after 30 years in New Jersey?

Brook Lopez: It's so different. I think that's the key word. I think everyone just comes in very optimistic with a brighter outlook. You know they're excited because we have a lot of pieces that can work together very well as long as we come in and work every day. So it's honestly very fun to come in and work with these guys.

FNL:  With new players and new colors is there a lot of optimism about this new era?

Lopez: Everything is new. You look top to bottom, it's like a completely fresh slate. It's very exciting to start that way especially when you got guys like Deron, Joe, Gerald, Hump. You can just name everybody from top to bottom because like I said everyone is such a great player in their own right and at the same time we all complement each other so well.

FNL: You're coming off a rollercoaster season. After returning following your broken foot you fractured it again. Now your name has forever been linked in trades for Dwight Howard and even for Carmelo Anthony. How tough was last season for you?

Lopez: It's been very tough. I've heard the talk about Brooklyn since my rookie year. They always talked about how great it was going to be and everything and how exciting it was. You saw where we were right now and it's just a little bit of a bleak outlook. I tried to remain optimistic. It was difficult to envision this sort of change back then, the way it's gone. It's been incredible. But as it got further along I knew the Nets were the team I wanted to be on as they started to show me more and more of their plan. I saw what they were trying to do with this franchise, the moves they were trying to make - when we got (Mikhail) Prokkorov becoming the owner of the team; when I heard (former majority owner Bruce) Ratner talking about building the Barclays Center; seeing Jay-Z at the groundbreaking, hearing him talking about the Brooklyn Nets. It looked like a very positive thing and it was something I wanted to be a part of.

FNL: Having your older brother Chris around, how important was that for you mentally?

Lopez: Just having him out here has been huge for me. Just someone I can talk to 24/7. He's always there for me.  It helps having someone live with you especially someone you're that close with. I lived with the guy my whole life. Obviously he's my brother. I can talk to him about anything.

FNL: How comforting was your twin brother Robin, who plays for the New Orleans Horents, during the year?  
Lopez: It's a lot of the same with him. We rarely talk about basketball. That's nice because a lot of my life is basketball because you know going in, getting prepared in the morning, practicing for many hours and staying out here for post practice workout treatment or whatever else I may be doing here in the facility, I know I can text Robin or Facebook him and just talk to him about everything else.

FNL: At what point in life did you and Robin know you were destined for the NBA?

Lopez: We constantly knew our whole life that we wanted to play in the NBA. I think we just took it one step at a time from elementary school basketball to middle school to high school to traveling teams and going to Stanford. We obviously knew we wanted to play at Stanford before we went to the NBA. I remember my mom always told this story when I was in the second grade I just got in the car and said 'mom before I play in the NBA, I want to go to Stanford.' I just took it as a goal at a time.

FNL: It's not a secret that you and Robin have a fondness for comic books.

Lopez: The creative process that started with us when we were little. Our brothers collected comics so we'd go into their room and try to steal some of their comics to read them or draw. It just blossomed from there. But we were raised in a very creative family. Our mother always got us material to draw on, write, markers. For Christmas our grandmother would give us this huge box every year of just art supplies, construction paper, water colors, charcoals, crayons, color pencils. We'd just go nuts. We've always had a passion for comic books because of the drawing in it and animation as well. Just making movies in general. I've always enjoyed writing, just the whole creative process.

FNL: Is this something we will see the Lopez brothers venture into after you hoops days are over?

Lopez: No question! You know a lot of the time Robin and I text each other, a lot of times he will text me pictures of what he's drawing or he's been working on. We just bounce ideas back and forth.

FNL: How does your comic book collection stack up?

Lopez: I couldn't put a number on it. I've been building a room in my house in Fresno (California). It's just dedicated just to my comic books stuff and all that memorabilia.

FNL: And your family's love for sports?

Lopez: My mom was a swimmer growing up. She was World Class. She swam in the (1967) World (Student) Games. My older brothers were both basketball players so I just grew up around the gym. Even my dad's side of the family, they were baseball players. I had an uncle that pitched for the (Philadelphia Phillies, Baltimore Orioles, Milwaukee Brewers, California Angels and Cleveland Indians). I wish I knew more about my father's side but my parents are divorced. They divorced when I was very young. I know less about that.

FNL: We see today a lot of families broken up and a lot of single parents raising their children. Not having your dad around is something you wish you had growing up as a kid?

Lopez: Obviously I would never want that to happen. It's something I completely worked hard towards - having a strong family. In my mom's case, she did a fantastic job. She raised four well-rounded, smart boys on a public school teacher's salary. She's impressive. She was always there for us. She sacrificed for us constantly. To her credit she loved every minute of it. She was our biggest fan in the stands. She went to all our games. She would drive one brother to a practice crosstown, come back, bring another brother to practice and take care of us at the same time when we were little. It's a labor of love for her.