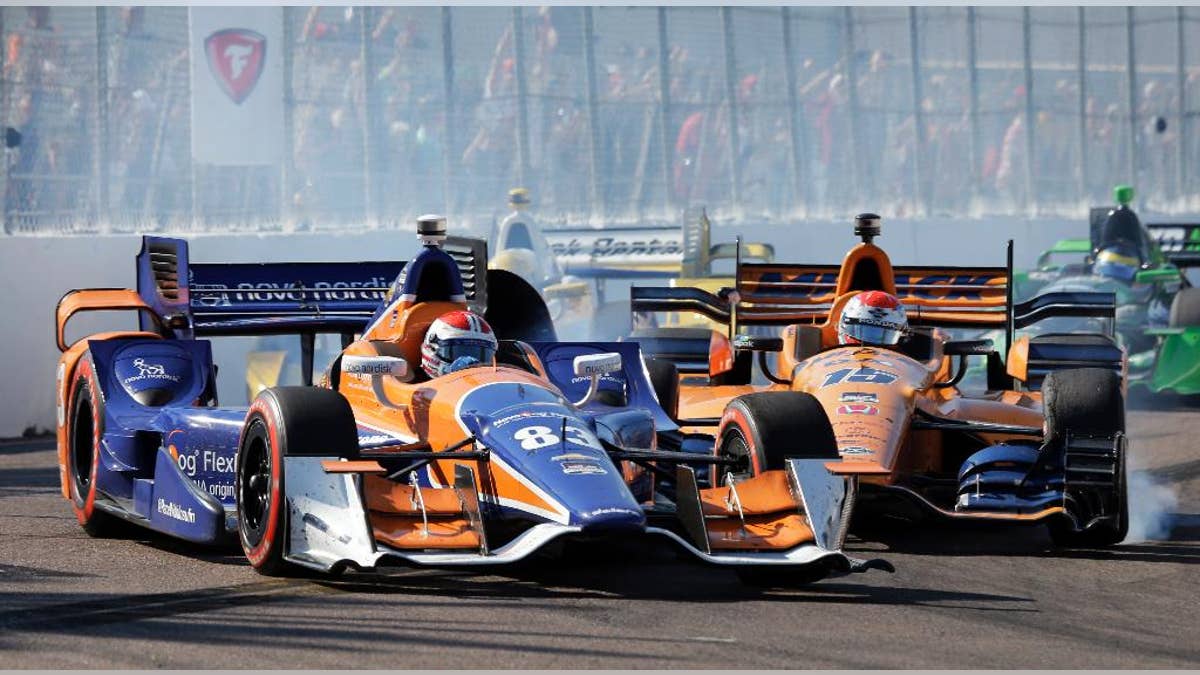 CHARLOTTE, N.C. – Broken bits and pieces from IndyCar's new aero kits littered the track in the series season opener, which was slowed by several cautions to pick up the parts.
The multiple race stoppages — there were five long cautions to sweep debris off the St. Petersburg, Florida, racing surface — made for a choppy opener. But that became secondary when it was revealed a spectator was struck in the head by a piece of flying debris.
Brigette Hoffstetter was walking in the concession area near Turn 10 on the temporary street course when a piece of carbon fiber apparently sailed about 100 yards and struck her in the head during Sunday's race. The Tampa Bay Times reported Hoffstetter had a fractured skull.
IndyCar officials are investigating the incident.
"The safety of IndyCar's fans and participants is of the highest priority," the series said in a statement that announced it was looking into the incident. "This process is consistent with IndyCar's procedure following all race incidents and part of its persistent effort to make safety improvements."
It was obvious when Chevrolet and Honda unveiled the aerodynamic bodykits that there was a probability for broken parts to become an issue. With so many pieces on each of the manufacturers' designs, it was impossible not to predict that any contact between cars would cause broken bits and pieces of carbon fiber to litter the track.
"It's not that they're brittle, it's the fact that you've got more stuff hanging off," said reigning IndyCar Series champion Will Power, who pointed at the front wing as the primary source of concern. He also wondered if there was a better system for recovering debris rather than full-course cautions.
"It does break the race up. Did they really need to get a yellow for all the debris? Could someone have gone out on the track and quickly got it? Or is there another system that we can come up with it that prevents it going yellow? We need like a fishing line or something."
Three-time champion Scott Dixon also thought the amount of cautions was a detriment to the overall product, even though the ensuing restarts created an opportunity for multiple passes.
But, Dixon also noted the narrow margins of a street course, coupled with the driver unfamiliarity with the aero kits in their debut race, likely contributed to more contact than there will be in upcoming races.
"As we go through more races and people get used to how big those front wings are, especially on the Honda, it won't be as bad," Dixon said. "In simple terms, the cars aren't meant to touch. I think with the confines and the competition level on street courses, you're going to have that happen."
Neither driver was calling for modifications to the high-downforce aero kits, which can be tailored to a driver's personal style and individual racetrack. The kits allow Chevrolet and Honda to differentiate from each other, and are expected to improve the on-track product throughout the season. Power twice broke the track record in qualifying.
"I think (IndyCar) just needs to see how it plays out over the next few races. It is a problem if you have debris flying and it's an open cockpit, it could get you in the head, that could be pretty nasty, so something they need to keep an eye on," Power said. "But I think a part of that was the fact that it was first race, people hadn't raced in more than seven months, and you've got a few new guys in (the field). I think everyone was just antsy, and that's why there was contact."
___
ELDORA-FAVORITE TRACK: Eldora Speedway won "My Favorite Track" for the fourth consecutive year in polling by Speed Sport Magazine and NationalSpeedSportNews.com.
Eldora, a half-mile clay oval in Rossburg, Ohio, owned by three-time NASCAR champion Tony Stewart, received 22.8 percent of the vote. Eldora won last year with 19.4 percent of the overall vote.
Virginia International Raceway, located in Alton, Virginia, was second in voting.
"It is again an honor for our entire team to have the fans vote Eldora as their favorite track in the country," said general manager Roger Slack. "We remain committed to the foundation and vision of Earl and Berneice Baltes and fulfilling their dreams of building Eldora into everything they hoped it could become."
___
McMURRAY-MELVIN GORDON: Jamie McMurray and Heisman Trophy runner-up Melvin Gordon will co-host a celebrity bowling event in downtown Chicago that will be part of the festivities surrounding the NFL Draft.
The Celebrity Bowling Classic will be held April 28 at Lucky Strike Chicago. The event will be presented by McDonald's and feature celebrity athletes and entertainers seeking to raise awareness and funding for Ronald McDonald House Charities.
Gordon, the 2014 Doak Walker Award winner as the nation's top running back, has been an avid supporter of the Boys and Girls Club of Kenosha, Wisconsin, and hopes to expand his community involvement during his professional football career.
"With the NFL Draft in Chicago for the first time, it gave Jamie and me the opportunity to kick off an exciting week for a great cause," said Gordon. "We expect a great turnout, not only from the football community, but also friends and celebrities who want to join us for a fun evening of bowling."
McMurray established the Jamie McMurray Foundation in 2006 and has previously been a spokesman for autism awareness. McMurray has been sponsored by McDonald's since 2010 when he became one of only three drivers to win the Daytona 500 and Brickyard 400 in the same season.