Brock Lesnar and USADA respond to potential doping violation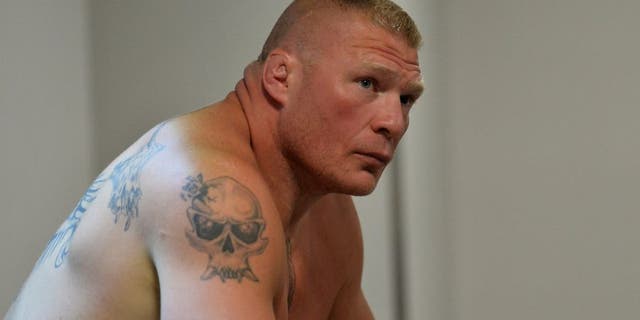 NEWYou can now listen to Fox News articles!
Brock Lesnar isn't saying much, but he has responded to a potential doping violation after a drug test he submitted on June 28 came back positive for a banned substance.
USADA (United States Anti-Doping Agency) administered the test as part of the UFC's anti-doping policy. Lesnar's test was returned July 14 and flagged for the violation, which was reported to the UFC on Friday.
"We'll get to the bottom of this," Lesnar said in a statement released to the Associated Press.
Lesnar also provided AP with copies of letters from three previous tests by USADA informing him that he had not been flagged for any of those samples.
Lesnar was subjected to random, in- and out-of-competition drug testing once he returned to the UFC, and USADA tested the former heavyweight champion at least five times over a two-week period once he became eligible for the program.
Following Lesnar's response, USADA spokesperson Ryan Madden also issued a statement confirming that the former champion had not been flagged for any previous tests, but the June 28 sample came back positive for a banned substance.
"With Mr. Lesnar having spoken publicly about the issue, I can confirm that he has been notified of a potential anti-doping policy violation stemming from an out-of-competition sample collection on June 28, 2016," Madden told FOX Sports.
"I can also confirm that the results from his previous samples collected by USADA were all reported as negative. Although USADA will not be providing any further specifics of the case at this time, I can tell you that Mr. Lesnar -- as with every athlete under the UFC anti-doping policy -- will be provided full due process under the rules."
Lesnar can request that the 'B' sample from the June 28 collection also be tested, and he's afforded a full appeals process under the rules of the UFC anti-doping policy.
Lesnar hasn't yet revealed what banned substance was flagged from his sample. USADA will not release information on the substance until the athlete either goes public or the adjudication process afforded to the fighter is finalized.
The sample collected on June 28 was not returned until July 14, according to USADA, and at that time it notified Lesnar and the UFC about the potential doping violation.
Because the sample came back after UFC 200, Lesnar was allowed to compete on the card; he defeated Mark Hunt by unanimous decision.