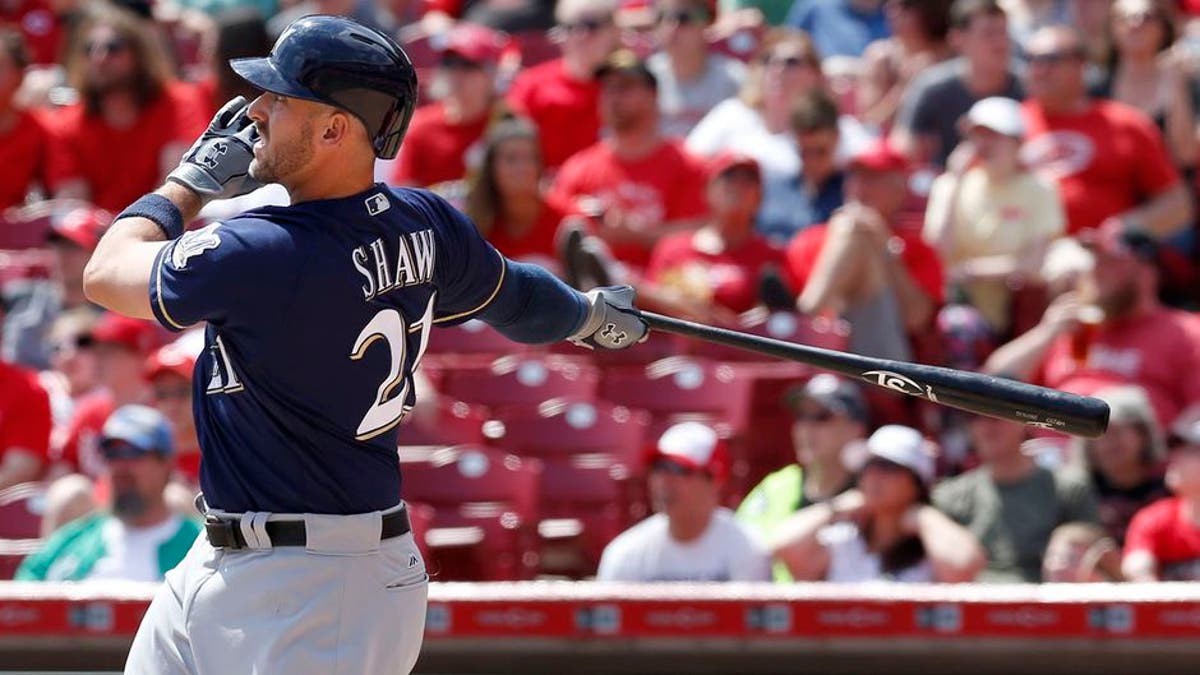 After a lengthy road trip, the Milwaukee Brewers return to Miller Park mashing the baseball even more than when they left.
The Brewers lead the major leagues in home runs with 29 and are second in slugging percentage (.471) behind just Washington. A nine-game road trip which saw Milwaukee hit 19 home runs and slug .514 vaulted the team to the top of the power leaderboards.
In the last five games, Milwaukee had multiple home runs in each -- that's tied for the longest streak of 2+ home run games in the majors in April since 2000. The Brewers have never had a streak of six straight games with two or more home runs. The last team to accomplish it in April was the 2004 St. Louis Cardinals.
That streak isn't an anomaly on the young season. Milwaukee has had multiple-homer games in 10 of its 19 games:
April 5 vs. Colorado: Eric Thames, Travis Shaw and Jonathan Villar
April 8 vs. Chicago: Villar, Nick Franklin and Jett Bandy
April 9 vs. Chicago: Ryan Braun and Domingo Santana
April 11 at Toronto: Keon Broxton and Santana
April 13 at Cincinnati: Braun and Thames
April 15 at Cincinnati: Thames (2) and Hernan Perez
April 16 at Cincinnati: Braun, Shaw and Thames
April 17 at Chicago: Braun, Bandy and Thames
April 18 at Chicago: Orlando Arcia and Shaw
April 19 at Chicago: Shaw and Bandy
You might have noticed two players new to the Brewers standing out in that above list. Thames and Shaw have combined for 25 extra-base hits this season (Thames has 13, Shaw 12), which is by far the most of any teammate duos thus far in the major leagues. The pair have five more than Washington's Bryce Harper (11) and either David Murphy or Ryan Zimmerman (9 each) and six more than Colorado's Nolan Arenado (12) and Mark Reynolds (7).
One more note on Thames, who has been one of the biggest surprises in the early going of 2017. He is the first player with at least 20 hits and seven home runs (he has exactly 20 and 7 entering Thursday's game) through his first 14 games with a new team since Atlanta's Fred McGriff (21 hits, 7 HR) did it in 1993 after being traded to the Braves from San Diego in mid-season.
McGriff finished that season with 37 home runs and a slash line of .291/.375/.549. Have a feeling Milwaukee would be quite pleased if Thames posted similar statistics by the time October rolled around.
Other notes:
-- The Brewers have scored 43 runs combined in the first four innings of games, the most in the National League. Only Tampa Bay (45) has more in MLB.
-- St. Louis has won three straight games scoring two runs or fewer. The Cardinals have never won four straight in that fashion. The last major-league team to have a streak of four consecutive victories scoring two or fewer runs was San Diego from June 4-7, 2008.
-- Braun hasn't hit a home run against the Cardinals at Miller Park in his last 112 regular-season at-bats.
-- Zach Davies struck out 30.5 percent of the Cardinals he faced last season, the highest percentage by a rookie against St. Louis since 1913. Los Angeles' Fernando Valenzuela fanned 31.9 percent in 1981.
Statistics courtesy STATS and baseball-reference.com