Brewers place Villar on 10-day DL, recall Brinson from Triple-A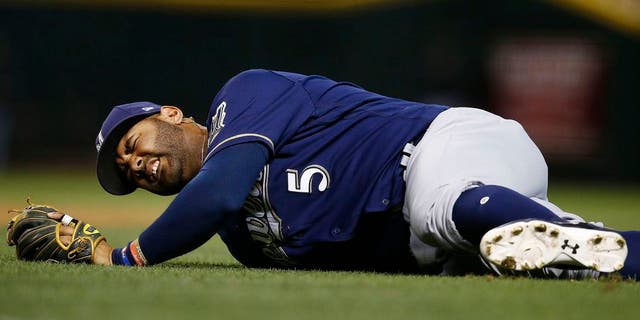 NEWYou can now listen to Fox News articles!
The Milwaukee Brewers placed Jonathan Villar on the 10-day disabled list and recalled outfielder Lewis Brinson from Triple-A, the team announced Saturday.
Villar was carted off the field during Friday's 8-6 win over the Diamondbacks. Hewas injured after laying outto catch a ball.
It's a huge call-up for the Brewers, as Brinson is rated the No. 1 prospect in Milwaukee's farm system all season. He's shown why, too, slashing his way through Triple-A with a .312/.397/.503 mark through 45 games. The 23-year-old was drafted 29th overall by the Texas Rangers in the 2012 MLB Draftand was the keypiece in last season's trade that sent catcherJonathan Lucroy and right-hander Jeremy Jeffress to Texas.
The move marks the third MLB debut for atop Brewers prospect in the last week. Brett Phillips roamed the outfield at Miller Park for the first time on June 5, and Josh Hader was recalled from Triple-A on Friday.