Brewers' Carlos Gomez And Pirates' Travis Snider Kicked Out Of Game After Brawl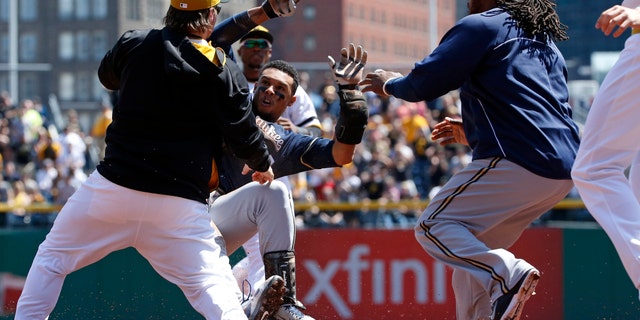 PITTSBURGH (AP) — Brewers center fielder Carlos Gomez and Pirates outfielder Travis Snider were ejected from a game Sunday afternoon following a third-inning brawl.
Both benches cleared when Gomez and Pirates starting pitcher Gerrit Cole got in a shouting match after Gomez tripled off the wall with two outs in the third inning. Cole, upset with Gomez for flipping his bat after hitting the ball, stormed toward third base after Gomez slid in safely.
Your browser does not support iframes.
Gomez took a couple steps toward Cole before players from both dugouts and the bullpens entered the field. Gomez and Snider shoved one another before Gomez fell to the ground. Pirates catcher Russell Martin had to be restrained by teammate Gaby Sanchez as he walked off the field.
Brewers bench coach Jerry Narron also was ejected.
Follow us on twitter.com/foxnewslatino
Like us at facebook.com/foxnewslatino