Brazil Wins, Messi Scores, The USA Flops And Other World Cup Predictions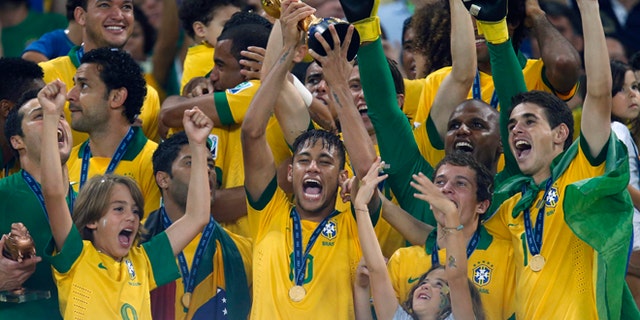 (AP) – Either they're geniuses ... or about to look foolish. For your delectation and debate, some of the sharpest soccer minds at The Associated Press — a crack team of reporters who have covered 28 World Cups between them — peered into their crystal balls and took an educated stab at predicting who will shine or flop among the 32 teams next June in Brazil.
We also got second opinions from Raymond Domenech, who coached 1998 world champion France at the 2006 and 2010 World Cups, and from a global panel of 14 non-AP journalists who vote in the weekly Associated Press soccer poll. Their thoughts about our predictions are also published here.
Of course, the Dec. 6 draw could blow some predictions off course. But if history proves our fortune-tellers right, then don't forget: you read it here first!
If not, well, hmm. Better luck next time?
___
WILL BRAZIL WIN? Yes. Brazil's team, although average by its standards, will transcend itself thanks to the expertise of coach Luiz Felipe Scolari, Neymar's gift for scoring and creating goals and the added zest of playing for home crowds. Scolari is adept at getting teams and players to peak on schedule, essential for the monthlong World Cup. After winning the 2002 edition with Brazil and then managing Portugal, Scolari returned to club football. Brazil's football federation brought him back after firing much-criticized manager Mano Menezes in 2012. Scolari proved he hasn't lost his touch by leading Brazil to victory at the 2013 Confederations Cup. Neymar was MVP of that World Cup warm-up tournament, silencing critics' claims that the 21-year-old striker doesn't shine for Brazil in big games. Usually intolerant of imperfection, home fans threw themselves behind the team and will do so again in 2014, helping to carry Neymar and Co. to the final, which they'll win. By Tales Azzoni in Brazil.
PANEL SAYS: Evenly split, 7 of 14 panelists agree Brazil will win. "Historically, Brazil has benefited from refereeing decisions at WCs, a factor that might be even bigger at home" — Leonardo Bertozzi, ESPN Brazil.
DOMENECH: Agrees. "The Confederations Cup confirmed they'll be tough to beat."
___
OR WILL IT BE SPAIN? Yes. Spain will become the first team to win four major championships in succession. The World Cup winner in South Africa and two-time defending European champion has the necessaries to repeat: Quality, experience, youth and master coach Vicente del Bosque. It will likely be the last World Cup for midfielder Xavi Hernandez, who could have less of an impact. But Andres Iniesta, David Silva and Sergio Ramos are in their prime. Del Bosque has top goalkeepers, with Iker Casillas likely to start despite becoming second choice at Real Madrid. Striker Diego Costa's decision to play for Spain, his naturalized country, instead of his native Brazil could tip the balance. He gives Spain presence and a scoring threat with both feet. With the extra motivation of making history, Spain will become the first team since Brazil in 1962 to defend the world title. By Paul Logothetis in Spain.
PANEL: Overwhelming majority — 12 of 14 — say Spain will lose. "Teams will play counter-attack against them, and when that happens they are beatable" — Mike McGrath, The Sun.
DOMENECH: Says Spain's "players are getting a bit old. It's the end of a cycle. I even see them being knocked out quite quickly."
___
WHICH TEAM WILL BE THE BIGGEST FLOP? Spain's cycle of dominance will abruptly end in Brazil. Signs were there in qualifying that La Furia Roja are no longer the menace they once were. Although undefeated in 30 straight matches at home, points were dropped to visiting France and, more surprisingly, Finland. In both games, Spain needed a goal from defender Sergio Ramos, highlighting how its once free-flowing attack has grown wheezy. In only one of eight qualifiers did a forward score more than once — Pedro's hat-trick against Belarus. Teams are figuring out how to frustrate Spain, which needed late goals to beat Georgia away and in a scrappy win in Finland. Playmaker Xavi will be 34 and overworked trying to unpick packed defenses. A good counter-attacking team will send Spain home well before the final. By Jerome Pugmire in France.
PANEL: Just 3 of 14 agree.
DOMENECH: Agrees with Pugmire. "They should get through their group but risk quick elimination in a knockout game."
___
WHO WILL WIN THE GOLDEN BOOT? Lionel Messi is going to correct the major blemish on his hugely prolific career scoring record and take home the Golden Boot. Heading to his third World Cup, the four-time world player of the year has scored — you'll have trouble believing this — just once at the World Cup: in his first match in 2006. Messi played well but got no goals in 2010 for an Argentina team coached quixotically by Diego Maradona. Under coach Alejandro Sabella, Messi's genius will finally shine in Brazil. Even his time sidelined by early season injuries will keep him fresher for national duty in June when he should be reaching his career peak at 27. Messi scored 10 times in 14 qualifying matches. If the Dec. 6 draw groups Argentina with the Netherlands and Ivory Coast, just like 2006, the team will need Messi scoring. Just a single game against weaker defenses could see sufficient Messi goals for the Golden Boot, especially since he is also Argentina's designated penalty-taker. In 2010, Germany's Thomas Mueller high-scored with five goals. By Graham Dunbar in Switzerland.
PANEL: Just under half — 6 of 14 — agree.
DOMENECH: Disagrees. "I think it will be a Brazilian."
___
WILL LIONEL MESSI SHINE? No. Messi won't be healthy enough. He's running out of gas, picking up injuries with alarming regularity, the latest a left-leg muscle tear. He appears to be paying for his keenness to play every match and for rough tackles he's endured over the years from opponents he frustrates. Under ex-coach Pep Guardiola at Barcelona, Messi enjoyed long spells without injury. But Guardiola moved on and Messi broke down with a hamstring problem at the end of last season. At the World Cup, stars have little time to shine — a maximum of seven matches in one month if they make the final. Messi needs to be fully fit and that looks unlikely. By Stephen Wade in Brazil.
PANEL: Only 5 of 14 agree Messi will flop.
DOMENECH: Disagrees. "He has time to get better, because he's getting injured now and the World Cup is in more than six months."
___
WHICH AFRICAN TEAM WILL FARE BEST? Didier Drogba will inspire Ivory Coast to the quarterfinals, matching the best ever performance by an African team. True, Drogba will be 36 and the Ivorians didn't escape the group stage at their two previous World Cups. But in the Champions League, playing for Turkish club Galatasaray, Drogba is proving he can still score against top opposition. This being his last World Cup and probably his last major tournament will motivate the striker and the team he captains. With a decent draw, and Yaya Touré in midfield, Ivory Coast will go furthest of the 5 African teams. By Gerald Imray in South Africa.
PANEL: 5 of 14 agree.
DOMENECH: No. "I think it will be Nigeria."
___
GERMANY'S "GOLDEN GENERATION" FINALLY WINS? No. Germany will start as always with a big victory and breeze through the rest of the tournament — until the semifinals. There, Joachim Loew's men will again fall short despite playing sparkling football, especially if the Dec. 6 draw throws up Italy as a likely semifinal opponent. Germany has never beaten Italy at a major tournament. Other teams are beginning to read Germany's game and won't give so much space to midfielder Mesut Ozil. Germany will have one of the youngest teams and will lack experience — except in attack, where Miroslav Klose and Mario Gomez are aging and aching. Germany's defense is its biggest weakness. Loew's philosophy is to score more than concede, but squandering a 4-0 lead against Sweden for a 4-4 draw in World Cup qualifying exposed Germany's lack of a world-class defender, except Philipp Lahm. By Nesha Starcevic in Germany.
PANEL: Even split — 7 of 14 agree. "It's time for them to win it all. Bayern and Dortmund discovered the path in the last Champions League" — Ubiratan Leal, trivela.com, Brazil.
DOMENECH: "Completely agree. They've always been short of that extra something and they're not going to do better as they get older. Semifinals, yes. They'll lose against Brazil."
___
WHICH TEAMS WILL SPRING THE BIGGEST SURPRISE? It used to be that surprise teams could lay low until the World Cup. FIFA's rankings changed that. Belgium hasn't played a World Cup since 2002. It's been even longer for Colombia: 1998. Both might be considered dark horses in Brazil were it not for FIFA rankings giving their game away. Based on their results against other teams, they're now among the top 5 football nations. Despite lacking experience, they'll advance easily from group play. From there, a piece of individual brilliance or luck often decides games. In Radamel Falcao and James Rodriguez, Colombia has a game-changing duo. Behind the playmaking of Eden Hazard, Belgium is a challenger. One or both will reach the semifinals. By Raf Casert in Belgium.
PANEL: Majority — 10 of 14 — agree. "Belgium will have a magnificent team ready for the World Cup — look out for Vertonghen, Hazard and Lukaku!" — Soren-Mikael Hansen, Politiken, Denmark.
DOMENECH: No. Expects Argentina, Brazil and Germany in the semifinals and "for the surprise, I'd always say Italy, my intimate friends." (Domenech's France team lost the 2006 World Cup final to Italy)
___
WILL ENGLAND REPEAT 1966? No. The nation with the world's No. 1 football league still won't have international success. Fans who long struggled to accept the diminished status of the 1966 world champion now realize that Roy Hodgson's side won't repeat that feat in Brazil or get to the semifinals like Bobby Robson's team in 1990. Even the English Football Association's chairman, Greg Dyke, only set England a target of winning the World Cup ... in 2022. The youthful energy of Jack Wilshere and Andros Townsend will unsettle teams. The matured Wayne Rooney will score his first World Cup goal. But off-field distractions and difficulty with relentless media attention have a habit of derailing England at major tournaments. England won't go further than the last 16. By Rob Harris in England.
PANEL: 10 of 14 agree.
DOMENECH: Agrees. Not getting beyond the last 16 "is their habit."
___
WILL THE UNITED STATES REACH THE QUARTERS? No. That's happened just once, in 2002. The U.S. team got no further than the group stage in 1990, 1998 and 2006 and the last 16 in 1994 and 2010. Notwithstanding the improving quality of Major League Soccer, players of fine ability including midfielder Landon Donovan and forward Clint Dempsey and the leadership of former Germany coach Jurgen Klinsmann, the US team won't get beyond the last 16, or before that if the draw is unfavorable. Despite qualifying top from North and Central America and the Caribbean, the U.S. isn't seeded for Dec. 6. That means it is bound to draw host Brazil or another top-ranked team and possibly other difficult opponents, too. By columnist John Leicester.
PANEL: Large majority — 11 of 14 — agree. "The U.S. don't have the talent or the stability/continuity to get that far" — Sam Tighe, Bleacher Report, United States.
DOMENECH: Disagrees. Believes United States will reach the quarterfinals. "I've always found them to be well organized at the World Cup. Their matches are generally tight. I would have liked them to beat the Italians in 2006, that would have helped me out." (The two sides drew 1-1 in the group stage).
Follow us on twitter.com/foxnewslatino
Like us at facebook.com/foxnewslatino