Brazil routs Haiti 7-1 in Copa as Coutinho nets hat trick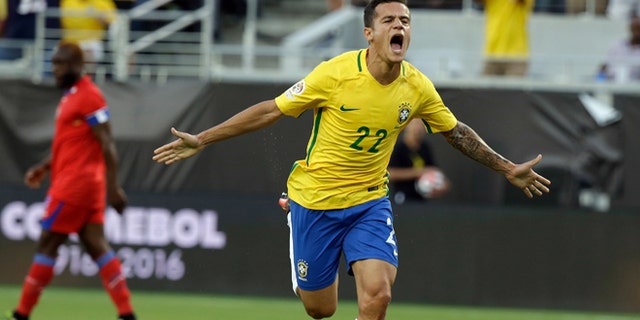 NEWYou can now listen to Fox News articles!
ORLANDO, Fla. (AP) – This was a 7-1 scoreline Brazil could enjoy.
Philippe Coutinho scored his first international hat trick, Renato Augusto had two goals and Brazil routed Haiti 7-1 Wednesday night in the Copa America.
Coutinho scored in the 14th and 29th minutes to build a 2-0 lead, then added a goal on a 20-yard drive in the second minute of second-half stoppage time. The Liverpool midfielder's only previous goal for Brazil was against Mexico in an exhibition on June 7 last year.
Gabriel Barbosa and Lucas Lima also scored for Brazil in a scoreline that matched the devastating defeat for the Selecao in the 2014 World Cup semifinals against Germany at Belo Horizonte.
"We have been encouraging Coutinho during training to be the player he is in Liverpool, take advantage of his opportunities and he did that for us," Brazil's coach Dunga said. "He has been acquiring more trust and belief in himself and taking more risks. That is what we wanted."
Brazil has four points in Group B and completes group play Sunday against Peru, which tied Ecuador 2-2 also on Wednesday and also has four points. Ecuador has two points and Haiti has zero points and has been eliminated.
Dunga said his team is relaxed now.
"It's not just important for Brazil to win, but for us to be the best players on the field in every game," he said. "This was a good game. We did many of the things in the game that we worked on in training, but we are always seeking perfection."
Coutinho's first goal was from just outside the penalty area and his second came from 6 yards out after a three-touch sequence. Dani Alves crossed, Jonas outfought two defenders to control the ball in front of goalkeeper Johny Placide, then slid it across the goalmouth for Coutinho to tap in.
Alves looped a cross onto Augusto's head 10 yards out for the third goal.
Gabriel Barbosa entered for Jonas at the start of the second half and made it 4-0 with an 18-yard left-footed shot and Alves crossed for Lima's header.
Marcelin beat Brazil goalkeeper Alisson on a rebound after Max Hillaire's initial effort.
"We knew they were better than us. I'm just happy we scored a goal," Marcelin said.
Brazil, which had control of the ball 64 percent of the game and had 15 shots on goal to just five for Haiti, didn't let up in the final 20 minutes. Augusto got his second goal in the 86th minute and Coutinho finished off the scoring in stoppage time.
"We had a good game and are leaving here happy," Coutinho said. "We have to keep our focus for the next game (against Peru). We have to be dreaming about big things, but we also have to prepare well for the next game. Peru is a very strong team."
Like us on Facebook
Follow us on Twitter & Instagram