Brazil Puts Reputation On The Line With World Cup And Olympics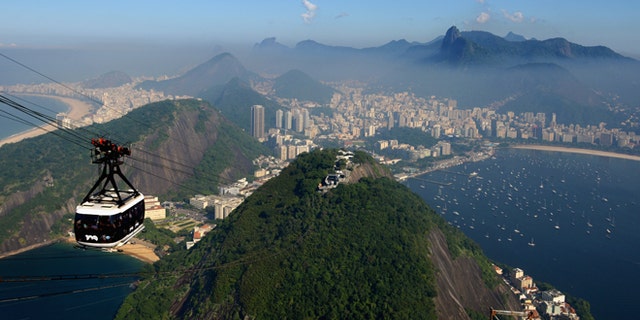 RIO DE JANEIRO (AP) – Preparing for the World Cup and Olympics is putting Brazil's reputation on the line, giving South America's biggest country a chance to boost its profile while also exposing it to mounting pressure and unrelenting scrutiny.
The deaths of two construction workers at a stadium in Sao Paulo that will host the World Cup opener in 6½ months highlight the strain of organizing two mega-events under tight deadlines and high expectations.
Violent street protests that began in June during the Confederations Cup — a warm-up tournament for the World Cup — have raised questions about why a country with a slowing economy and stark social inequality is spending $15 billion on the World Cup, and a like amount for the 2016 Olympics in Rio de Janeiro.
China and South Africa tried to improve their images by hosting the 2008 Olympics and 2010 World Cup while Russia will try the same at the 2014 Winter Games in Sochi in February.
Ironically, Brazil has a largely positive world image — samba, soccer and sandy beaches — that could be tarnished by trying to do too much.
The accident Wednesday at the Arena Corinthians comes as all the top names in the world game are about to arrive in Brazil for next week's World Cup draw.
By chance, International Olympic Committee officials were in Rio de Janeiro on Wednesday holding two-day meetings, including IOC executive director Gilbert Felli and Moroccan IOC member Nawal El Moutawakel, the head of an inspection team that monitors progress on the games.
"These are events that have a lot of rewards associated with them, but there are a lot of risks if they do a poor job," said Mark Jones, a Latin American political expert at Rice University in Texas. "If there is violence or if the infrastructure isn't sufficient, it could lead to a black eye and undermine the larger goal, which is to show Brazil is a global player."
Preparations for both events have been plagued by delays, accidents and constant pressure to move faster. No one doubts they'll both be held, but at what cost, and who pays?
Jerome Valcke, FIFA's top administrator overseeing the World Cup, scolded Brazil's politicians early in 2012 with very direct language: "You have to push yourself, kick your (backside)."
He apologized later, but the message was clear.
Brazil's World Cup organizers have been criticized for using 12 stadiums when FIFA required only eight. Four of the stadiums, in Brasilia, Natal, Cuiaba and Manaus, look like patronage rewards and are almost certain to become "white elephants."
A judge in the state of Amazonas recently suggested the stadium in Manaus be used afterward for prisoner processing.
The bill for 12 new or refurbished stadiums is $3.5 billion. Cost overruns, delays and labor strife have pushed up the price by $430 million in the last year and could hurt President Dilma Rousseff, who is up for election just after the World Cup.
She could also be damaged if protests during the World Cup get out of hand and resemble the Confederations Cup with police and soldiers firing tear gas, rubber bullets and shock grenades at rock-throwing demonstrators. Six died in connection with the Confederations Cup mayhem.
Many fans are worrying about travel in Brazil. The size of the United States or China, Brazil has limited rail service and an underdeveloped and overtaxed road network. Flying will be the only alternative for most.
About 600,000 foreigners and at least 3 million Brazilians will be traveling to matches, many connecting through old airports — the worst probably in Rio and Sao Paulo.
Soaring hotel prices — some are reported to have increased 500 percent — and a fear of street crime in many Brazilian cities is also in the mix.
"Brazil often measures itself against itself," Jones said. "These events force Brazil to compete on an international scale. It pushes Brazil and raises the bar in a way that would not occur absent the global scrutiny it will undergo."
Rio's Olympic organizing committee, which has changed leadership several times, has yet to announce an operating budget with just under 1,000 days to go before the opening on Aug. 5, 2016.
Carlos Nuzman, the president of the Brazilian Olympic Committee and head of the organizing committee, was lectured publicly by fellow IOC members at meetings two months ago in Buenos Aires. He was told to communicate better, keep the public informed about the spending and coordinate with Brazil's fractured national, state and local governments.
Rio maintains that it's on schedule, although the Olympic Park — the heart of the games west of Rio — is a mud flat where construction has barely begun. A second large Olympic area called Deodoro in the north of Rio is also far behind schedule.
In exclusive reports last week, The Associated Press documented severe pollution in the waters surrounding Rio, where Olympic and Paralympic sailing, canoeing, rowing, triathlon and open-water swimming events will be held.
Nearly 70 percent of Rio's sewage enters the waters untreated, much from hillside favelas, or shantytowns. The average fecal pollution rate around the planned Olympic Park is 78 times the Brazilian government's satisfactory level, and 195 times the level considered safe in the United States.
IOC vice president John Coates was quoted recently in the Sunday Times of London saying Rio "was more of a crisis than Athens," site of the 2004 Olympics and a byword for delays.
Athens managed to deliver, though some link the price tag to the country's current economic crisis. Brazil is much larger with one of the world's biggest economies, although it doesn't have the unlimited spending clout that China's authoritarian government put behind the 2008 Beijing Olympics.
"These countries always pull it off," said Greg Michener, a professor in Rio de Janeiro at the Brazilian School of Public and Business Administration at the Getulio Vargas Foundation. "Politically, it's probably a blessing in disguise for Brazil. It's trying to portray itself as capable and transparent and all eyes will be watching. Brazil probably needs to turn outward, and these events are forcing it outward."
Follow us on twitter.com/foxnewslatino
Like us at facebook.com/foxnewslatino