Bowl season snooze fest must end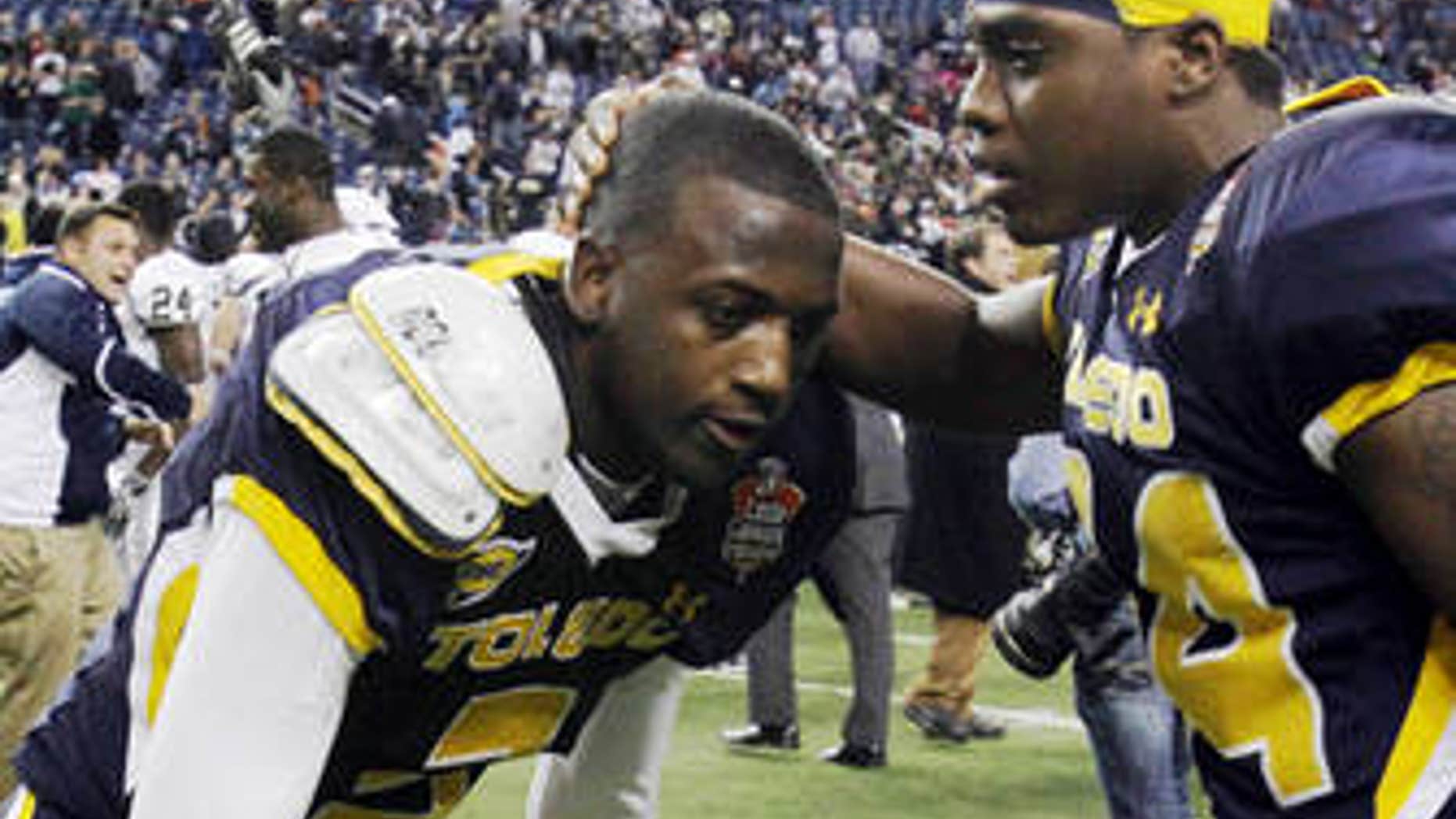 After a college football weekend that was essentially nothing more than a media pile-on against the NCAA for its head-scratching treatment of five Ohio State players who violated the rules, I've got a bone to pick with the association, too.
The 2010-2011 bowl season has been downright awful.
Yes, my gripe has nothing to do with gold pants, sportsmanship awards sold online or star players' Twitter accounts. Heck, I've long stopped trying to understand the NCAA's inconsistent and completely unpredictable process of sanctioning penalties, and I stopped caring about the NCAA's media partners' convenient blind eyes to such hypocrisy long before that. I'm sorry, but I can't take Mark May's harsh critique of the NCAA's treatment of the Ohio State situation all that seriously. Not when a guy like Pete Carroll is endlessly lauded and treated with kid gloves by May's employers after the coach conveniently bolted for the NFL just months before the once-proud USC football program was put on probation.
But that's for another time, and probably another place, I guess.
What's eating at me, instead? How absolutely boring, dreadful and underwhelming the college bowl slate has been thus far. And how it's not even close to over. Nor is a game of even minor significance even occurring anytime soon.
No one loves bowl season more than I do. Nobody. All year, I long for the three-week stretch where I can idly sit indoors on frigid winter nights, eat re-heated pizza and watch a slew of future pros showcase their skills in their rare moments in the national spotlight. Bowl after bowl after bowl, you get a new subplot, a new future pro and a new reason to love the game.
But this year has been bad -- worse than ever, really -- and should only get even worse.
As of Monday morning, there'd been eight bowl games, with only three teams ranked in the Top 25 seeing any action. Two of those Top 25 teams lost by more than 20 points. Of those eight bowl games, only one -- a tough-to-watch Beef 'O' Brady's Bowl between Southern Miss and Louisville -- had been decided by fewer than 20 points.
Two ranked teams won't play each other until 1 p.m. EST on New Year's Day, when Alabama takes on Michigan State. Auburn and Oregon won't play until nine days after that, squaring off Jan. 10 in the BCS National Championship Game. There have been years where I've never wanted bowl season to end. I'd press pause if I could. This year? I'm searching for a fast-forward button.
I'm not an old fogey and I'm certainly not blind to what the streeeeeeetcccccched-out bowl schedule means for the NCAA, its bowl partners, the advertisers involved and ESPN. People love their college football, and instead of sandwiching in these bowl games at off hours or having them compete against each other for audience numbers and TV ratings, ESPN gets a monopolized audience for each game played, whether its played on Dec. 18 or Jan. 10.
In the process, ESPN gets to milk advertising dollars for three and a half weeks and at the same time find endless ways to promote its showcase matchup -- the BCS National Championship Game. In the past, when the BCS National Game belonged to a different network, they'd focus their efforts on the Rose Bowl. This year? We're getting ads for a matchup -- one played on a Monday night in Glendale, Ariz., two nights after the NFL's first playoff game -- 24 days in advance. There are two weeks between the NFL's conference championship games and the Super Bowl, and that seems like forever. When Auburn and Oregon square off, it will have been 37 days since the last time the two teams took the field.
We know what's gained by the never-ending bowl schedule: ad dollars, TV ratings, etc. What it causes, though, is lost momentum, a diffused audience and an almost numbed interest in the national championship game. "Bowl fatigue" is something I'd never think I could ever admit to having, but after a slew of 20- and 30-point blowouts over the past 10 days and with still another two and a half weeks of waiting for the one game that matters, I must say, I've been letting out a few yawns.
So, what can be done? Condense the sucker, make New Year's Day matter again and stagger these bowl games a bit.
Here are four quick and easy ways to spice up bowl season -- short of turning it into a playoff, of course -- that can improve upon the long, slow drain we have now:
1. Condense, condense, condense. Thirty-five bowl games are fine. But do they really need to be stretched over 24 days? Instead of the three-week-plus schedule, bowl games should start on Dec. 23 and end on Jan. 2. There's no need for bowl season to last more than two weeks. If the broadcast partners are concerned about losing audience numbers, the bowl games can be double, triple and quadruple headers in the days and nights leading up to New Year's Day. Take last week's Beef 'O' Brady's Bowl, MAACO Bowl and Poinsettia Bowl. Was there any reason the Beef 'O' Brady's couldn't have kicked off at 5:30 p.m. ET, the MAACO at 8 and then the Poinsettia -- played in San Diego -- at 10:30?
2. Go worst to first. Is there any reason the GoDaddy.com Bowl -- featuring 6-6 Middle Tennessee State and Miami (Ohio) -- is being played Jan. 6, five days after the Rose Bowl? Something's wrong when the Sugar and Orange Bowls are serving as preludes to the BBVA Compass Bowl on Jan. 8. If we're going to have 35 bowl games, let's at least have some order to it. Instead of having what appears to be a scatterbrained schedule with no respect to rankings or strength of games, build toward the most important bowl games. Save the BCS bowls for last; it's only sensible. It will be nothing short of embarrassing for everyone involved when the 7-5 Panthers play the 6-6 Wildcats in an empty stadium in Birmingham, Ala., at noon on a Saturday in January. Move this game before New Year's Day, sandwich it between three other bowl games of the same caliber, and call it a success.
3. Make New Year's Day matter again. Like I said, I'm not some stodgy old traditionalist, and I certainly don't long for the days before the BCS. But with fewer and fewer bowl games on New Year's Day each year, there's certainly something missing from the national holiday. Beef it up, again. For old times' sake. Once upon a time, you'd wake up late on New Year's Day -- toss on some sweatpants -- and not leave the couch the entire day. It was the one day in the calendar year you were given a free pass on watching sports for 16 straight hours. Now? It's a watered-down version of what used to be. Six games are great. But make it 12. Take the Pinstripe Bowl from Thursday at 3:30 and move it to 10:30 a.m. New Year's Day, sneak the Armed Forces Bowl in there, and get the Texas Bowl involved, too.
4. Move the BCS Championship Game to the first weeknight after New Year's Day. It's hard to imagine there being much buzz for the BCS Championship Game in the two days leading up to it this year, with two days of NFL playoffs getting the bulk of the sports media's coverage. The immediate weeknight after New Year's Day should be the BCS National Championship Game. Barring any 18-game schedule changes from the NFL, the BCS will almost always be lost in an NFL playoffs shuffle otherwise. Week 17? The BCS National Championship Game can win that battle. The NFL playoffs? It cannot.
This holiday season, I'll let everyone else scream as loud as they can about Columbus-area tattoo artists, quirky agent/player/booster relations, Cam Newton's Heisman and Reggie Bush's Heisman before that.
I'm most perturbed by the football being played on the field, not the nonsense off of it. It's been bad and it lacks any sense of order, momentum or national significance. Short of moving to a playoff system, there are other, smaller changes that can be made to enhance the system.
Like so many of us during this time of the year, the networks, the bowls and the advertisers have gotten fat on the money that a stretched-out bowl schedule can garner.
In the process, though, fans have become the biggest losers.