Blue Jays pitcher Marcus Stroman caught a massive marlin during his All-Star break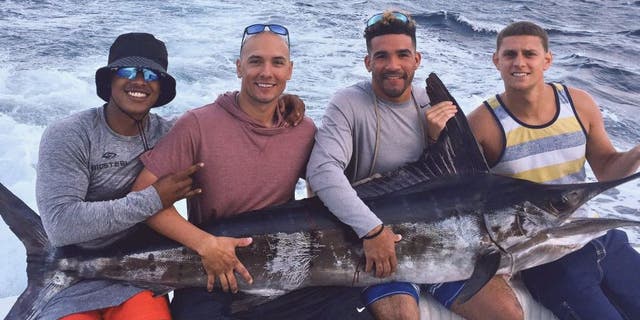 NEWYou can now listen to Fox News articles!
Toronto Blue Jays starter Marcus Stroman wasn't selected to this year's All-Star Game despite being a breakout candidate to start the season. He's posted a 4.69 ERA in 18 starts after having a career mark of 3.31 in his first two seasons.
He seems to be doing just fine, though. Rather than being in San Diego for the festivities, Stroman is in Cabo doing relaxing things like fishing and playing golf. And he's having a boatload (no pun intended) of success in doing so.
He and fellow Blue Jays Ryan Goins and Devon Travis appear to have reeled in this massive marlin while on a fishing trip. No word on whether its name is Giancarlo or not.
He also made a great chip-in while on the golf course, which was celebrated by the camera operator yelling "DAWG, I GOT IT! I GOT IT!"
Stroman would probably love to be in San Diego, but he's doing OK on his vacation.