Blackhawks hoping Game 2 history repeats itself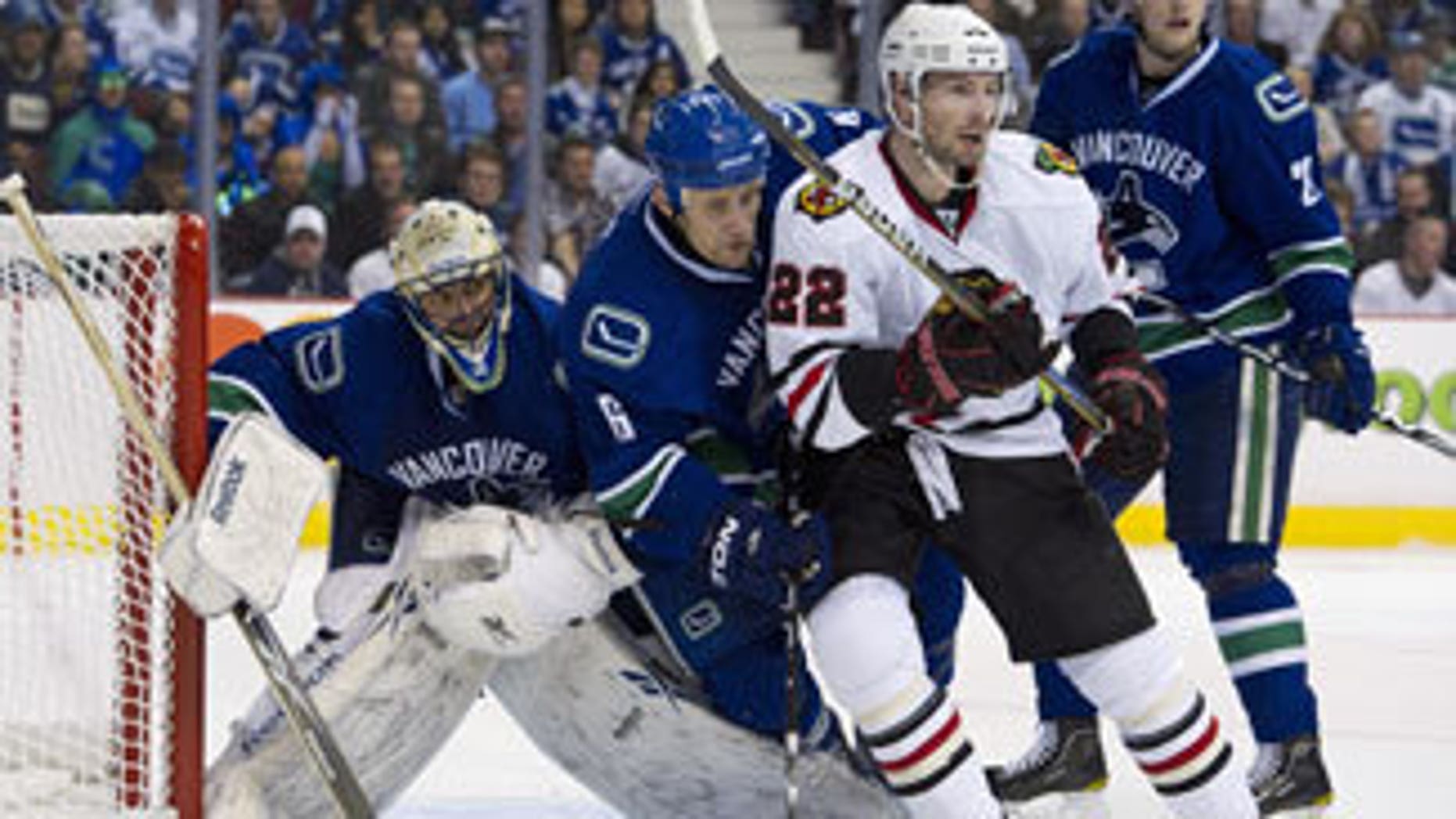 VANCOUVER, B.C. -- With his face looking slightly toward the floor inside the visitor's dressing room, Blackhawks forward Patrick Kane spoke emphatically enough late Wednesday night to show you that his head wasn't down.
"We can play with these guys, we feel pretty confident we can," Kane said following Chicago's 2-0 loss to Vancouver in Game 1. "I know a lot of people are probably counting us out, but we know we can play better than we did (Wednesday) night."
History is on the Blackhawks side heading into Game 2 Friday at Rogers Arena (10 p.m. ET, CBC, VERSUS, RDS), but how much it matters remains to be seen.
Chicago has been in this position against the Canucks twice before and each time came back to win Game 2 and eventually the series in six games. They roared back from a 2-0 deficit to win Game 2 in 2009 and came back from a 2-1 hole with three goals in the third period to close out Game 2 in 2010.
"It's something we're comfortable with against these guys," Kane said of being down in a series against Vancouver. "We can look back and know we turned around both series against these guys. Hopefully that's a sign of things to come."
If it is, someone better inform the Canucks, because they're not buying that the recent history between these two teams means anything more than fodder for the media and fans.
At some point during the last 11-and-a-half months, the Canucks developed a killer instinct that they plan on putting on display Friday.
"We were up in Game 2 last year and I don't know if we wanted it too bad, but we made a few mistakes and it cost us the game," Daniel Sedin said. "We've got to stay even, and that's the difference this year. When we have the lead, we know we can play the right away and not make any mistakes. That's a good feeling."
The Blackhawks, though, seem to love being in these situations. Since making the playoffs in 2009, the Blackhawks have a 3-5 record in Game 1s and a 6-1 record in Game 2s.
They've won six of their last seven playoff series.
"I think we're better with some anger in our game," Hawks coach Joel Quenneville said. "Whether we're not happy with a bad performance or a period, we can generally respond in a way that will change the outcome."
This year could be different for a myriad of reasons.
For one, the Blackhawks are playing against the League's best team, one that is supremely confident with everything about its game right now.
"All year long we've gotten ready for each game by making sure our guys are preparing individually and prepared for the opponent," Canucks coach Alain Vigneault said. "We know this opponent real well and we know what we need to do to play well on the ice."
Chicago also doesn't have the same depth as it has had in the past. Yes, the Hawks won the Cup last season, but six players made their playoff debuts Wednesday night, including Corey Crawford, Nick Leddy, Viktor Stalberg, Jake Dowell, Ben Smith and Michael Frolik.
"There were some conversations and talk before (Game 1), but there's only so much you can say," Chicago forward Patrick Sharp said of what was discussed with the playoff newbies. "Everyone in our locker room has been a fan of the game and has watched playoff hockey, and they know everything kicks up a notch and is that much more intense. It's something you have to experience for yourself."
And the Hawks have already been stung by an injury. Fernando Pisani will be playing in his first playoff game since his stunning run with the Oilers in 2006 because Tomas Kopecky is out with an upper-body injury he suffered in the first period Wednesday.
"There's no better time to play," said Pisani, who had 14 goals and 4 assists during Edmonton's run to the Cup Final in 2006. "You look forward to it as a player."
The Hawks are looking forward to Game 2 with confidence despite the early hole.
"We're not panicking," captain Jonathan Toews said.
Follow Dan Rosen on Twitter at: @drosennhl