BJ Penn says he has an opponent for UFC 197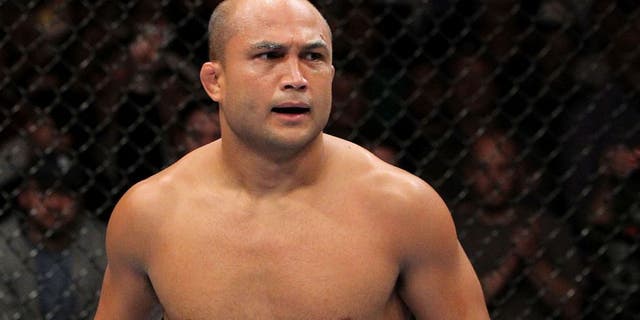 BJ Penn began his pro MMA career nearly 15 years ago. Since that time, the former Brazilian jiu-jitsu world champion accomplished as much as anyone in MMA.
Penn won UFC world titles in not one but two separate weight classes (lightweight and welterweight) and competed in five weight classes (featherweight, lightweight, welterweight, middleweight, and heavyweight). "The Prodigy" is truly a living legend.
When he retired in 2014, after the worst performance of his career - a downright bizarre and hard-to-watch TKO loss to Frankie Edgar - it was clear to the world that the phenom should definitely move onto the next phase of his life, and that said phase should not include further MMA competition.
After saying he hadn't stepped into a gym for a long stretch, the always game competitor announced late last year that he wanted to return to action. Now, he's training at Jackson/Winkeljohn's Albuquerque gym in hopes of winning another world title.
Penn doesn't just want to fight again, he wants to fight soon and to become the first man to ever win world titles in three weight classes. According to a recent interview on the Anik and Florian podcast, Penn said he expects to step into the Octagon, again, at UFC 197.
"As far as I understand the opponent is already chosen and everybody is working for that goal on March 5. I talked to [UFC president] Dana White and we're going to see how this all plays out," he said.
"[Coach] Greg [Jackson] looks at this like a three, four, five-fight thing but I'm not letting this guy standing across from me beat me. I think they're in this for the long haul...The plan is 100 percent to stay in Albuquerque the whole way."
Penn's bravery and ambition has always been admirable. He also promises that he's finally doing what he needs to be prepared.
Penn doesn't want to rely on his talent, but instead be disciplined to give him his best chance at winning. "It's not fair to myself and my family for me to go and not take this serious," he continued.
"These people are hungry and tough. These people will knock you out if you mess around. There's no way I'm going to train anywhere else if I'm going to step in the ring. I'm here for the whole way."
Of course, this is just the latest in a long list of instances where BJ has assured that he was finally taking things seriously. It may not matter, anymore.
Even the greats can only fight effectively for so long. As a lighter weight fighter where speed is paramount and who always fought flat-footed and relied on superior reflexes and quickness, Penn hasn't stood a good chance of winning or staying relatively safe in the cage, for a long time.
Going back to 2009, the 37 year-old has won just three times in his last 10 bouts. He has lost three straight, in increasingly brutal fashion, and has not won a fight since 2010.
Still, Penn believes that he can develop his game enough to win, again. "They're really trying to evolve me and take me to a new level," he insisted.
"Everybody's got a pretty good idea of what B.J. Penn is coming with. I think they're really trying to expand my arsenal. They're improving my cardio, my strength. I really think they're expanding my arsenal.