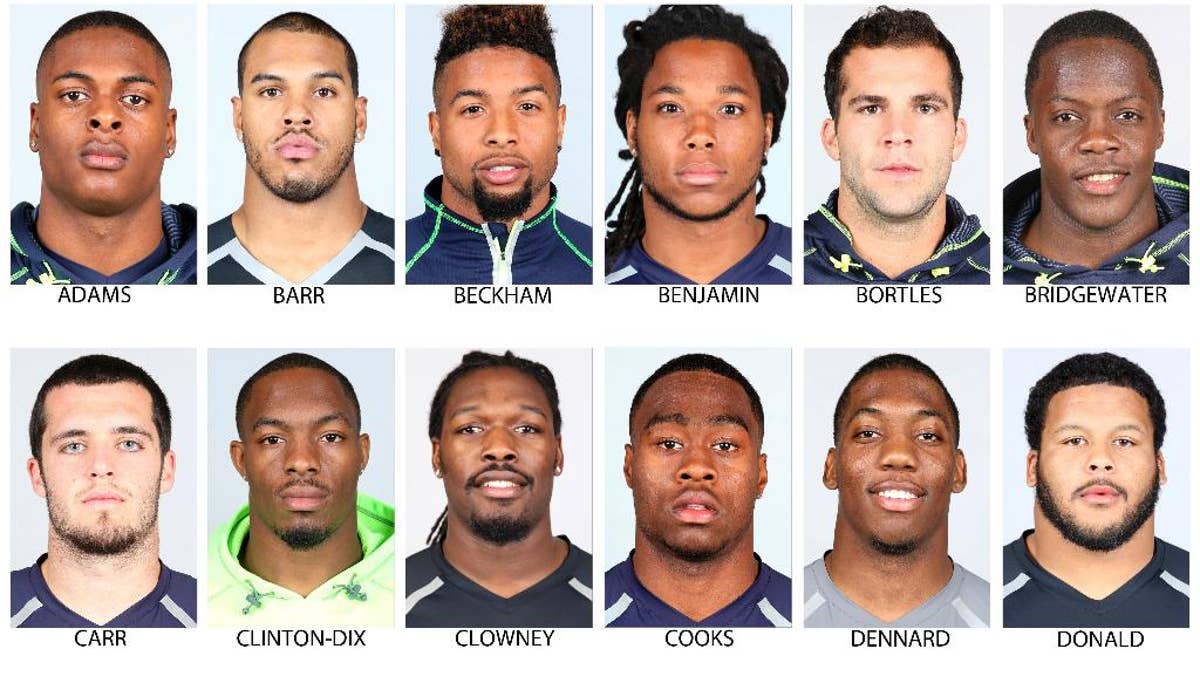 CINCINNATI – During workouts at the NFL combine and at Michigan State's pro day, Darqueze Dennard reminded the Bengals of their best cornerback. He'll get to start learning alongside him.
The Bengals took Dennard with the 24th overall pick in the NFL draft on Thursday night, bringing a highly regarded newcomer to a position that could use some youth. Dennard won the Jim Thorpe Award given to the nation's top defensive back.
"He's the guy in this draft that really fit us," first-year defensive coordinator Paul Guenther said.
Cincinnati's defense has been the steadying force during its run to three straight playoff berths, a franchise first. It finished third overall in the league last season.
But it's a unit in transition. Coordinator Mike Zimmer left to become head coach in Minnesota. Guenther was elevated from linebackers coach to fill the spot.
And the Bengals are starting to look long-term at cornerback, one of the aging areas on the team.
Top cornerback Leon Hall is recovering from his second torn Achilles tendon in three years. Terence Newman and Adam "Pacman" Jones turn 36 and 31 this year, respectively, so it was time to start thinking of eventual replacements.
Dre Kirkpatrick has struggled with injuries and inconsistency since the Bengals took him in the first round in 2012. Kirkpatrick appeared in 14 games last season, starting three.
The Bengals took Hall in the first round in 2007. When Guenther and defensive backs coach Vance Joseph watched Dennard's workouts, they saw a lot of similarities in their styles.
"We worked him out together and we said, 'He's Leon Hall,'" Guenther said.
One big difference: Hall went to instate rival Michigan.
"I try to look at the good things," Dennard said during a conference call. "I'm not going to hold it against him that he went there. He's a great player and he's been in the league a long time and did great in everything he did. Getting that comparison is really good, and I like it."
It's the second time in the last three years that the Bengals have taken a cornerback in the first round. Coach Marvin Lewis considers it one of the two toughest positions in the NFL, along with quarterback, and teams that are deficient at those spots will struggle.
Getting a cornerback was a priority. There were several highly regarded ones available in the draft. The question was which one would still be left at No. 24.
"We were hitting an area we felt we wanted to address, with players that were good enough for that spot," Lewis said.
Two of the top cornerbacks were gone by the time the Bengals picked. Justin Gilbert went to AFC North rival Cleveland, and Kyle Fuller went to Chicago. The Bengals expected Dennard to be gone when they chose 24th overall.
"Cornerback was one of the spots in the draft we definitely wanted to look at," Guenther said. "I thought he'd be gone in the middle of the round. It was a no-brainer for us at that point."
The 5-foot-11, 197-pound Dennard is the first Spartan defensive player to be chosen in the first round since linebacker Julian Peterson went 16th overall to San Francisco in 2000. He's the first Spartan defensive back taken in the first round since Herb Adderley in 1961, when he went No. 12 overall to Green Bay.
Michigan State had one of the nation's top defenses last season. Dennard had 62 tackles, fourth-most on the team, and tied for the team lead with four interceptions.
During Lewis' tenure, the Bengals have had 13 first-round picks. Seven went to offense, six to defense. They've taken four cornerbacks (Jonathan Joseph, Hall, Kirkpatrick and Dennard), two tight ends (Jermaine Gresham, Tyler Eifert), two linebackers (David Pollack, Keith Rivers), two offensive linemen (Andre Smith, Kevin Zeitler), receiver A.J. Green, running back Chris Perry and quarterback Carson Palmer.
The Bengals will try to upgrade the defensive line in the next rounds of the draft, touching on another area of need. Defensive end Michael Johnson left as a free agent, signing with Tampa Bay. And defensive tackle Geno Atkins is recovering from a torn knee ligament.
___
Online: AP NFL website: www.pro32.ap.org and www.twitter.com/AP_NFL