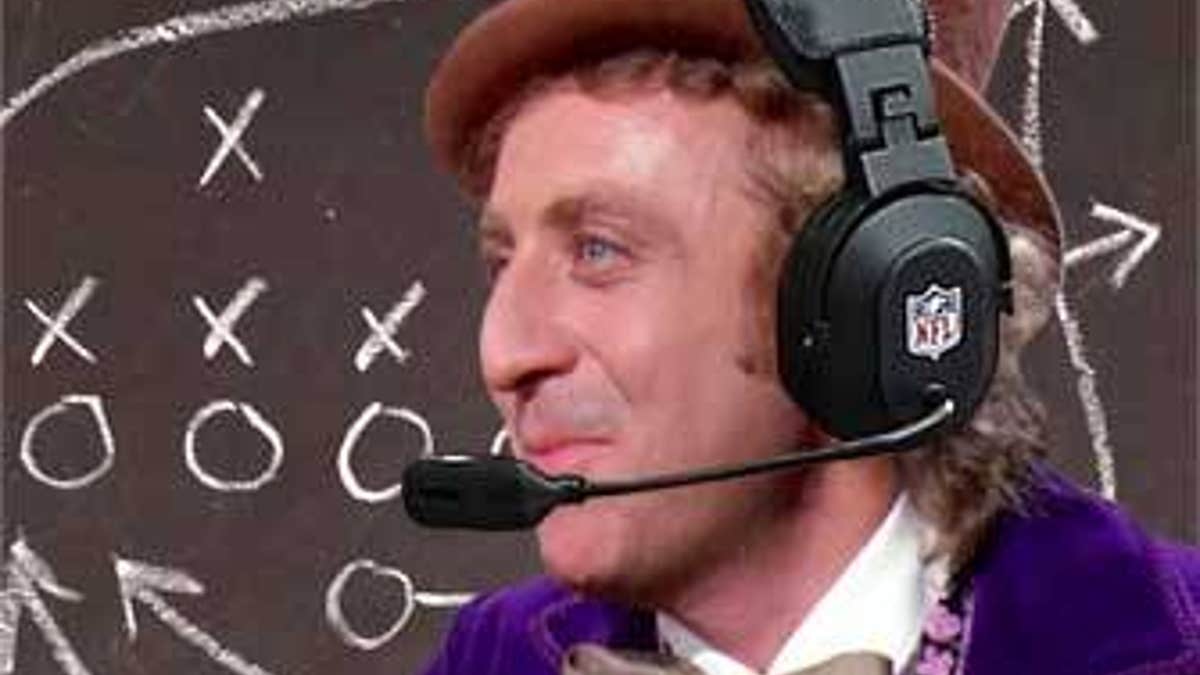 Chicago Bears head coach Mark Trestman is considered a passing genius. And through two games, he has Jay Cutler playing well and his team off to a 2-0 start. One of the biggest beneficiaries of Trestman's new offense is Martellus Bennett, who has 10 catches for 125 yards and three TDs on the season, including the game-winning 16-yard grab with 10 seconds to go in Sunday's 31-30 win over Minnesota.
FOXSports.com has obtained an exclusive transcript of what Trestman said in drawing up Sunday's game-winning play on the sidelines:
"Martellus, you run along the Chocolate River, get behind the Oompa-Loompa and Jay will throw you the Everlasting Gobstopper in the back of the Fizzy Lifting Drinks room."
OK, we didn't really get that exclusive audio. But if you read what Bennett had to say on a Chicago radio station Thursday, you'll see that we might just be onto something.
"I think me and Coach Trestman are probably the only two people who understand each other," Bennett said earlier this week on WMVP-AM 1000 in Chicago. "I always say Coach Trestman reminds me of the first Willy Wonka. Not the Johnny Depp one; the Johnny Depp one was really cool. But the first one. Before that. The 1943 version."
OK, let's take a moment to digest this one.
We don't think you'll hear a lot of people argue that Depp's Wonka (from 2005's "Charlie and the Chocolate Factory") is better than the version put to film by Gene Wilder in the classic "Willy Wonka & the Chocolate Factory." But then we run into some mindboggling confusion that would make the Man Behind The Wonka Magic himself proud.
You see, Bennett never identifies Wilder by name, only the Wonka from "The 1943 version." But Wilder's Wonka film was released in 1971. The film originated from Roald Dahl's novel, "Charlie and the Chocolate Factory" ... written in 1964. So we're not really sure to which Wonka Bennett is referring. To be honest, we're not sure Martellus is, either.
But at least he expanded a bit.
"If you really look at Coach, he's a genius," Bennett said. "And a lot of times when you're around really, really smart people, you don't really understand them. I thought Willy Wonka was brilliant. I mean he had all kinds of candy. Who doesn't like chocolate and candies? Everybody wanted a Gobstopper. Ya know? I just think he's brilliant."
But should this really surprise us? After all, Bennett is the guy who has ...
Written a rap about Cap'N Crunch.
And referred to himself as "The Black Unicorn" ... which led to this:
Make sure you log on http://t.co/uHAxNjXy and purchase a limited edition Black Unicorn tee. And follow @yngandreckless pic.twitter.com/wWf2CroE
-- Martellus Bennett (@MartysaurusRex) October 19, 2012 Trestman is not the first coach to get a nickname pulled from Hollywood. But unlike Bill Belichick (Lord Hoodie) and Jon Gruden (Chucky), Trestman doesn't have a name that exactly strikes fear into opposing teams. But if his team keeps winning all the way to New York in February, something tells us he'll stick with Wonka.