Bayern Munich allege police attacked fans and file formal UEFA complaint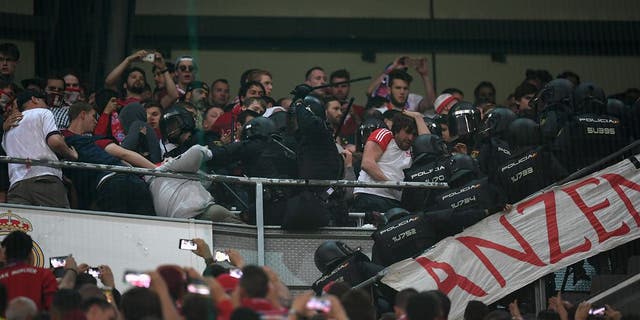 NEWYou can now listen to Fox News articles!
While the Champions League quarterfinal series between Bayern Munich and Real Madrid has made waves for controversy on the field, Bayern is taking action over problems off the field.
The Bavarians have filed a complaint to UEFA alleging that Bayern Munich fans faced excessive force from police inside Santiago Bernabeu, Bayern announced Wednesday.
The club alleges that during halftime of Tuesdays Champions League match, there were, in some cases, severe attacks by the Spanish police against Bayern Munich fans."
"FC Bayern feels the actions of the Spanish police were completely uncalled for and excessive, the statement said. "The club has already filed a complaint against UEFA's action against the Spanish police. In addition, FC Bayern will request an explanation from the Spanish police about the events.
During Tuesdays 4-2 Real Madrid win, police with riot gear including masks, body armor and batons were seen entering the away supports section in Madrid and clashing with Bayern fans. It is unclear what prompted the confrontationwith police.
Before Tuesdays match which has drawn criticism for a number of incorrect calls from the officiating team Madrids city hall said 1,800 police officers would be on-hand for the match to "ensure that the match is held normally and that security is reinforced in and outside the stadium."
MORE FROM FOX SOCCER