Barcelona finally accept that Neymar will not play in El Clasico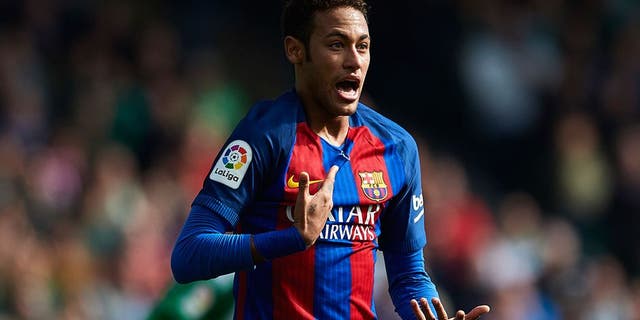 NEWYou can now listen to Fox News articles!
Barcelona have given up their fight to get Neymar into El Clasico. Theclub had spent the last week trying to appeal their superstar's suspension and get him cleared to play in Sunday's match, but they've finally accepted that it will not be possible.
Neymar was banned for three matches last week, the result of a red cardon April 8 and then sarcastically applauding the fourth official on the way off the pitch. Barcelona's first appeal was denied, upholding the ban, but the club then took their appeal to the Barcelona Court of Arbitration for Sport (TAD). Their hope was that TAD would put together an extraordinary meeting on Saturday to hear the appeal before Sunday's match, however TAD did not do so.
Through it all, Barcelona held out hope. They said Neymar would travel to Madrid from the match, believing that if TAD did not rule then the ban would be put on hold until the process played out. But that finally changed on Sunday morning.
"Against the uncertainty due to the lack of reply from TAD with 12 hours to go until the game, and to focus all attention on sporting matters, the club have opted not to call up Neymar," a statement from the club read.
"However, Barcelona expresses its amazement at TAD's refusal to exercise its jurisdictional functions, something which directly damages both the clubs and the competition itself."
Had Barcelona played Neymar in El Clasico and his ban was not overturned, they would have fielded in ineligible player. That'd have triggered an automatic forfeit, something Barcelona wisely do not want to risk.
El Clasico is always filled with drama, and in ways we don't see elsewhere. Be it the referees, the grass or something else, the teams are always fighting over something before the match. Ahead of this match, it was over Neymar and whether he could play -- and Barcelona lost. Even if it took them a while to admit it.
MORE FROM FOX SOCCER